Pics from the weekend shows
---
I've just come back from a 3 day dressage retreat, I had a great weekend I'm so glad that I went, I was so tempted not to go, with everything that has gone on, the depression and the fact that I have put on so much weight, I really was tempted to hide in the house and not go.
So the pics aren't pretty, old fat woman on horse, but hey once I got there I had fun. Lessons on Saturday went well, as I said had my first ever lesson in draw reins, which actually was a revelation. It seems they may be a good tool when used correctly.
Sunday was a fun show, so no one dressed up it was so hot that the horses were wilting and some of the older horses were pulled from some of the events. Pics, warning once seen cannot be unseen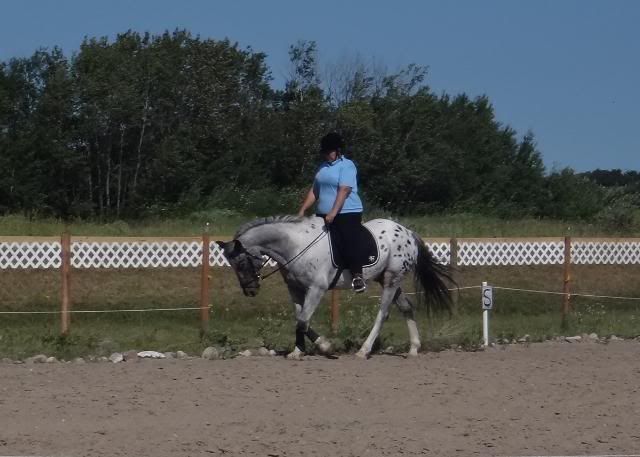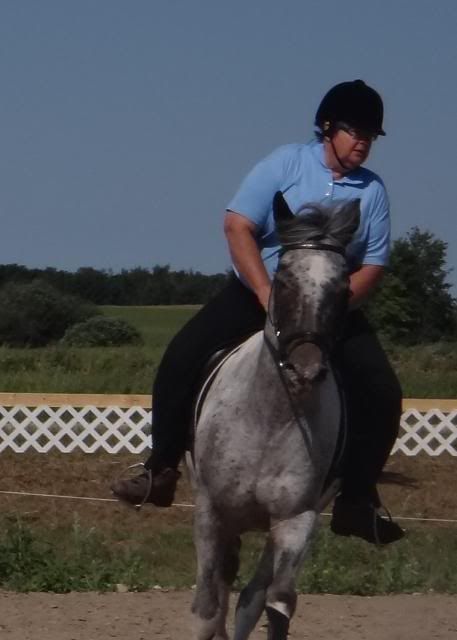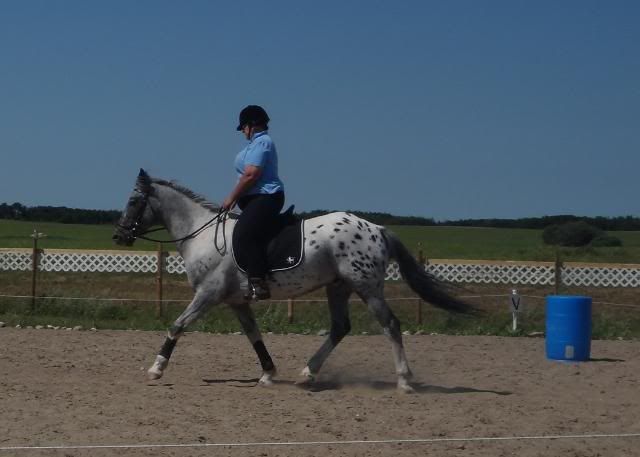 Mr G waiting to go in to an event, so stressed by life that he has his back legs totally crossed!!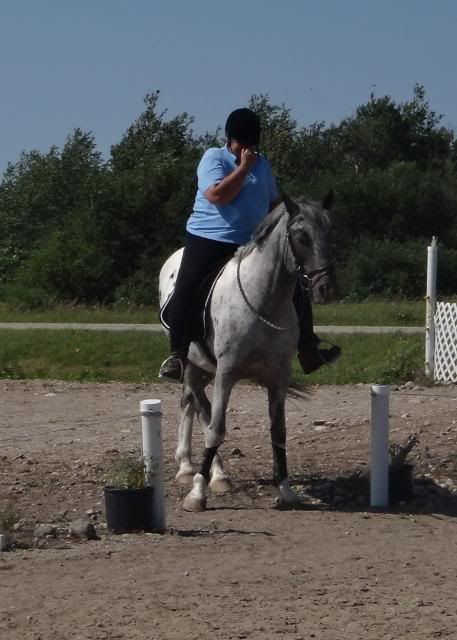 My favorite shot from Saturday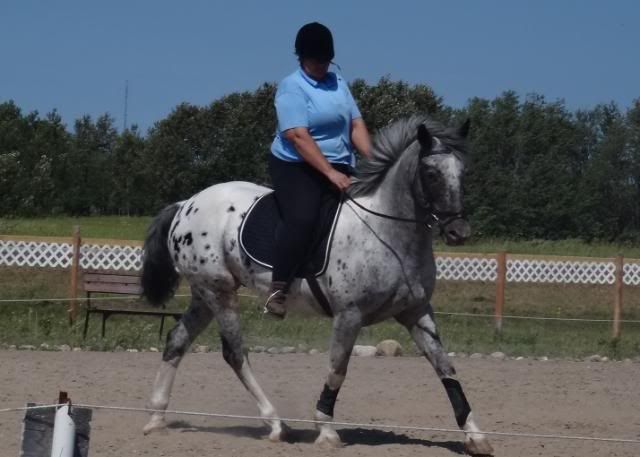 We ended up getting 3 red ribbons, (Canada remember red is good) for Intro Test 2, Intro Barrels, and for my first ever Kur, Dressage to music, we also snagged 3 blues and a couple of whites.
Today was the International Kur Tests, once again video testing, and as I had chosen a George Strait song, I just want to dance with you, I thought I would go back to western for it.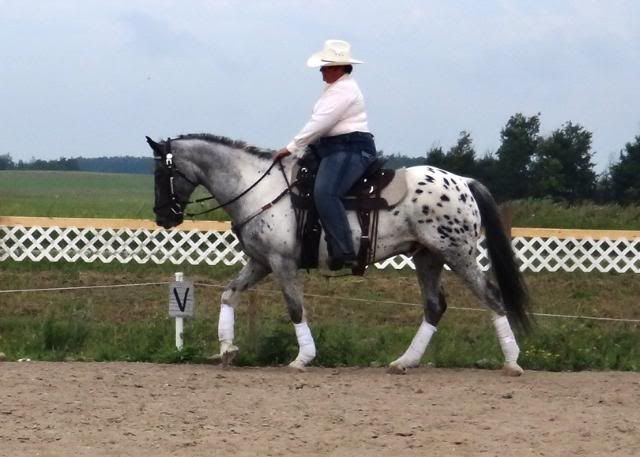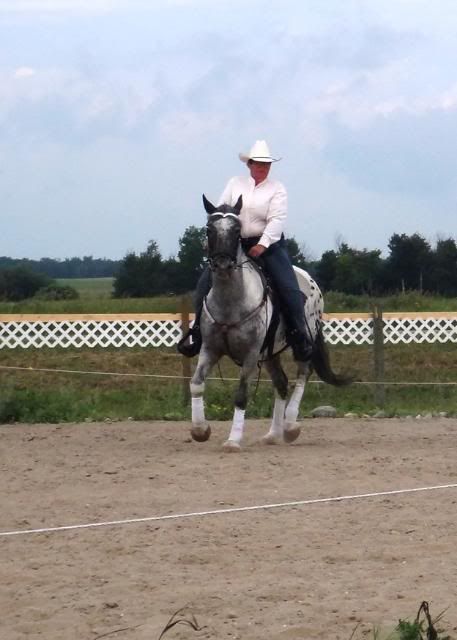 Now we have to wait for the videos to be sent of and marked by an FEI judge, and then we will find out how we did. I was pleased with him, he did well today.
Oh and I took pics today with his Saturday ribbons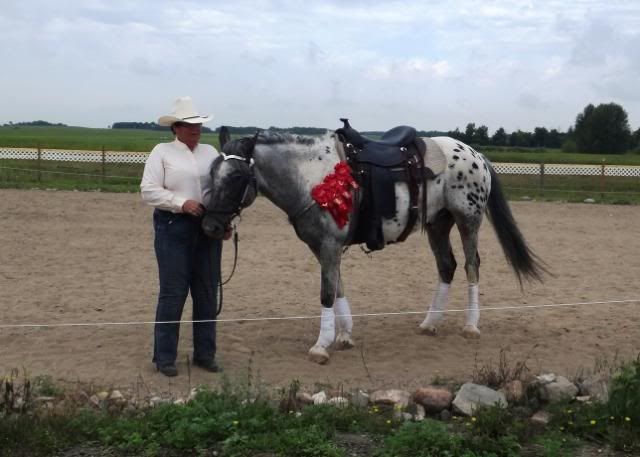 He is so handsome! Glad you had fun!
---
"Great spirits have always encountered violent opposition from mediocre minds."

You two look great!! And you do realize that you can't mention the words "music, video, and riding" in the same sentence and not show it to us right...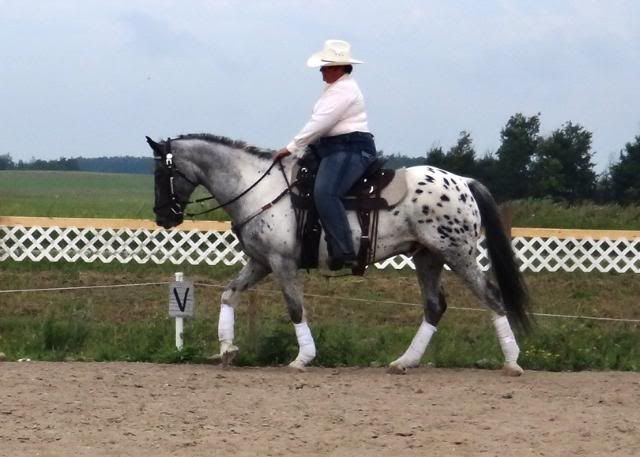 I LOVE this one! nice position, lovely horse, well turned out rider.
I won't forget.
He really is such a lovely boy! You quit downing yourself. From what I know of you you are a lovely person, inside and out. Those horses couldn't have a better life if they paid for it, and it shows here!
Posted via Mobile Device
Great pictures!!!

You need to stop....you look FANTASTIC!!!! Mr. G looks great as always!!! Love the pictures! Looks like you had a great time, and did great as well!!!
you look great!!!!! both you and your horse! i must say im proud of you for getting up and going instead of staying in the house, i know from experence how hard that can be
---
Beauty is not diminished by those who refuse to see, hear,feel or in any way sense it. If you refuse to see beauty its you who is weakened.
Banned
Join Date: Jul 2009
Location: In a land far far away, or so I wish.
Posts: 12,825
• Horses: 0
Fabulous photos of a really nice team. Thank you for posting!!

I have major grabby hands for your horse. He is gorgeous!. He is well suited for both western and English, which is rarely the case.

As for you weight....You look fine! Your position is very good and I am sure you use yourself "lightly", as evidenced by the photos and your horse's obvious comfort.