pictures and a video! :D
---
if you havent noticed i have a new piccy!!!
<<<<<
What do you think! doesnt she look much better.. well from what you can tell lol
ill try and take some pictures/ video! on monday of us riding!
also for those who haven't seen chance have a nice unlame canter well here it is shes all tacked up as well :P She was a little speedy but she looks good doesnt she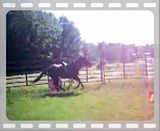 Very nice
Iam going riding Monday too, lol.
thanks! and awesome! I rode today for like 2 hours :P

Sooo a day off for her is good lol
She's so pretty, she's looking good to me! :)
---
Ride more, worry less.
wow is this the same horse???? yes she is a speed ball but...i was shocked to see her not invade your space at all...well done Kid!!!
hehe yup it is!
thanks a lot!
I really probably couldnt have done a lot of the stuff i did with her without this website!