Poppy's growing up so fast!

She's just beautiful!
I love looking at baby pictures
Saro: day one with poopy butt
Saro: around 4-6 months
Saro: 2 years (photo taken spring 2008)
Shiloh: day one
Shiloh: around 4-6 months
Shiloh: 2years (photo taken today) Can you see the poor babys rash?
---

"Until one has loved an animal, part of one's soul remains unawakened..."
- Anatole France
Oooh soo cute! :) Love the coloring.
---
Ride more, worry less.
What a fun thread, I am seeing some gorgeous horses here. thanks for sharing.
Here is our youngest, Rocky at weanling, 9 months and now at 14 months.
---
Our farm is home to 4 adopted draft horses
Please consider adopting and give a horse back it's life.



Wow Fancyappy I would have never thought his mane would turn that light. I'm always amazed at facial markings. When they are babies the markings seem to dominate the face. Then when they grow up they are hardly noticeable.
You can't see it but Saro was born with a huge white star that seemed to take up her whole forehead. Now I don't even notice it.
---

"Until one has loved an animal, part of one's soul remains unawakened..."
- Anatole France
Aww all of your babies horse are so cute!! and so beautiful!!
Tessie at two days old:
And at four months:
She's already over 12 hands! It's crazy.
Very neat thread! It's really interesting to see how some of the foals' coloring has changed over time.
Luna hasn't changed too drastically:
Making her entrance: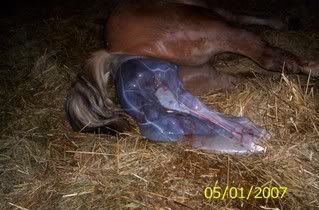 One week: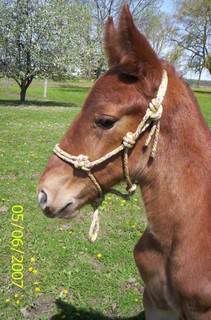 One month:
Four months: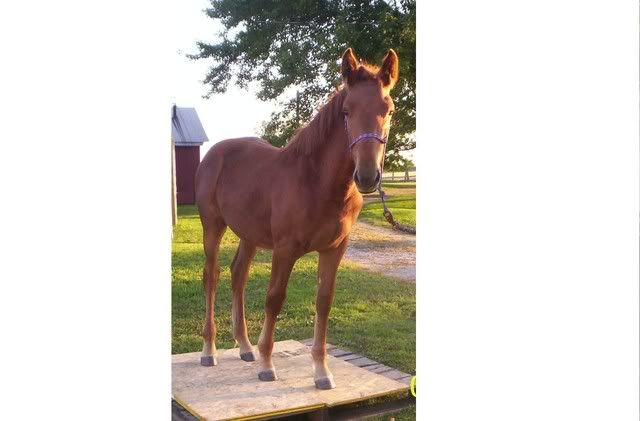 Today at almost 17 months: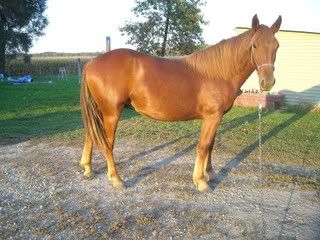 ---
Stella - sweet, timid, elegant, lovely, lively, amazing
Luna - large, unattractive, naughty, adored

This is Tomahawk (named for his marking), but everyone at the barn calls him Squirt except his owner. :] He's not my colt, but I thought I'd put his baby picture on here since I take care of him and handle him everyday. Don't worry he wasn't stuck. lol I'm pretty sure he's a few weeks old in this picture.