Piper VS Barrels
---
Hi my name is
Today my ma came out to the field (this one, excuse all the poop)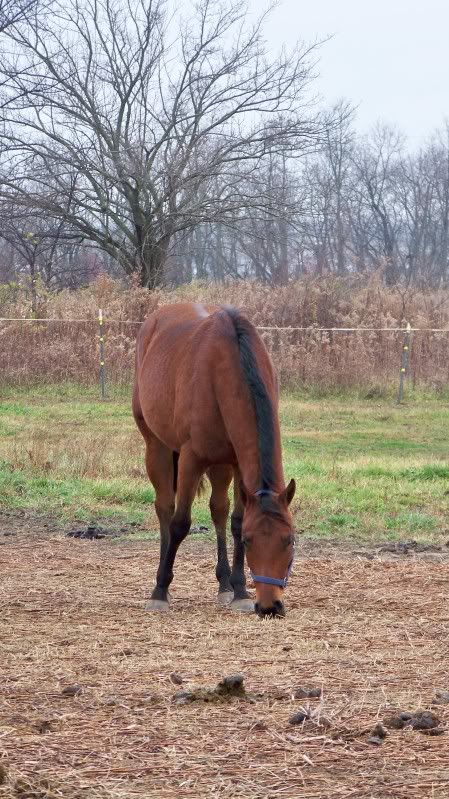 She told me we were going to do something exciting. But first we practiced flexing and picking up my hooves in the stall. I wasn't too worried because ma didn't have the trainer lady with her. But ma has been doing her homework..
(There is nothing exciting about standing in a stall, ma.) Then she took me out to the arena and told me to run around like crazy, so I did. Think I did a pretty good job of it, too.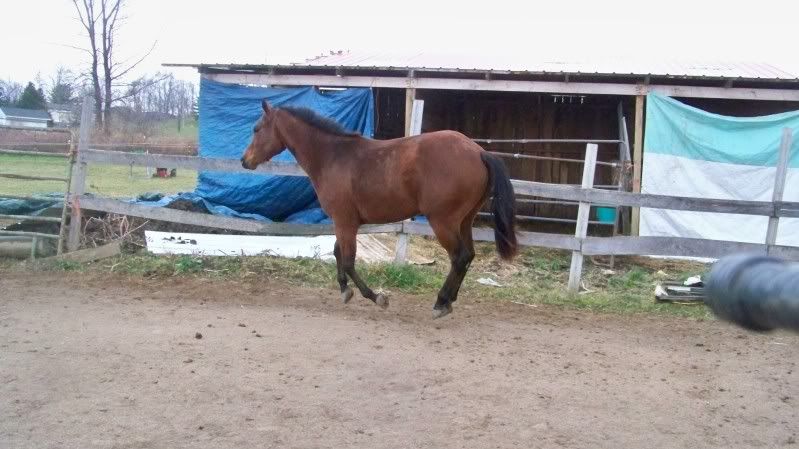 Then she did do something weird. She brought in these two blue bright things.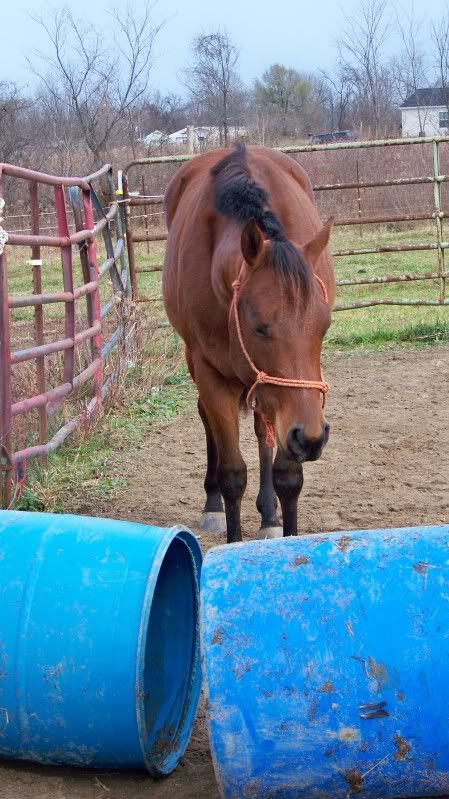 First she made me walk through them. Each time I went through she made the hole smaller. Until there wasn't a hole. (Here's a clue ma, I can't walk through the gap if there isn't a gap. Just sayin) So I tried to go around, because that makes the most sense, right?
But ma said no no I want you to go over them (I tried to push the barrels out of the way). I said "You want me to WHAT?"
I mean, does she think I'm some kind of Olympic hopeful? Ok ok I'll give it a try, sos I can impress my new friend out in the pasture.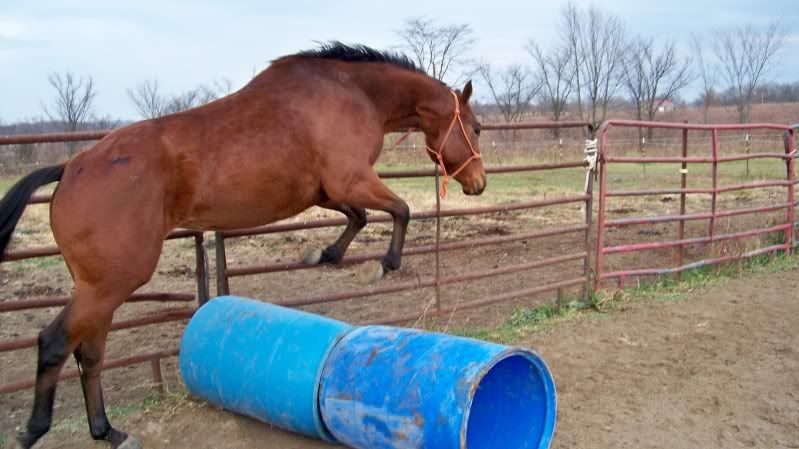 Then I realized that it was really fun! I mean, WEEEE! Right?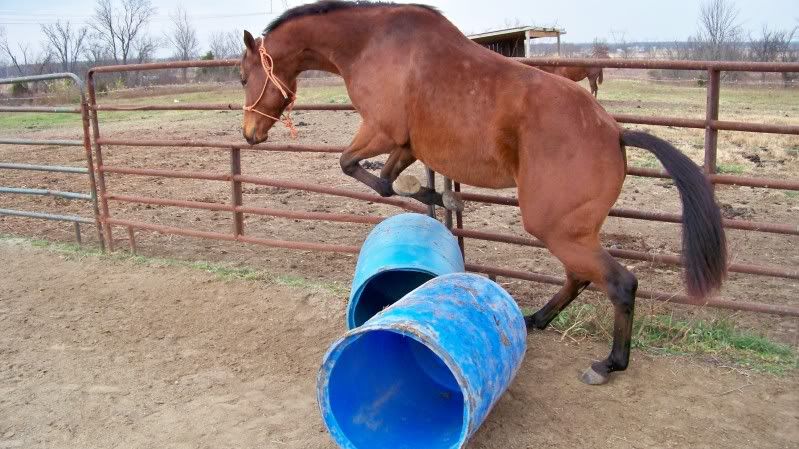 I jumped them every time she asked me to after that. THE END (Photos courtesy of ma-she's got mass skills taking pics and training at the same time)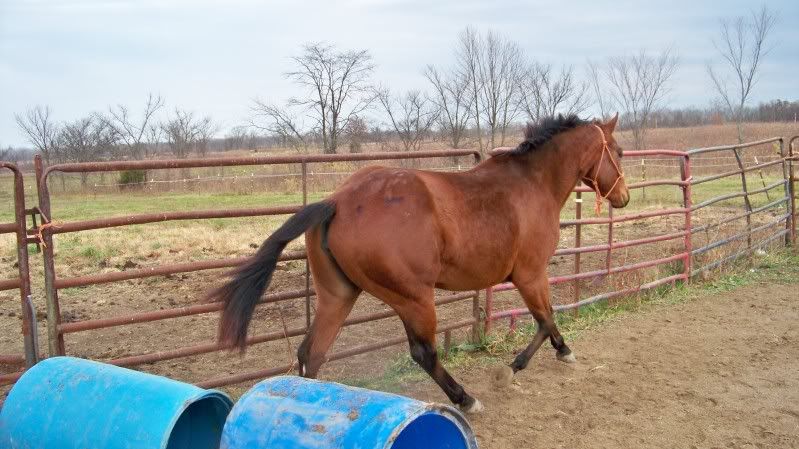 Nice, very cute.
---
Ω Horses are a projection of peoples dreams Ω
Awww lol love the little story lines! very cute.
---
~*~Saving just one horse won't change the world...but surely the world will change for that one horse~*~ (Unknown).

Thanks: )
I'm going to not be rude and introduce the other horses at the place I keep Piper. (I know the place isn't ideal but it's close to home and it works, lol) None of these are my horses.
No Name is a OTT Thoroughbred who just got here two days ago. She's a sweet heart on the ground, a pain under the saddle and a chronic wind sucker.
Charlie is a fat fat fat Quarter (Ponyish) Palomino. He is the lesson horse. My husband really likes riding him.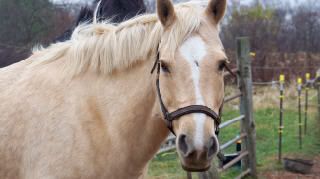 Scarlet (irony of ironies) is a itty bitty Quarter Horse. I think she is so scrawny. She had an abscess that the vet drained on the side of her face. Yuck.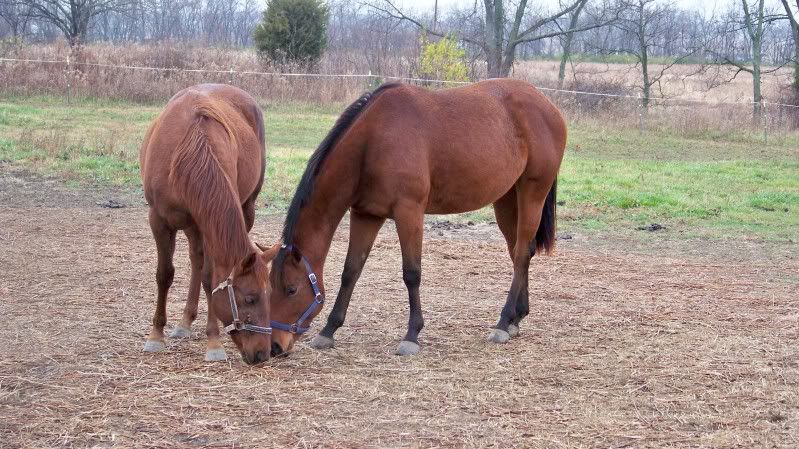 Allie is Scarlet's mom. She is a super ride. I mean push button. Her owner is a 14 year old girl who put A LOT of time into this girl.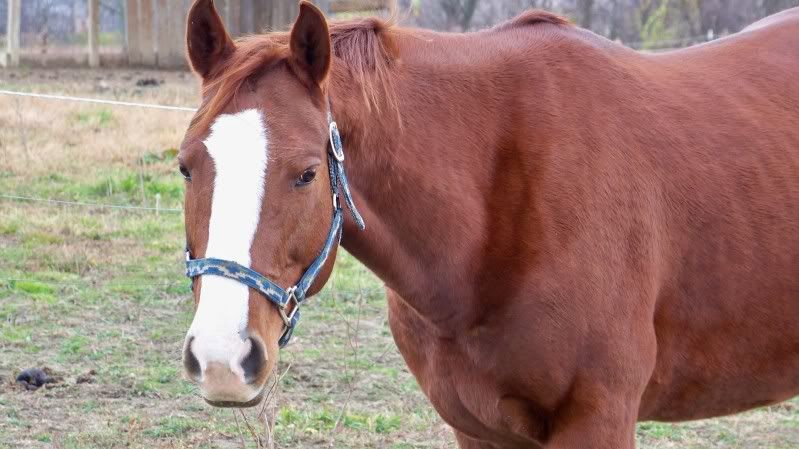 Dusty is here for training. He is a little gaited pony. He'll be going home real soon because he likes to escape.
The most amazing guy is Impy. He's so awesome. He's a Paint.
There are a few others. Pixie and Bonnie are residents and Blu is in for training. But they are in the other field and they were so caked in mud I didn't bother with pictures. I'll get some next time.
Piper is a cutie! She's looking good jumping!
I love the story with the pictures! Thanks for that!
Similar Threads
Thread
Thread Starter
Forum
Replies
Last Post
Piper vs Bridge

ShutUpJoe

Horse Pictures

5

11-12-2009

09:31 PM

OMG Barrels!!!

dreamrideredc

Western Riding

4

09-23-2009

07:40 PM

Australian Barrels...

brookelovesparelli

Western Riding

8

05-27-2009

12:29 AM

barrels?

chika1235

Western Riding

11

01-26-2009

06:15 PM