Piper vs Bridge
---
My trainer working with Piper. Goal: Stand on bridge
I don't care what you say lady I am NOT going on that bridge
I told you I'm NOT touching that bridge
I'll go over it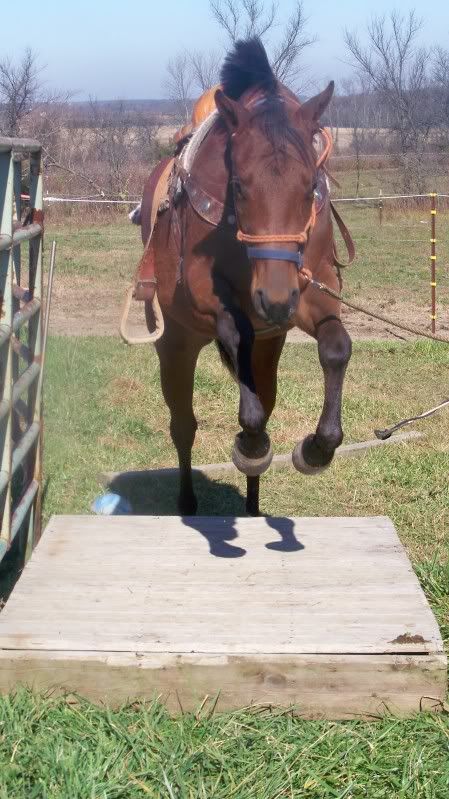 Are you sure about this?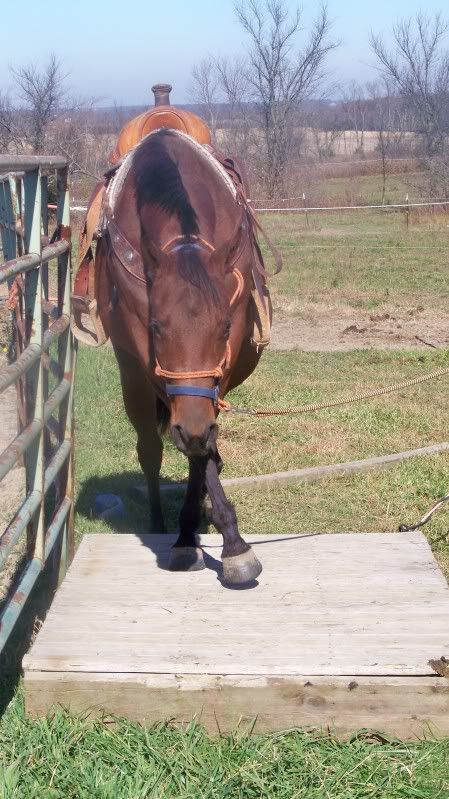 Ok Ok If you are sure I won't fall into a void and never return.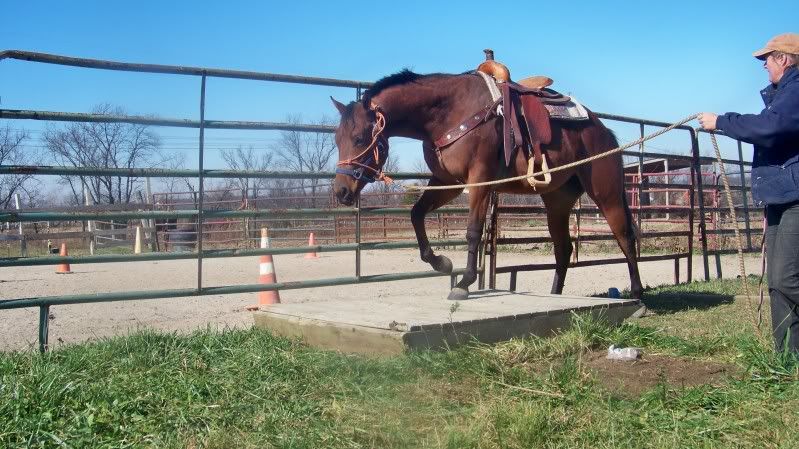 Look MA! I'm on the bridge
It's pretty relaxing up here! I don't know what I was afraid of! I might fall asleep
Down we go
Elapsed time: 23 minutes
haha...those bridges are very scary. along with the ground poles and the tarps and the barrels, and the mailbox.....all but the big bright orange construction cones.
Good job Piper, way to show that big scary bridge who's boss.
---
"And somewhere in the northwoods darkness a creature walks upright. And the best advice you may ever get is: Don't go out at night..."
Oh YAY ! :)
Loved the pictures !
very cute pics, she looks proud of how she conquered her fear in the last couple of pics :)

and on a completely unrelated note, that is an awesome looking breastplate!

~AL615
---
"There is no purer love than the love of an animal"
lol Thanks you guys

That breastplate was something I found in the bottom of a bucket of stuff someone sold to me for $5. It needs cleaned badly but I just put it on her to have it on her. I haven't actually been on her (unless you count laying over her) because she isn't 3 yet.
Piper is too cute! I love the series of photos.

I'm glad she learned that bridges aren't all that scary.
Similar Threads
Thread
Thread Starter
Forum
Replies
Last Post
The Rainbow Bridge (Poem)

Mtrider96

Horse Memorials

5

01-12-2010

06:32 PM