Please welcome A Royal Event
---
Seeing as I needed an 'A' name and given the timing it seemed to be a good choice, Yup, at 3.30 this morning Destiny eventually, and with a minimum of drama foaled, and of course it is a colt ::) He looks a bit like a skinned rabbit, poor soul, but he is a beautiful color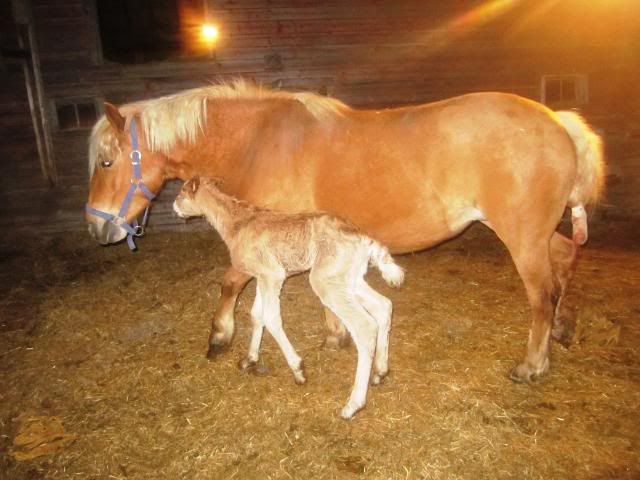 Destiny is being a great Mum, which is a huge relief, and he knows how to work the milk bar
Oh and he is an unfriendly soul
Hes adorable!!! Congrats!! How exciting!!! Cant wait for more pics! LOL
What a perfect name. He is very cute! Congratulations.
---
"Equine-facilitated therapy employs a form of biofeedback for practicing self-awareness, emotional management, and relationship skills that human role-playing exercises and discussion groups cannot begin to access." Linda Kohanov (The Tao of Equus)
Yet another adorable foal, I'm jealous now LOL. He's a cutie.
---
Always remember that feeling of looking at a big, open country over the ears of a good horse, seeing a new trail unwind ahead of you, and that ever-spectacular view from the top of the ridge!!! Follow my training blog:
http://robertsontraining.blogspot.com/
Aww he is so cute!! you called him royal??
---
To give a horse your heart guarantees a love that will last forever undamageable
What a cutie patootie! Congrats on your new addition! Love the color of his Mamma!
---
He's so cute! I just want to snuggle him!
And his mum is stunning, such beautiful colouring
Congratulations on the foal! He is adorable
I love his coloring! Congratulations
---
You are never better than anyone. Every rider has skills they need to improve. The only one you must compare yourself with, is you.
I was going to call him William or Wills as a barn name, but someone told me today that when he was a child they called him Wombat, and that is just so perfect, Wombat he will be at home