Pony! =D *kinda a lot of adorable pictures...*
---
Here's my boy, Shorty. He's pretty much my favorite horse of all time ever. He has that little pony brattiness (he's a small POA) but then at the same time he's super silly and loves making people laugh.
His favorite thing to do is pick up a hoof pick, twirl it around in his mouth and then drop it and "help" you pick it up by nibbling on your hair.
Sorry for how big the pictures are... Photobucket was being dumb. =/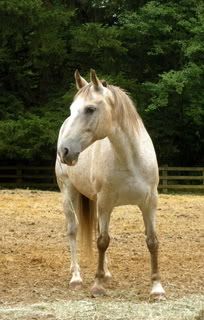 Then I found the best fly mask of all time. Purple and green plaid with purple trim and ears! Soooo funny! Shorty was not amused but I was.
"What is the meaning of this?"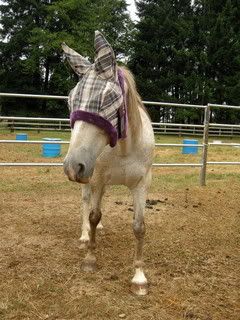 "Take it off? Please?"
"Fine."
"I'm not speaking to you."
"Food?"
---
Fabio - 13 year old Arabian/Lipizzan gelding

~
Rest peacefully, Lacey.

---
Last edited by Wallaby; 07-23-2009 at

07:31 PM

.
oh he is cute!!
---
12 days until Twiztid ( i get to see my Jamie) then two months until graduation.
Aww...Shorty is very handsome I love that color! Also that flymask is too cute on him.
So cute!
---
When God Made Horses, He Painted The Good Ones.
"All I pay my psychiatrist is the cost of feed and hay, and he'll listen to me any day."

Ahahahaha...the flymask pics are so cute! He looks thoroughly amused! Not! He looks like quite the charactor!
---
"The ideal horseman has the courage of a lion, the patience of a saint, and the hands of a woman..."
Love POAs :) He's so cute, and the fly mask makes him look like a mule lol
I find it so funny that some horses look really good in fly masks with ears while Shorty just looked goofy. =P

I'll be sure to let him know that someone other than me finds him adorable. Haha

I love his color too! It's so awesome, on his right side he has that light brown color with white spots, on his left side he has gray with light brown spots and on his back he has black spots. It's awesome.

POA's are my favorite. =D
---
Fabio - 13 year old Arabian/Lipizzan gelding

~
Rest peacefully, Lacey.

He is super cute!