Pony Pictures
---
I brought out Annalie for rides for my daughter's birthday. She did good. Well, when she wasn't being a brat. We need to work on her ground manners a bit. She likes to push you with her nose. It was very windy out.
My 2 year old
My Daughter
My mom
My 7 year old
My baby's first ride
My stepdad (he does old fashioned cowboy shoots)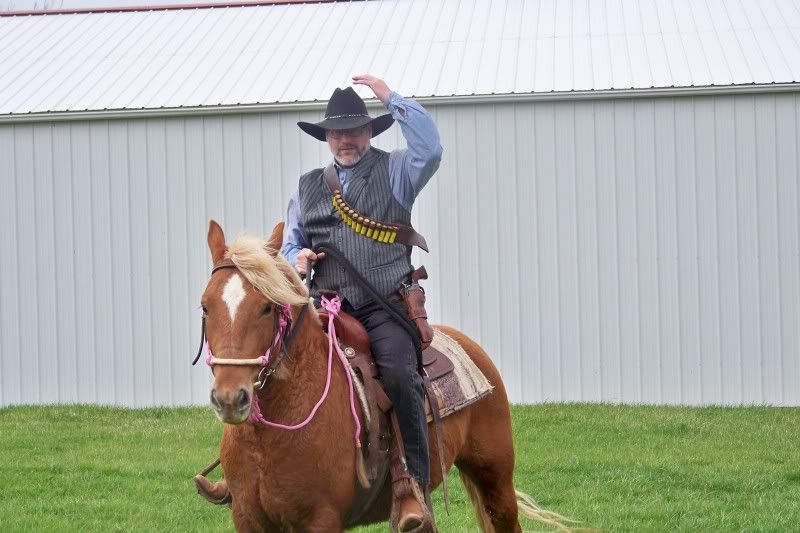 Aww! She's very pretty, and your daughter's dress very nicely matches her halter! :P
Are those NERF bullets (er.. whatever you want to call them) your stepdad has there? Very classy.
WOW whatta stout mare!!! Gorgeous!!! Your youngest daughter is a cutie! She didn't look to happy though lol
Carleen: Nope those are real bullets. He makes his own. He is all into it. I think it's weird.

Kansas: The baby is a boy : ) lol
Quote:
Carleen: Nope those are real bullets. He makes his own. He is all into it. I think it's weird.

Kansas: The baby is a boy : ) lol
OMG I'm so sorry! I thought it said daughter! You can definately tell I'm tired lol
It's only ok because I really wanted another girl. Ended up with 3 boys and 1 girl. I can understand because of his little flower shirt. ; )