Green Broke
Join Date: May 2009
Location: Winnipeg, Manitoba, Canada
Posts: 4,510
• Horses:
2
Ponybogganing, rawr!
---
Muahaha, we finally did it! We were planning on giving 'er crap in the pasture, but Shay-las 10 year old cousin Chris came out to ride, so we ended up staying in the front yard and it was probably for the best because Shay-la is an oversized whale who busted the dang toboggan within about thirty seconds of sitting on it
I am NEVER letting her live this down - for once it wasn't MY fat butt breaking something! However, because we are so full of epic win, we took it back to Wal-Mart like three hours after buying it and said "This sled sucks, money back now, plzkthxbai" and of course we got a full refund because nobody messes with us. We're so scary and stuffz you know. In our oversized fluffy Canadian hats and poopy pony boots. Anyway, enjoy the pics!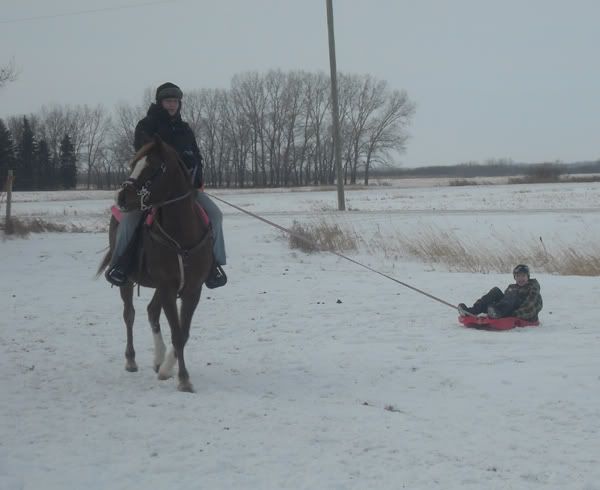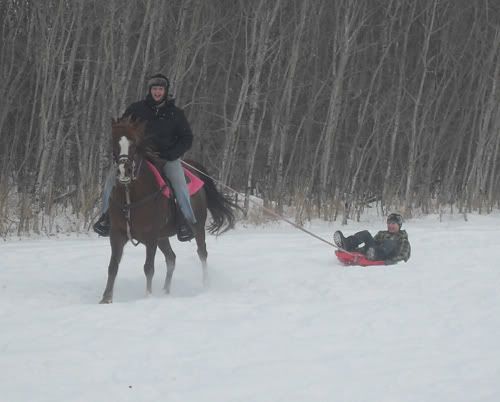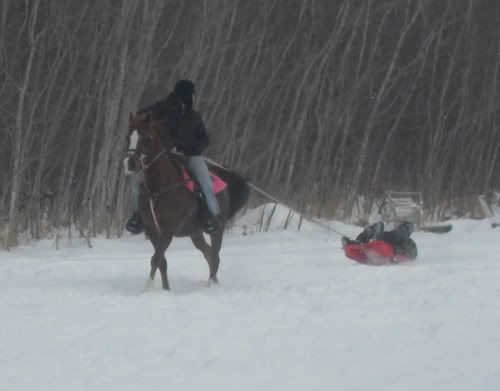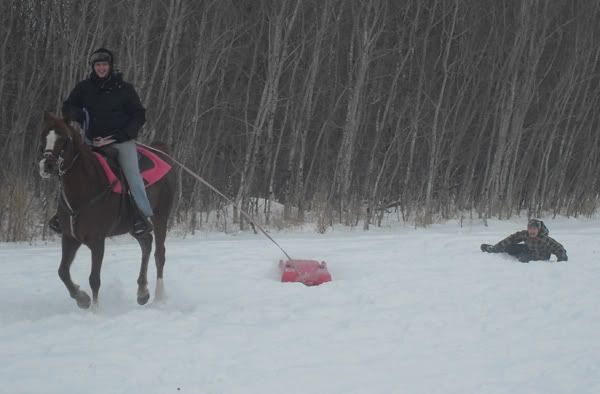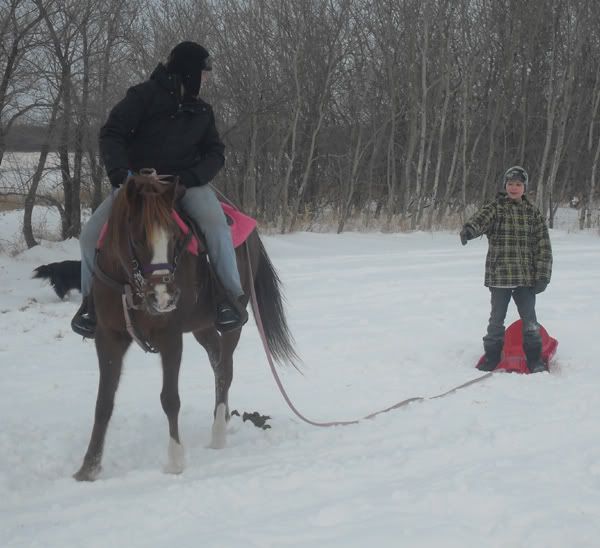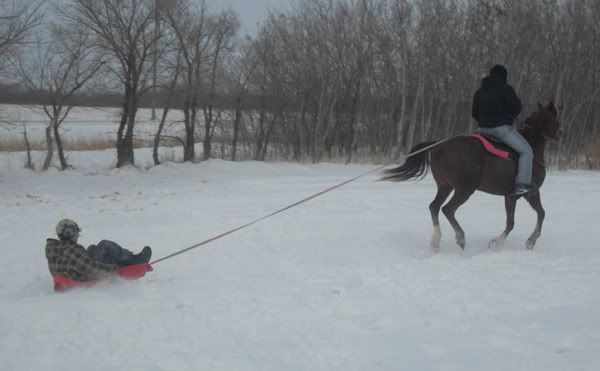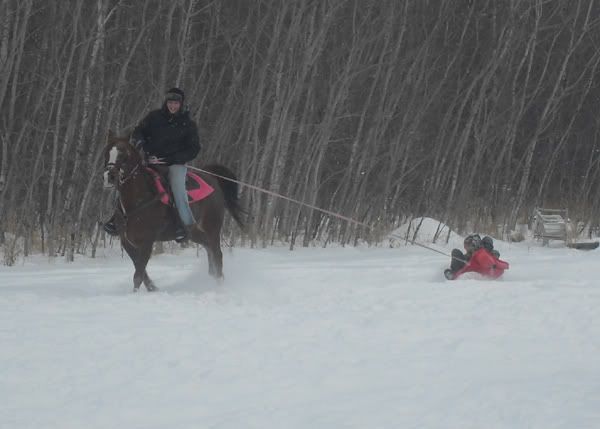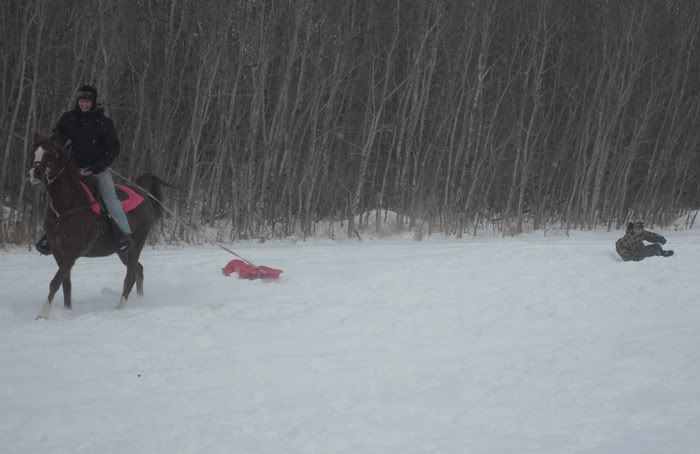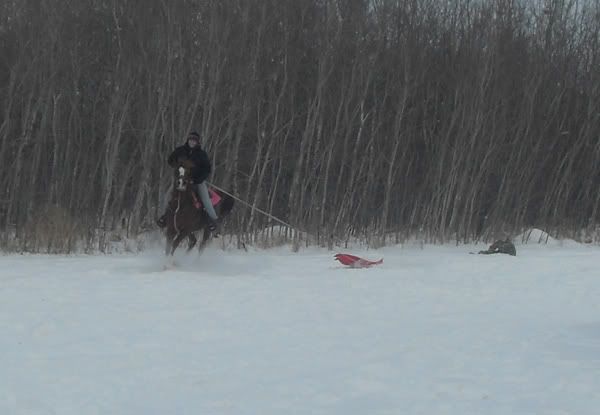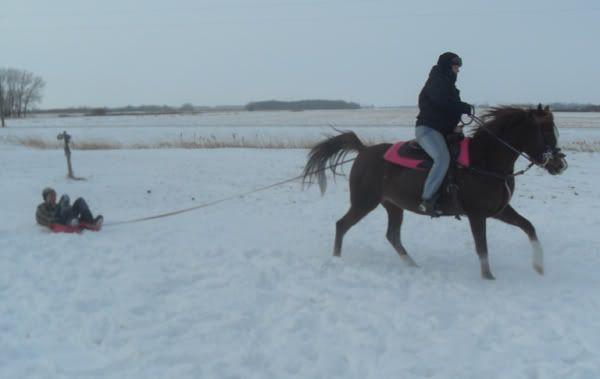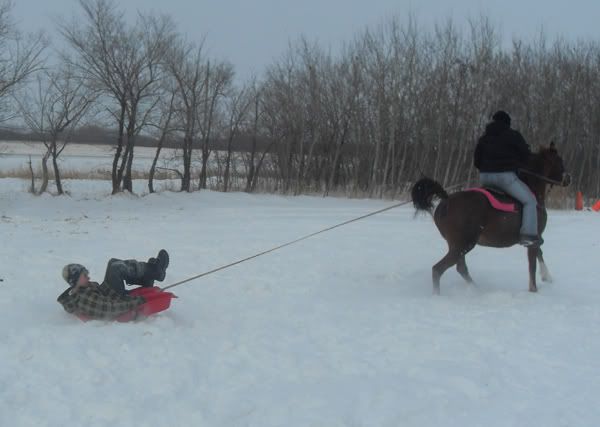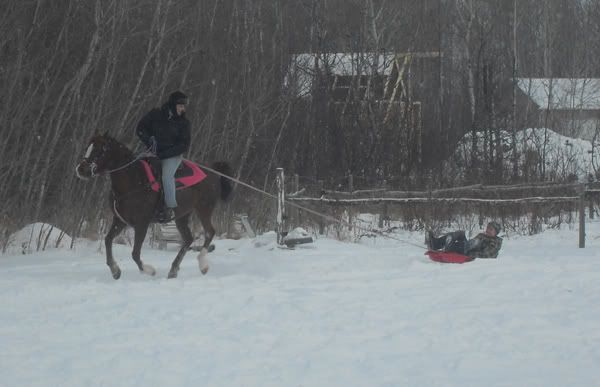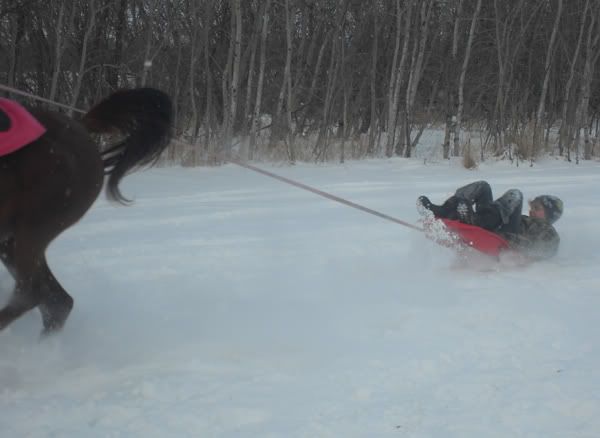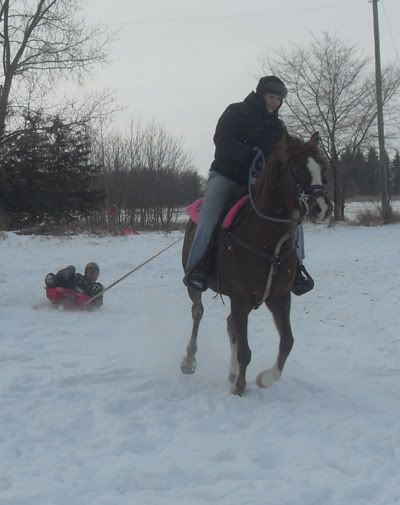 ---
Quote:
I hope God tells her to smash her computer with a sledgehammer.
---
Last edited by farmpony84; 01-12-2010 at

03:12 PM

.
Green Broke
Join Date: May 2009
Location: Winnipeg, Manitoba, Canada
Posts: 4,510
• Horses:
2
Oh man. Can I come live with you guys? Haha That looks like so much fun! I love how Zierra looks like she's enjoying herself too. Totally envious.
---
Fabio - 13 year old Arabian/Lipizzan gelding

~
Rest peacefully, Lacey.

That's awesome. I remember my best friend and I did that when we were kids. We got in the sled and talked my brother into pulling us all over town. He did manage to launch us off the sled after taking one of those snow-plow rows at a run LOL. Good times!! Thank you so much for sharing the pix and video, I thoroughly enjoyed it and relived it vicariously through ya'll since we haven't had enough snow to do that in years.
---
Always remember that feeling of looking at a big, open country over the ears of a good horse, seeing a new trail unwind ahead of you, and that ever-spectacular view from the top of the ridge!!! Follow my training blog:
http://robertsontraining.blogspot.com/
That looks sooo fun!!
---
Ω Horses are a projection of peoples dreams Ω
That looks like so much fun :) I'm so doing it one day when it magically snows on the north coast of Australia.
Started
Join Date: Aug 2009
Location: In the barn whenever possible.
Posts: 1,910
• Horses:
2
LOL! I can remember doing that when I was younger!! It was so much fun! Thanks. I enjoyed the videos.
---
"Riding a horse is not a gentle hobby, to be picked up and laid down like a game of solitaire. It is a grand passion. It seizes a person whole and, once it has done so, he will have to accept that his life will be radically changed." -Ralph Waldo Emerson
HAHAHA me n my sis did that last year.... cept we made a snowboard outta a skateboard deck and some straps- and coz the horses got a bit jolty from their movement we switched to the motobike
---
Similar Threads
Thread
Thread Starter
Forum
Replies
Last Post
we say RAWR!

english_rider144

Horse Pictures

2

10-18-2009

08:16 PM