Ponying my yearling
---
I decided to see what Raiderr thought of being ponied yesterday. He was a bit unsure of where he was supposed to be the first few minutes and would either dead stop or try to run out. My paint Poco was a champ though and never stepped one foot out of line, he's an old pro at this kind of thing. He just kept a steady walk as the yearling bounced off him a couple times before it "clicked" in his head what was going on. We then ponied for a good 15-20 minutes PERFECTLY! I was sooo proud! I decided to try a little trot and Poco went into a nice western jog, Raiderr once again tried to run out once thinking it was play time, but was quickly corrected and came right back where he belonged - again Poco just kept a steady pace and acted like this was something we do all day every day. I'm proud of my yearling and how well he's coming along but I also have to be exceptionally proud of Poco and what an incredible horse he is after all of our years together. <3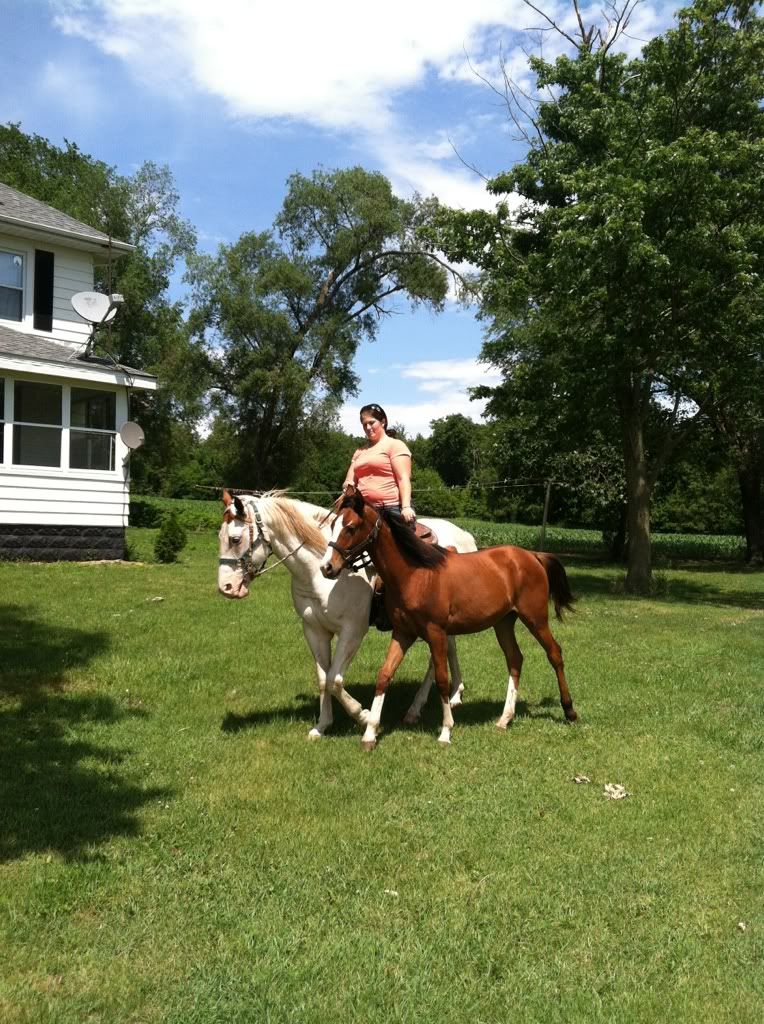 ---
Challenge me, Dare me, or even defy me. But do NOT underestimate me...
For on the back of my horse nothing is impossible!
I can't wait to do things like this with Katie! AWesome photos!
---
Everything that happens, be it the good, the bad and the downright miserable define who we are.
Instagram: TopazCowgirl

Great pics -beautiful property
Showing
Join Date: Jun 2011
Location: Cariboo, British Columbia
Posts: 11,940
• Horses:
3
Beautiful pics. I love ponying the youngsters, in fact that is how I first ride most horses I have started, my first ride & mounting is against a quiet pony horse. I feel more secure and so does the young horse. Can not see in your pics, but you dally the lead around your horn, easier for you and you still can release if you get into trouble.
Wondrful pictures!
Makes me miss ponying my racers at 6 in the morning!!
Posted via Mobile Device
thats great! your horses are beautiful. i love your yearlings cute little face!
I'm goin to start ponying him on trail rides next. We have some trails on our property and some are in the big pasture so we'll start there, that way of there's a problem I can let him go without fear since he'll still be in a fenced area. These trails include hills and creek crossings too. Can't wait!
Posted via Mobile Device
just wondering, what is the point of ponying a horse?
Quote:
just wondering, what is the point of ponying a horse?
I do it so they can see some of the things on road and trail rides long before being ridden.
Posted via Mobile Device
Good job, Poco. Yeah, get em across those creeks & hills.

Here's a funny one: I was ponying a young'un colt on a trail and came to a creek. I ended up having to dismount because my horse went across but the colt didn't. Sticky situation, me standing in the middle of the creek holding both horses...one on either side. Finally got the colt across and no prob with water from then on.