Possible new QH Filly?
---
I need your guys' very wise advice. (I promise I'm not sucking up... tehehe). Ive found this filly. I'm so interested in her it's not even funny! She's a Quarter Horse - I have pictures of both her dam and sire which will both be posted below as well as a photo of her.
What do you guys think? What should I look for when I go see her tomorrow (eek!!!). She was born May 12th. Just looking for some opinions.
And of course... Name suggestions!?!?
Dad's name is Mr. Blackburn Pistol
photo credit -
www.hardluckranch.com
Mom's name is King Sugar Scotch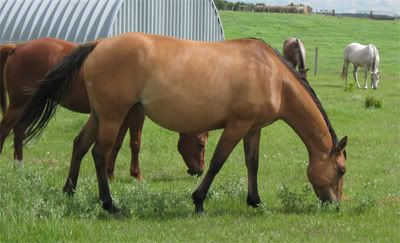 photo credit (c)
www.hardluckranch.com
and the little filly!!
photo credit (c)
www.hardluckranch.com
So... give it to me straight!
What is your goal with her?
I don't show horses at all - never have. It might be something I'm interested in some day but at the moment I just want a horse that I can take on trails. Basically, a trail horse. Of course - I want a horse that I can grow with and learn from.
I was just curious as I thought you were expecting a couple of foals yourself (the Paso/QH crosses), so was wondering if you had particular goal in mind in seeking out this little one - as it would seem you would have "a horse you can grow with" in the foals you are currently expecting.
An investment at this point for a trail horse some 3 years down the road seems a little long-range to me.
It is long range - and the paso/qh foals all have homes. Mom and Dad have decided to keep them for themselves as they have retired their horses. They live 4 and a half hours away from me.

I have trained a colt before - and loved the bond it gave us. I have purchased horses that were broke since then and can't seem to form a connection. This filly is 3.5 hours away from me and I'm going to see her tomorrow to see if this is the one. I've been to see a few others and something about them didn't quite click with me.



PS: Those Paso/QH foals are due on the 29th and I'm heading down there on the 2nd to help keep an eye on them when Mom has appointments in case they haven't foaled yet! (yay!)
Too cute I love this little girl
Butterscotch Pistol
---
Country Woman


Me too! I'm very excited to meet her.
It says "Sale Pending" on their sales page? Is she still available for sale?
That sale pending is me - depending how the meeting goes :)
Well, she is certainly an adorable little filly! She currently looks to have a nice, sturdy build to her but that can change as she ages.

Be sure to let us know how your meeting goes!