Post your versatile horses!
---
Post your versatile horses and show pics/videos of them being versatile!
This is Arthur, my 23-yr old Paso Fino gelding. He does...
Western
English
Trail
Bareback
Fun Shows
Jumping
Gaited Classes
Gymkhana
Halter
Showmanship
Trail Class
Bridleless Riding
Costume Class
Several years ago:
I don't do any showing or english riding but all of my guys do the bareback/trail/ranch/roping horse thing.
Denny: (played around with jumping on him ages ago)
And Dobe:
You guys are such amazing horse riders, so natural. So lucky to be able to do it from a young age. I just haven't got anything to show, but I can tell you what nice pictures you both make in harmony with your happy horses.
I don't have pictures of everything but this is what Romeo has done
Games
Cattle
Halter
Pleasure
trails
What he is learning
Pleasure (he needs work)
Trail class
cattle (He has just worked cattle once)
---
RIP Minnie, 1981-January 15, 2010
RIP Maggie Mae I miss you
Green Broke
Join Date: May 2009
Location: Winnipeg, Manitoba, Canada
Posts: 4,510
• Horses:
2
Haha, Zierra:
Free jumping
Taking care of someone with a broken leg:
Teaching (girls first time ever jumping):
Dressage:
Jumping:
Bareback with a halter:
Tricks:
Gymkhana (barrels, poles, keyhole, flag, egg and spoon, etc.)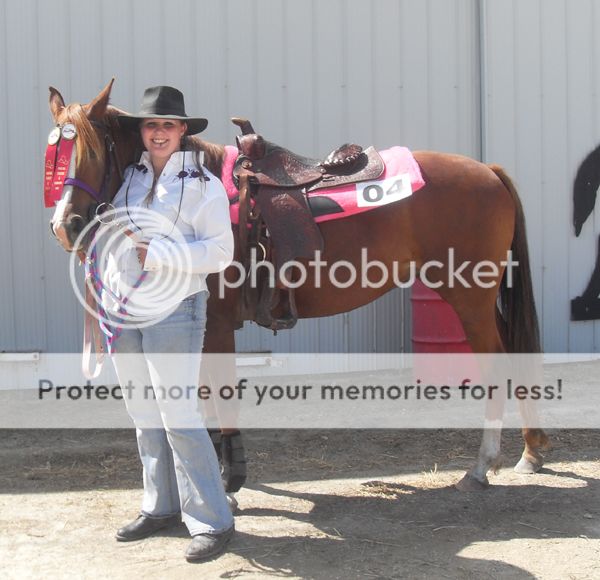 Flag Race vid (just cause I love it and we got 1st place, LOL)
Trail Riding:
Obstacle Master:
Most Beautiful Horse In The World:
---
Quote:
I hope God tells her to smash her computer with a sledgehammer.
Hmmm...okay...guess I can participate! Hahaha...
Flicka is mostly a "pleasure" horse, but I am teaching her how to do gymkana events, she is learning how to jump, is an amazing trail horse, and pretty much puts up with ANYTHING I do to her!Lol!
English...
Putting up with silliness...
Western...
Standing groundtied...
Working off lead...
More "ground tie" skill...
I wish I had more undersaddle pics (of her and me), but I'm almost always alone when I ride :(
---
"The ideal horseman has the courage of a lion, the patience of a saint, and the hands of a woman..."
awww you all have such great horses
very talented horses every one my mare only does a few of those things but she is perfect for me!!!!! :)
---
Pocket - 8 yr old, 15.1hh Thoroughbred Mare
~You know you're a horse person when you say 'whoa' to your dog~