Pride in Motion
---
Hey Everyone,
Yesterday I went out to work with Pride and my sister came along to take pictures for me. When I went to catch him he was a real BUTT. I had never had so much trouble catching him before. He took off galloping across the pasture, with his mother following close behind (she can sure book it for an old lady). They ran for about half an hour before I was able to catch him. I wasn't expecting that at all, but my sister got some really good pictures of the two of them running around. I thought I would share.
This first photo was kind of a scary moment for me (see me cowering right there?). I was approaching Pride with the halter and he started walking away. I kept following him and then he just threw a fit and said, "Forget you!" He turned his rear to me and began bucking and kicking and then sprinted off across the field. Thankfully he wasn't actually trying to strike me, he was mostly just trying to make a statement. But I was in a BAD spot and was very nearly kick. This photo shows him rising up to buck and kick before he took off. I'll have to be more careful where I place myself next time.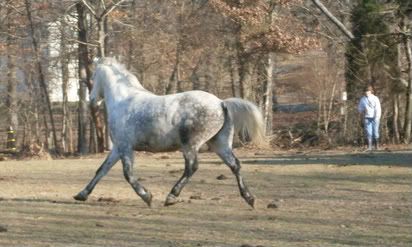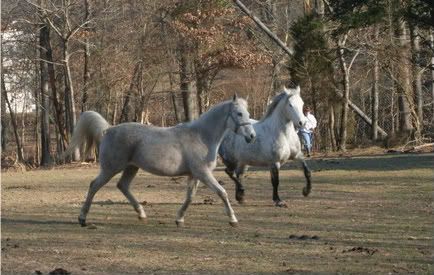 He's very Arab in this picture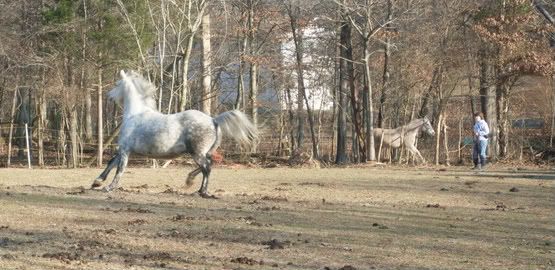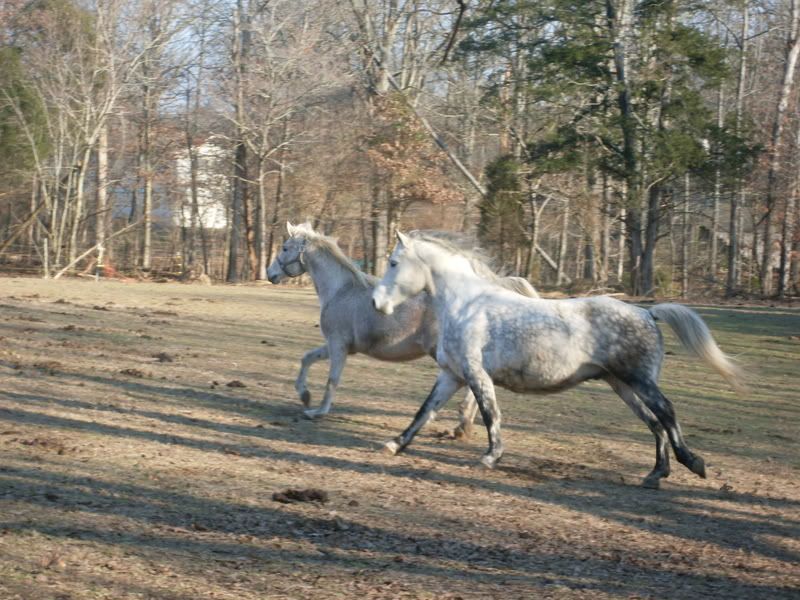 Here is another one where he decided to be silly. If you look closely you can see that all four feet are off the ground.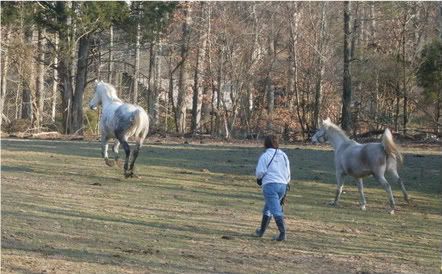 He did finally let me catch him. He was a perfect angel after that. Crazy horses
Jubilee
He is STUNNING!
He's such a big boy, awww! What a gorgeous horse. & I love the name.
---
Ride more, worry less.
Thanks :). He's not my horse, but he might be in a year or so. He belongs to a friend of my parents. He hasn't been worked with much in the past and I've agreed to help out. His name suits him perfectly. And he is a BIG BOY. In that last picture he looks kind of short but really he's huge. I'm not exactly sure how tall he his though. His mom is so small! I pity her, she had a really hard time foaling him.

Jubilee
Yearling
Join Date: Jul 2008
Location: between florida and maryland, usa.
Posts: 759
• Horses:
1
He looks like he'd be very pretty under saddle from some of the pictures.
:]
VERY cute horse.
I want him!
I also think he would be very nice undersaddle. But before I even think about saddle work, he needs some basic foundation in ground manors.

Jubilee
muuust....steal....muuuust....steal....>8D
Yearling
Join Date: Feb 2007
Location: In the Phantomof the Opera's lair beneath the Opera Garnier
Posts: 1,112
• Horses:
3
Dana does that occsionally. Wont let me catch her and goes hooning off except I never have a camera on me!!
Wow. Very handsome!

Hehe, the 1st picture made me laugh. Sorry. =P
Quote:
Hehe, the 1st picture made me laugh. Sorry. =P
Haha, that's okay. It is kind of funny. I'm just REALLY glad I didn't get nailed. I'm recovering from a broken arm right now, the last thing I need is another injury.
And Lucara, back off! He's mine!
Jubilee