Pudden's going to have a baby! *EDIT: She had it!/PICTURES!*
---
Name: Pudden.
Age: 14.
Breed: Quarter Horse.
Due Date: April 22nd 2008.
Sire of the baby: Banjo Whiz.
She definitely acts like shes going to foal soon. Her moods changed, her eating habits have changed, she's waxing.
Sometimes she'll act real needy and insecure and want you to hold her head and rub her, and other times she wants nothing to do with anyone and stands in the back of her stall.
She isn't feeling her best but she is in good health and being well taken care of and watched constantly. Phyllis (my boss/trainer) spent the night out in the barn last night and probably will proceed to do so until the baby is born.
In my opinion I think Pudden will foal this weekend, I'm leaning more towards Sunday.
I'm so excited!
MEET ROSA: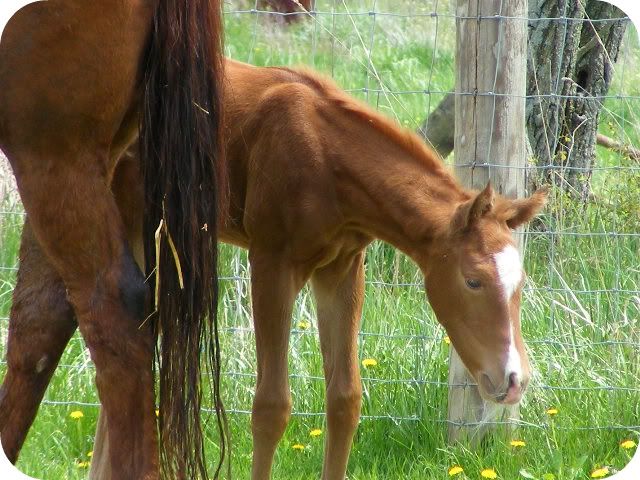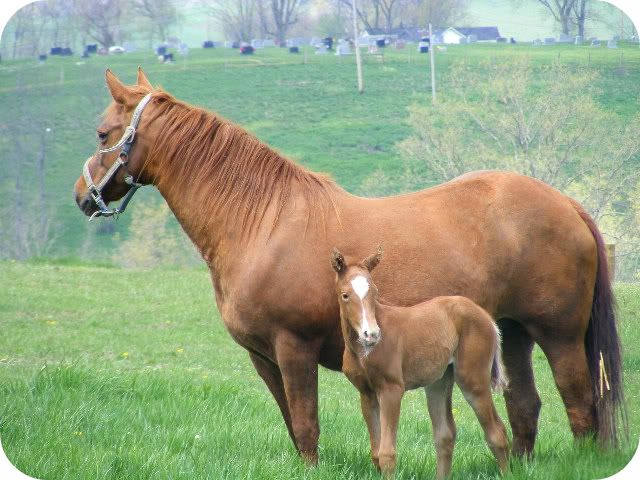 She is the sweetest most adorable little thing. I'm already in love with her.
More pictures soon, I have 148 of them to go through, haha!
shes huge
good luck with the baby!
Thank you!
I know, she just keeps getting bigger and bigger!
good luck, hope all goes well. great looking horse. she is going to have a pretty little foal
---
horeses forever
Yearling
Join Date: Feb 2007
Location: In the Phantomof the Opera's lair beneath the Opera Garnier
Posts: 1,112
• Horses:
3
And I thought Delta looked massive before she foaled!!! Its gonna be a big un!!!
Yeah she definitely produces big foals. Her first foal, which is in my avatar was a big boy. He's 2 now.

I'm about to jump out of my skin! I sat and watched her tonight for a good hour and the baby was moving all over the place so she's definitely getting close!

I'll keep you all posted, and I'll post more pictures asap.
Poor Puddin looks like she will pop
Looking forward to pics
gotta love the baby's mama's belly :P
So Pudden is due anytime now.
The foal has moved into position and Pudden is dripping milk.
I really hope she goes within the next 24 hours, if not I may just burst with anticipation!