"Que"
---
So great news everyone! I bought a new mare. She is a three year old Quarter Horse Chestnut Rabicano. She is Smart Little Lena and Major Bonanza breed. Please don't mention her feet, I just got her today and the farrier already came out and fixed them, I just could not get new pictures as it was too dark when we were done. She also does have scarring on her one back leg (the one without stocking) as she was caught up in barbed wire last summer.
So here she is, my new girl "Que"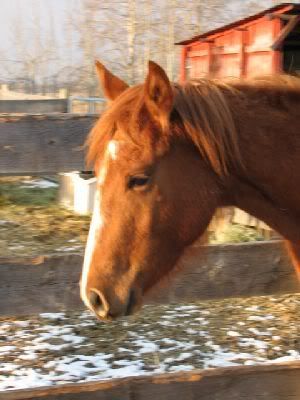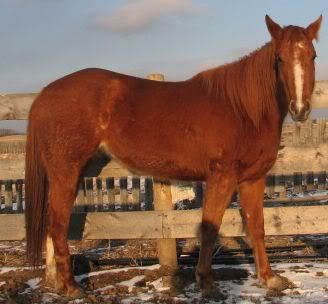 Very cute! However you have to call her "Queita" to be consistent with other horses names.. :)
Thanks Kitten Val! Except the only "ita" I have no is Kita. And amzingly enough she is the only one I named
Tika was named by my friend who helped foal Kita out. Nita came with her name and for weeks I tried to change it but could not come up with anything better!
So then I had Kita and Nita! It was tough when we had those two out for a ride..lol
So now we have:
Tana
North
Cat
Kita
Que
Dillon
Beau
Aww congrats FGR!!
She is gorgeous.
I like the name Que; it's different!
---
Ride more, worry less.
Thanks Poptart!
she is a gorgeous little girl! Have lots of fun with her!

What do you plan on using her as?
I will be training her and breeding her. I won't be able to show her because of her old injury to her back leg. :( But oh well, she is very well papered and balanced and will throw wonderful foals. :)
Quote:
Originally Posted by FehrGroundRanch
So now we have:

Tana
North
Cat
Kita
Que
Dillon
Beau
I see... You mostly talking about Kita and Nita, so I assume all names build up like that (OK, OK, I didn't count Beau in :) ).
Yeah I have been talking about Kita and Nita alot..lol

Kita, well cause she is the best horse in the world and Nita cause of her baby!