Random Cantering picture
---
Johnny gets quite excited once the jumps are pulled out, so its a must to canter him around the arena a bit before jumping, or he focusing so much on the jump, that he forgets what he is supposed to be doing, if that makes sense lol. Anyways, here is a picture of up 'warming up' for the jumps - it was more of a gallop because he was so worked up. But im not complaining!
I feel that i am not very active on the forum right now, so i thought i would make a picture thread. Yes, i do realize my heels are not down, im working on it (: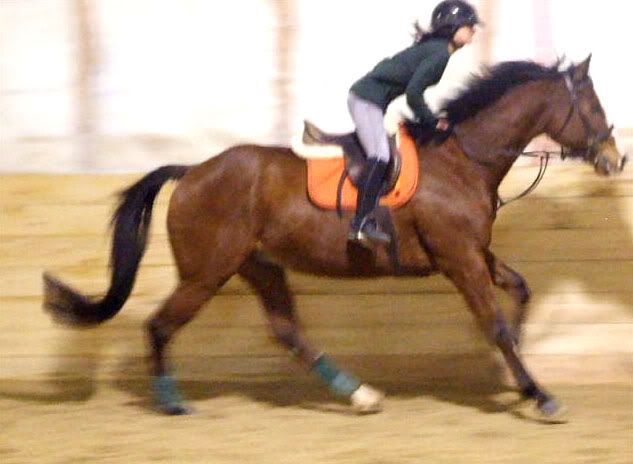 Banned
Join Date: Jul 2009
Location: In a land far far away, or so I wish.
Posts: 12,825
• Horses: 0
Looks like fun!

It will be easier to get your heels down when you fix your body. Your hips need to be further back, over your saddle. With your body in the right place your leg will be in the right place and your heels will be far easier to get down. Also, take some foot out of the stirrup. It is next to impossible to get your heels down with your foot shoved home like that.
Thanks for the advice, My stirrups were actually to long here that's why my foot was so far forward, i am going to do lots of bareback with him so i can really work on my form and get the perfect feel for him.
Thats a great shot (:
---
Noble House Hot Gossip
*17.01.2010**Warmblood Arabian**5YO*
Always fun!
---
-Horse racing is my passion-
Athena:15y Palomino QH & Shirley's Brittney:8y Bay OTTB
Similar Threads
Thread
Thread Starter
Forum
Replies
Last Post
cantering RMH

barrie

Gaited Horses

12

09-02-2009

12:05 AM

Cantering

eqryder92

Horse Training

13

12-27-2008

04:54 PM

help on cantering?

clo

Horse Training

7

11-27-2007

10:28 PM

Cantering

~Tina~

Horse Training

20

09-06-2007

11:59 AM

Cantering!

pandascare

Horse Riding Critique

8

07-20-2007

03:52 PM