A ride with Lacey! :D
---
Last week it was super sunny so Lacey and I went on a ride. Sadly, she's been pretty ouchy on the gravel we normally ride on (I think she may have been trimmed to short 2 weeks ago) so we just walked along, but that means there are more pictures for you!
We have 3 weeks until camp and it's SOOO exciting! Lacey loves camp and I love camp and there are great trails, so basically we are set.
But anyway, Lacey's doing well. She's so funny, I've started riding her bareback more again and I had forgotten how much fun that is. She is so amazingly good when she's being ridden bareback and her back is so comfy! I can't wait to ride her bareback all the time this summer.
Pictures!
Before we left: Angry poneh (her saddle doesn't fit so well currently and I hadn't realized the full extent on it's owie-ness until this ride, I don't plan to ride her in a saddle again until the summer when I have one that fits). Note her classy riding halter that I made for her last summer, I finally have some reins that work really well with it!
Happy happy dog. He looooves going on rides with Lacey and I. I think he thinks she's extra awesome cuz she can beat him in a race (which doesn't usually happen seeing that he's a Border Collie/LabX).
Poneh, running dog:
My favorite trail. It's so lush and green and picturesque!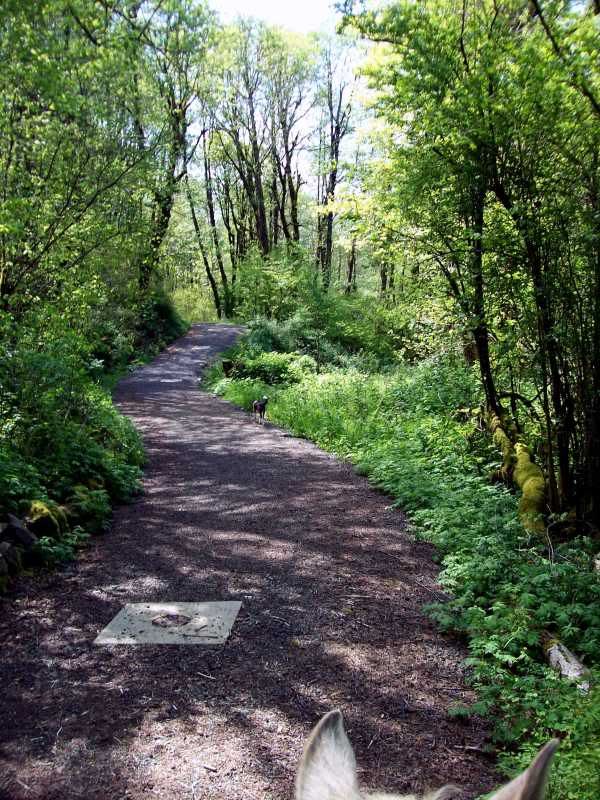 Happy dog.
A different trail, this one is really steep and rather short. We ride up and walk down.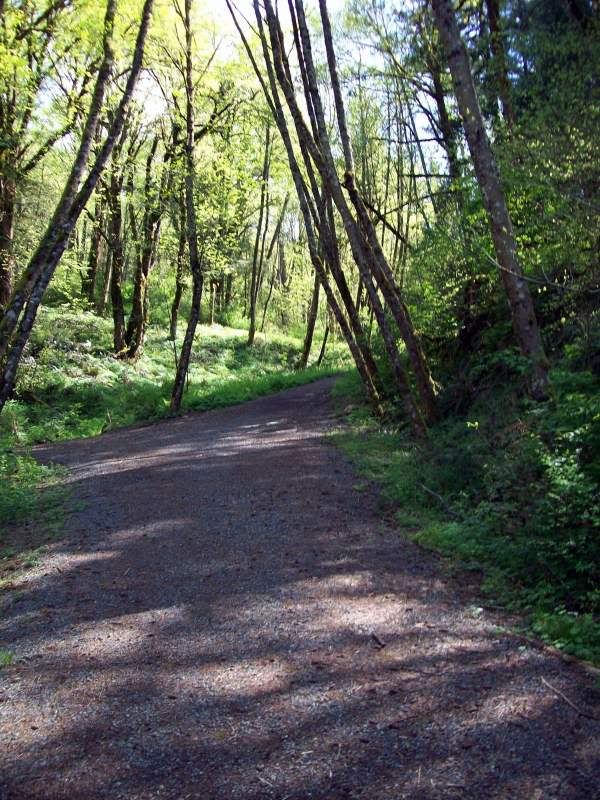 Stinging nettle! Don't want to fall off here! I fell off a different horse into some stinging nettle once. That was not fun. I still have never fallen off Lacey. I have failed at getting on but I've never fallen off.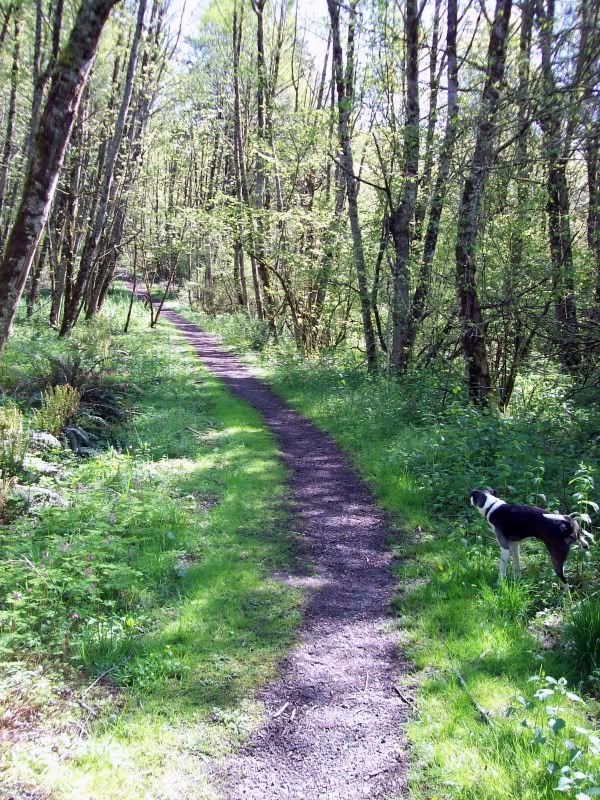 After I got off so head down the hill:
Back on again. Happy dog, happy pony.
Me and Lacey, en shadow. haha
Note her ridiculous forelock. It's getting so long! about half of it is below eye length! But when she's really working "hard", it ends up half behind her ears which makes her look much less refined and regal and more highly comical.
Once I got her all put away. Charlie, the dog, can't come in the fence cuz the llamas are not dog friendly. So I tie him to the fence and he hangs out up there and is ridiculously thrilled to see me when I get Lacey all put away.
I hope you enjoyed pictures of sun and green-ness! :]
---
Fabio - 13 year old Arabian/Lipizzan gelding

~
Rest peacefully, Lacey.

---
Last edited by Wallaby; 05-16-2011 at

11:14 PM

.
Very cool! I wish our trails were trimmed so nicely lol I keep getting clotheslined by the branches xD
---
Pssh.I didn't pick up the wrong lead
It's called a counter canter...
...A very advanced maneuver.
Haha, cute dog. Love the pic of him peeing on the side of the trail
That sun's making me jealous! We've had 46F weather and thunderstorms nonstop for the past week, and the next week. Not looking forward to more of it, LOL!
Great pictures!! The trails look so pretty where your riding at! I just love them!!
-sigh- i could look at lacey pictures alllll day.


Lucky on the sun! It's been rainy here is S. Oregon >.<
Wish i had trails like that to ride on! Only "trails" i can take around my place are in winter when all the muskeg is frozen. Other than that it's gravel roads & highways *sigh*
---
"If a horse fails to do something that is because he was not trained to do it. If a horse fails to do something properly that is because he was not trained properly."
www.wildestheartart.com
Looks like a blast. I can't wait to have a horse of my own and go for a romp with the pups :) lovely scenery too!