Green Broke
Join Date: May 2009
Location: Winnipeg, Manitoba, Canada
Posts: 4,510
• Horses:
2
Riding in Cuba! =D
---
So I just got back from 8 days in Cuba! It was an ok trip, not one I'd personally do again, but I hate hot weather, haha. Anyway, second day in, I FOUND THE PONIES. Talk about your difference in culture! These animals were downright fat and healthy compared to most of what I saw - our scooter trip made me almost cry seeing how shockingly emaciated the rural cart horses are, trotting down the highway with entire families in the cart.
The tack was absolutely primitive, and it wasn't until we got back I realized my cinch was twisted and the saddle was done up funky. I felt so bad, normally I'd check my tack even on a guided ride, but it was a rushed situation with some confusion so I'd lept on so as to not hold up the other couple any longer.
I have ZERO clue what breed these animals are - from research it seems it's the Criollo that's more native to Cuba, but these obviously aren't "purebred". They're narrow as hell, with tiny Arabian bodies and big Mustang heads. Only the youngster that was tied up with a saddle on actually looked like a "normal" horse, almost a Thoroughbred cross.
Anyway, enjoy the pics! My mom's pony was named Cucaracha and my horse is Hemiento? Something like that, the guide couldn't speak a lick of English, haha.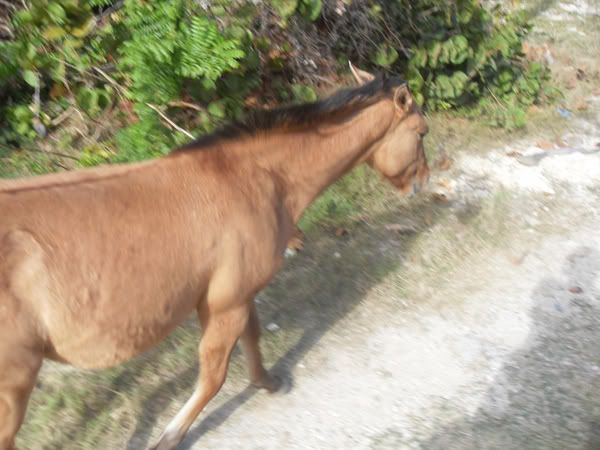 Baby pony! The other woman on the ride was riding his dam.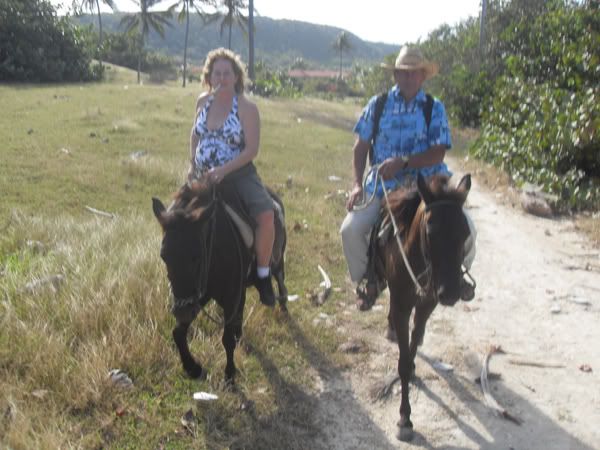 My mom and the trail guide.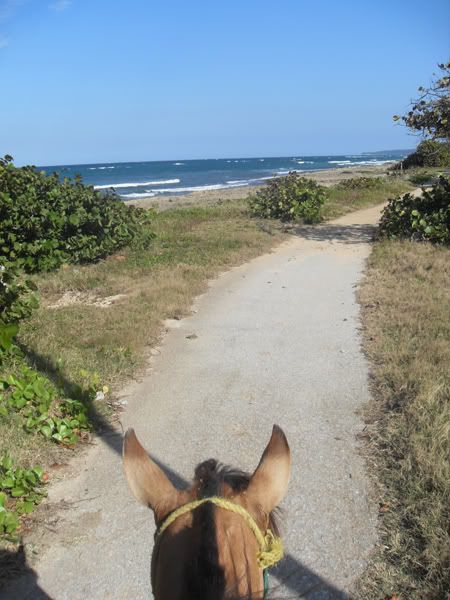 The ocean!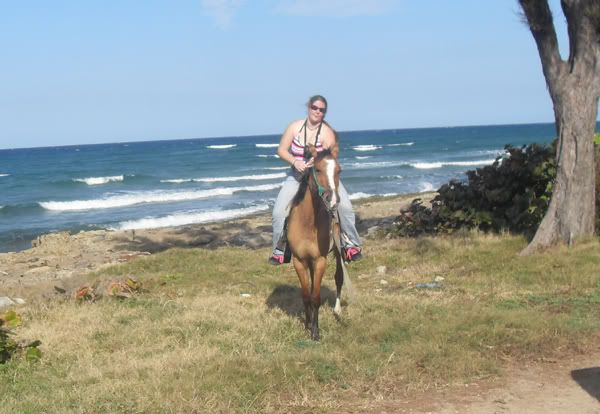 Me and my pony!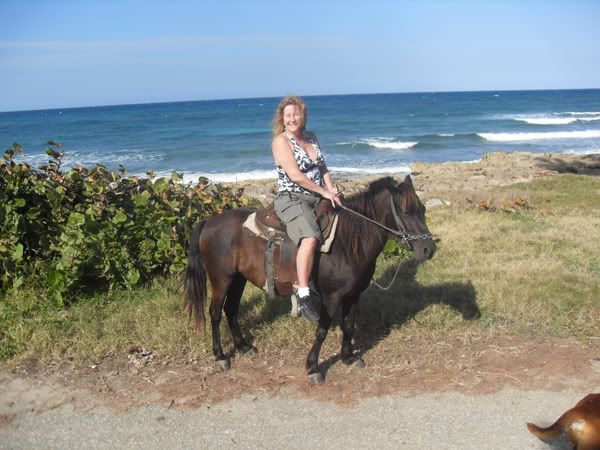 My mom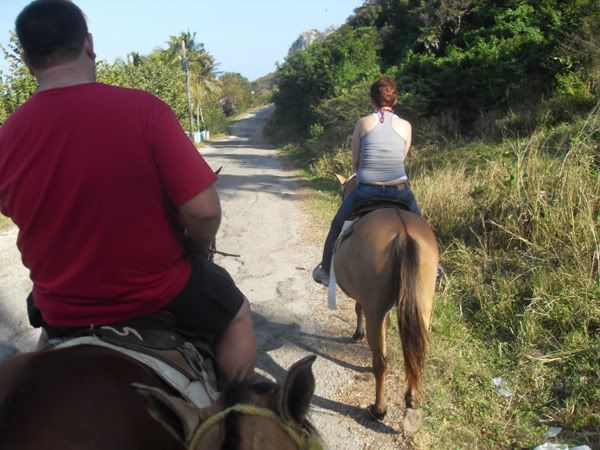 The other couple.
My pony! Tell me you aren't DIGGING his fancy bridle?!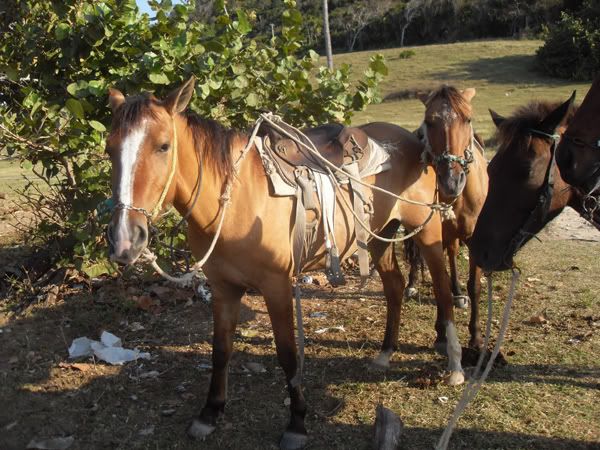 Safety? What safety?!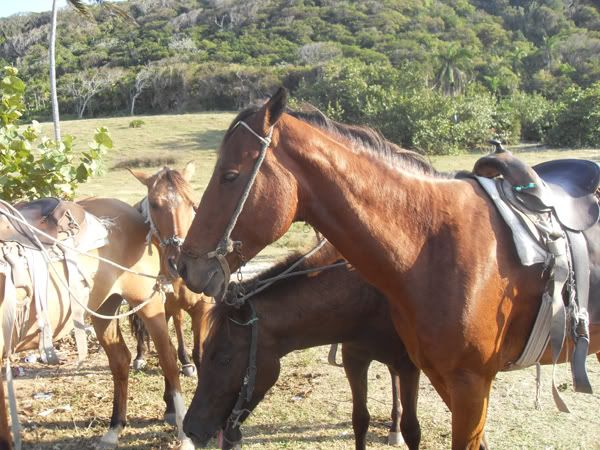 The grouchy mare with an even COOLER bridle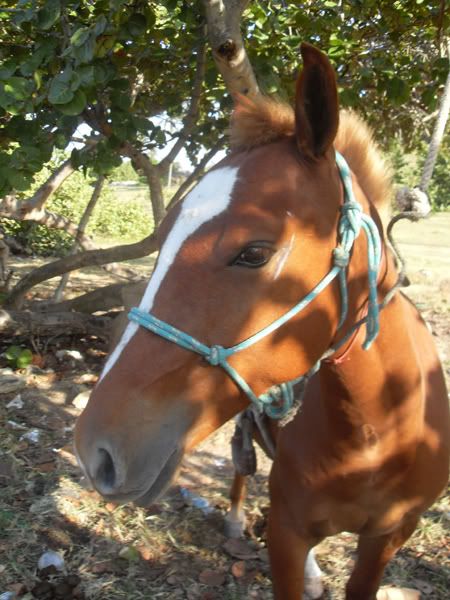 The cute youngster in training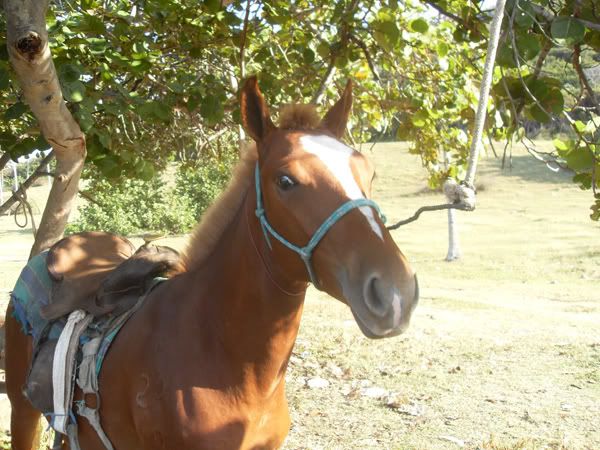 I eventually got to touch him on the neck but he was VERY shy.
---
Quote:
I hope God tells her to smash her computer with a sledgehammer.
Awww, I love the second to last picture! They are some different looking horses aren't they!
---
RIP Minnie, 1981-January 15, 2010
RIP Maggie Mae I miss you
cute ponies but yikes... those saddles and bridles are scary!!!
---
Cocoa - 32 yr old QH, Cherokee - 8 yr old TWH & Toby - 16 yr old QH
R.I.P. Cocoa 4/13/78 - 2/9/11
Holy scary tack batman! But at least the ponies are cute lol.
Look at the saddle pad O_O And scary bridles.
I hope you had fun tho !
Yeah that tack is a bit creepy.
Criollo is the mustang of South America and central America long wityh the island of the region, They are the feral horses of the area. Slightly different in the habit and more Spanish more in them.
---
A good cowboy always has a better horse at the end of the ride, a poor cowboy will be afoot reguardless of the horse.

Mis Raices Estan Aqui (my roots are buried here)
It really is interesting/shocking to go to another country and see how they treat animals. When we were in Ensenada, Mexico, we found a stable that actually took good care of the horses but there was one place alongside the main highway where the horses were in horrible condition, broke my heart. One mare had a little foal who was just loose right next to the road with cars zooming by going 60+ mph and she was so thin, tied up all day in the hot sun waiting on someone to come ride....... In Sonora Bay all the donkeys, cows, etc were so emaciated but then so were the people! I hired a day laborer from Guatamala yesterday to help put away my hay and do some yard work and he kept asking questions about my horses and shaking his head at the cost of their care. Poor guy hadn't worked or barely eaten in 5 days due to our rain.
---
Dana
Riverside, CA
I am digging those saddles! I gotta get me one of those!
---
When God Made Horses, He Painted The Good Ones.
"All I pay my psychiatrist is the cost of feed and hay, and he'll listen to me any day."

Weanling
Join Date: Aug 2009
Location: In my saddle! Or, in another persons saddle...
Posts: 307
• Horses:
1
Wow, those bridles... Saddles... Saddle pads!! Yeeks.
---
Ride to live, and live to ride!