Rocket!
---
Wanted to share some pictures of my boy Rocket. Currently have him on a 30-day trial but unless the vet says something is crazy wrong with him when he comes for the the vet check I think he is a keeper. Got him in trade for my QH and plan to do dressage and maybe get back into the hunters somewhere down the road. He's ten years old and off the track. He is somewhere over 16 hands, but he's scared of the measuring stick for whatever reason so we're not sure how far over. Trying to get his papers from the JC, but having some trouble reading his tattoo.
He has improved oodles since I first got him, he acted like a racehorse for the first week and now he is kinda lazy. Huge trot and collects up real nice. I am excited to start showing him.
first day at the barn.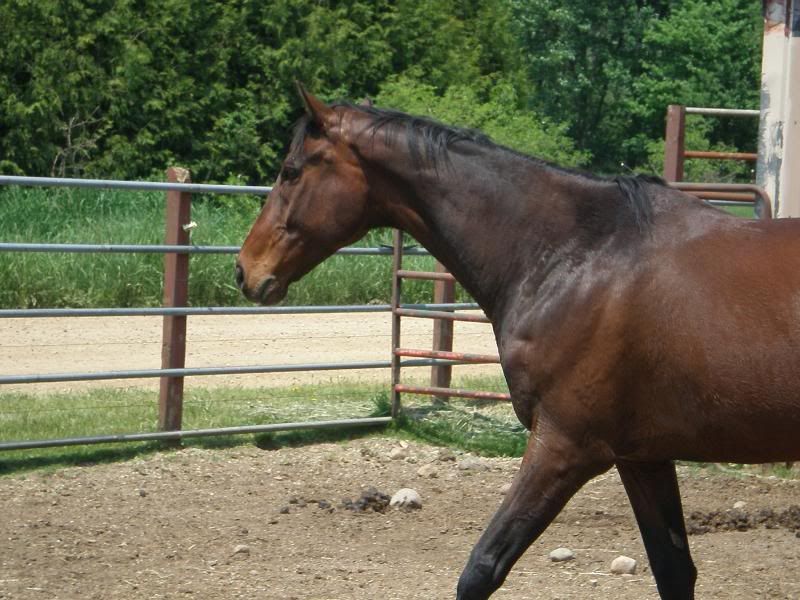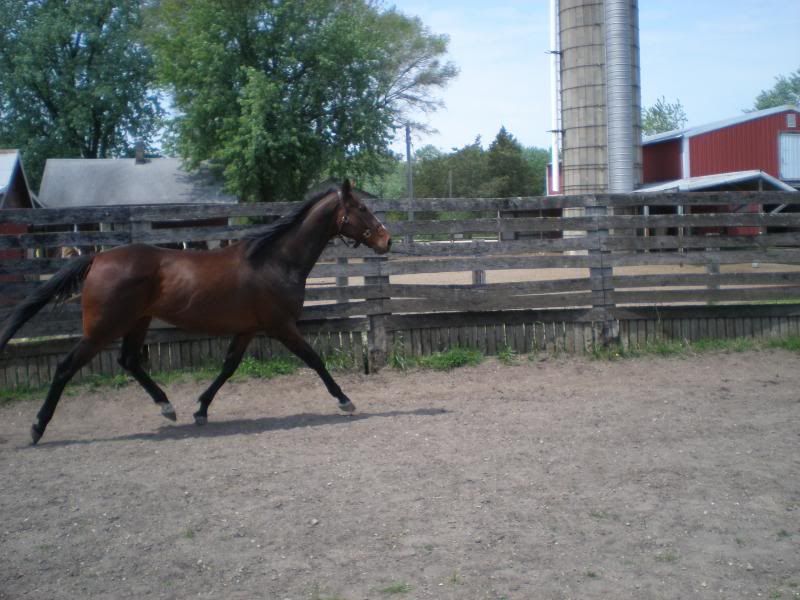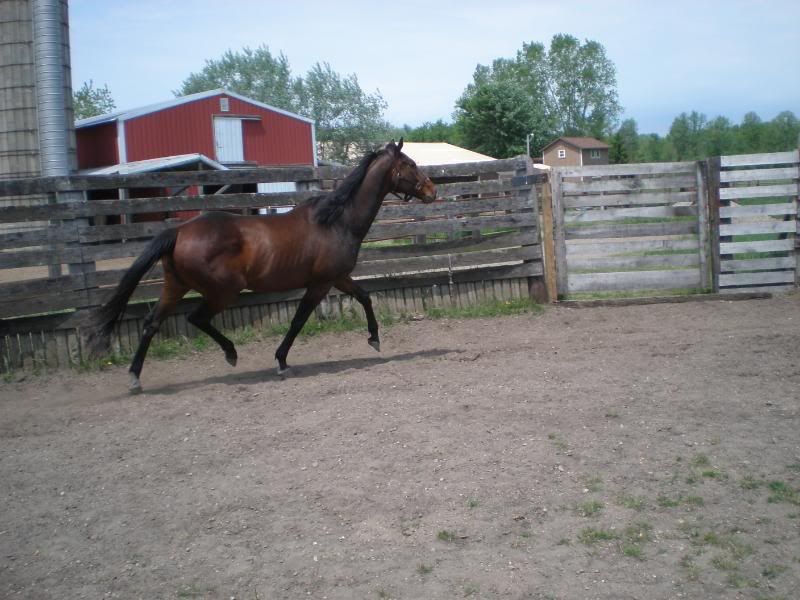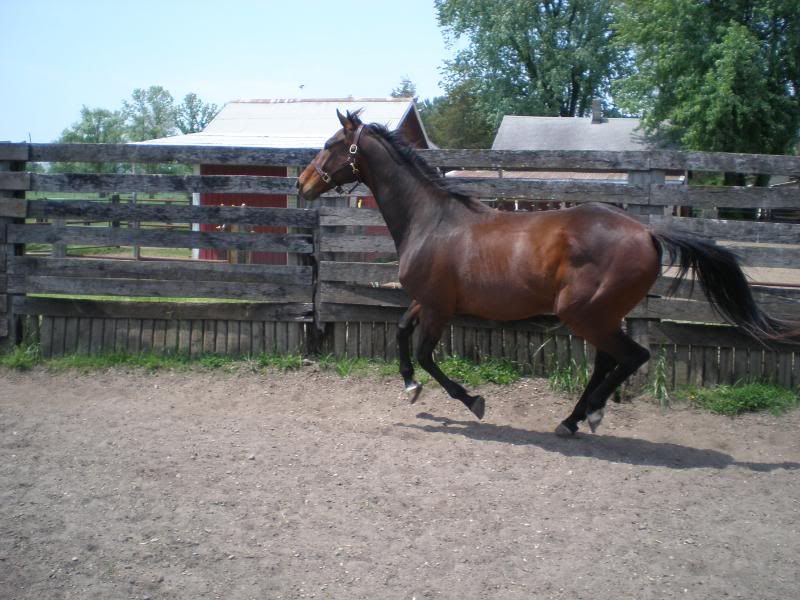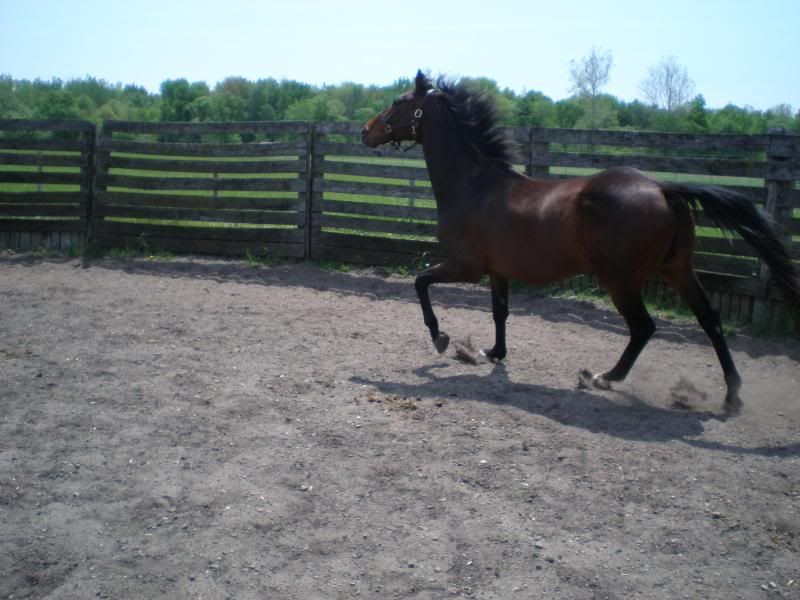 I love his head.
I know I am on him, but would love to see what anybody thinks of his confo.
I know he's a bit ribby, previous owner had him out on just grass which obviously wasn't doing it. He's now getting regular grain and hay in an attempt to get some weight on him.
Wow, my horse's name is Rocket, too. I like your horse, he's cute and looks like a good ride.
---
"And somewhere in the northwoods darkness a creature walks upright. And the best advice you may ever get is: Don't go out at night..."
he's a cutie.
---
When In Doubt Let Your Horse Do The Thinkin
Quote:
Originally Posted by spookychick13
What Lone said.
Thanks! He's tons of fun to ride. Did a little jumping with him yesterday, real little stuff and he was jumping them like we were practicing for the olympics! I barely stayed on, it was kinda embarassing, haven't jumped in over 5 years.
He's a cute horse. Is there a reason why they did the trade? He seems like a really nice horse for a trade. Did you get any history with him?
He is very handsome!
Quote:
He's a cute horse. Is there a reason why they did the trade? He seems like a really nice horse for a trade. Did you get any history with him?
The woman I traded with was looking for a western/trail horse, which my horse Dunny was a bomb proof trail horse and with his foundation breeding was built more for western stuff than english. I was looking for an english horse (which Dunny was trying his hardest but he was never going to be a true english horse) that was built more up hill and had bigger more active movements. Plus Rocket is a lot hotter than Dunny and I think the woman felt a little over mounted riding Rocket out in the open (which was evident by the fact that she was using a scary western ported curb bit. I have no problem riding him in a plain ole o-ring snaffle).
As for history he is an OTTB, working on figuring out who he is and how much he raced, etc, but I have been hitting a lot of dead ends. After that he was at a dressage barn (was supposidly bought for around 7500 for a little girl that ended up being way over mounted) then about a year and half ago was bought by the woman I got him from. Poor guy is on at least his fourth owner.