Say "Hello" To Rudy Valentino!
---
So...Let me start off by saying, we here up at the barn are HUGE Kiger Sundance fans, my BO actually used to work with him and show him, and she also has one of his foals. Well, while I was (stalking) BROWSING the auction horses website...I saw a kiger stud that was in a KP...For some reason, I thought OOOHHH I GOTTA LOOK! And, behold! This smexy boy was in the KP!!!
After thoroughly drooling over his photo's, I decided to look through his description...And then I found something interesting...
IT WAS SUNDANCES GRANDSON!! How could they let a Sundance foal go to slaughter?!? Anyways, after almost puking from being so freaked out end excited, I called the BO because I knew she would have to save him..He's family! After being harrased by us and her sister, with his due date shortly approaching...SHE GOT HIM!! And a pregnant mare and a yearling filly, but they have already been rehomed (: I'm soo excited for her! He is such a sweet boy, 5 years old (and for some reason hasn't dropped yet...) and is about 14HH...but he looks so cute! He's a big teddy bear! Here's the catch...A lady in TN wanted him for breeding...But the BO hasn't recieved a call from her, and if it turns out he can't breed, then she won't want him and he can be used as a lesson pony here! Yay! For some reason, the guy loaded him into the trailer WITH ANOTHER STUD (oh yea, real smart) and they fought so hard they broke the latch off the trailer...Oops. But other than that, he's a real sweet boy! Can't wait till all his cuts and stuff heal up! So without further adeu, here he is, the beautiful boy himself...Mister Rudyyyy Valentinoooo!
He's a little shy at first, but warms up pretty fast, and his mane is sooo beautiful!!!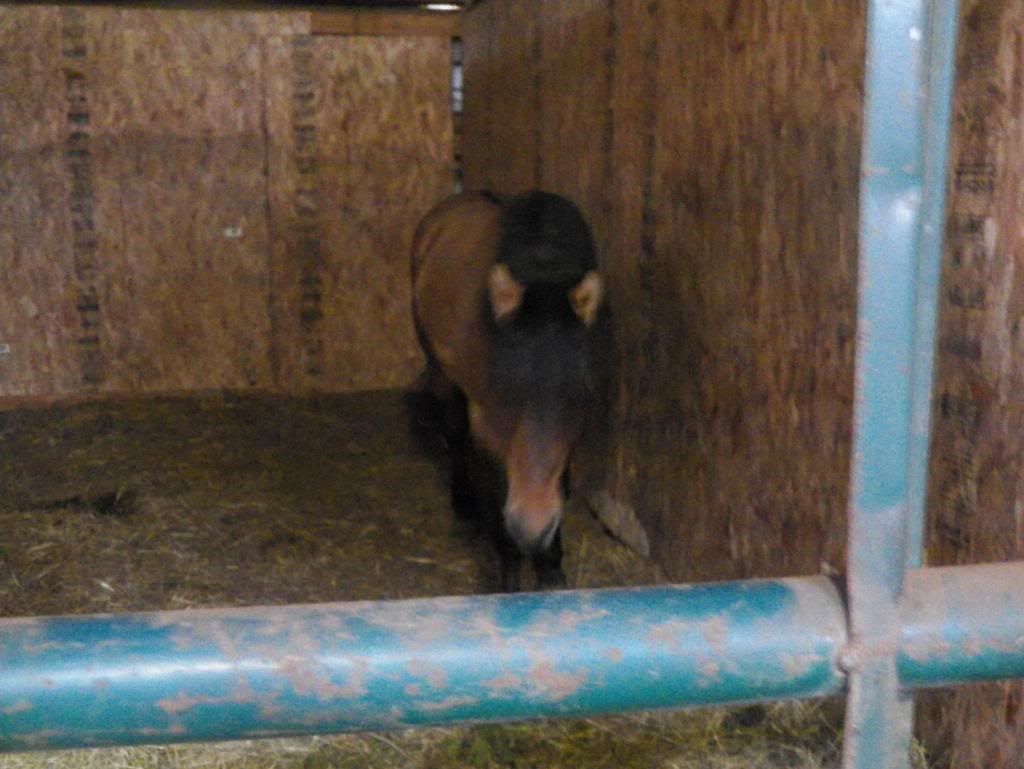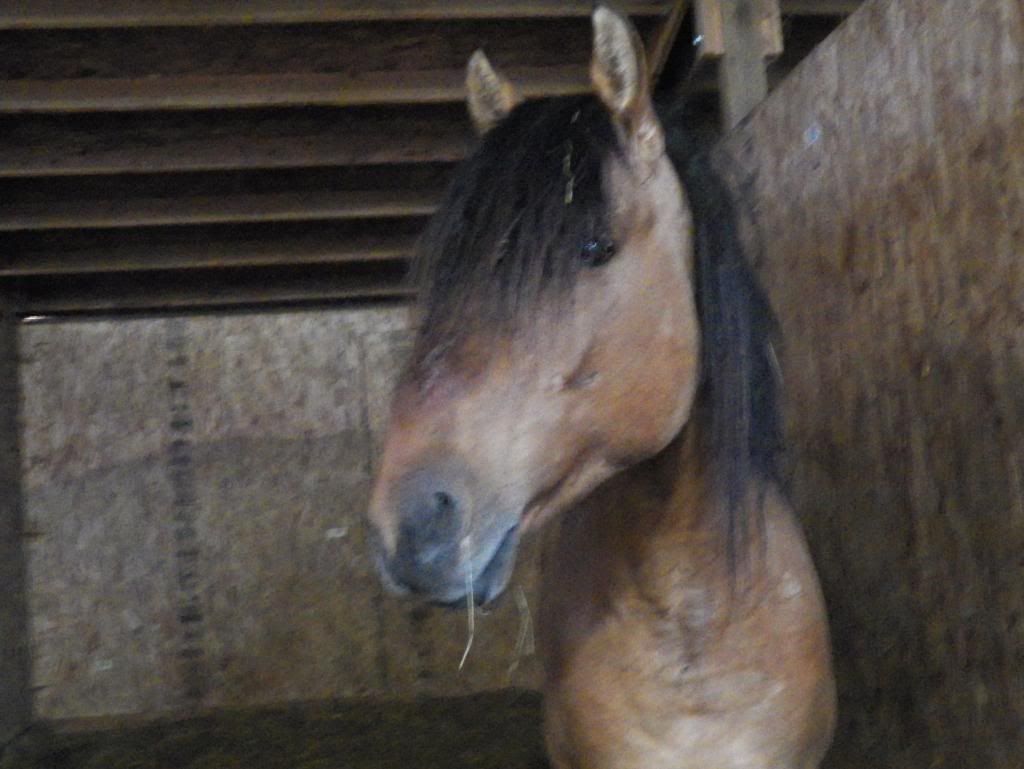 He is VERY romany!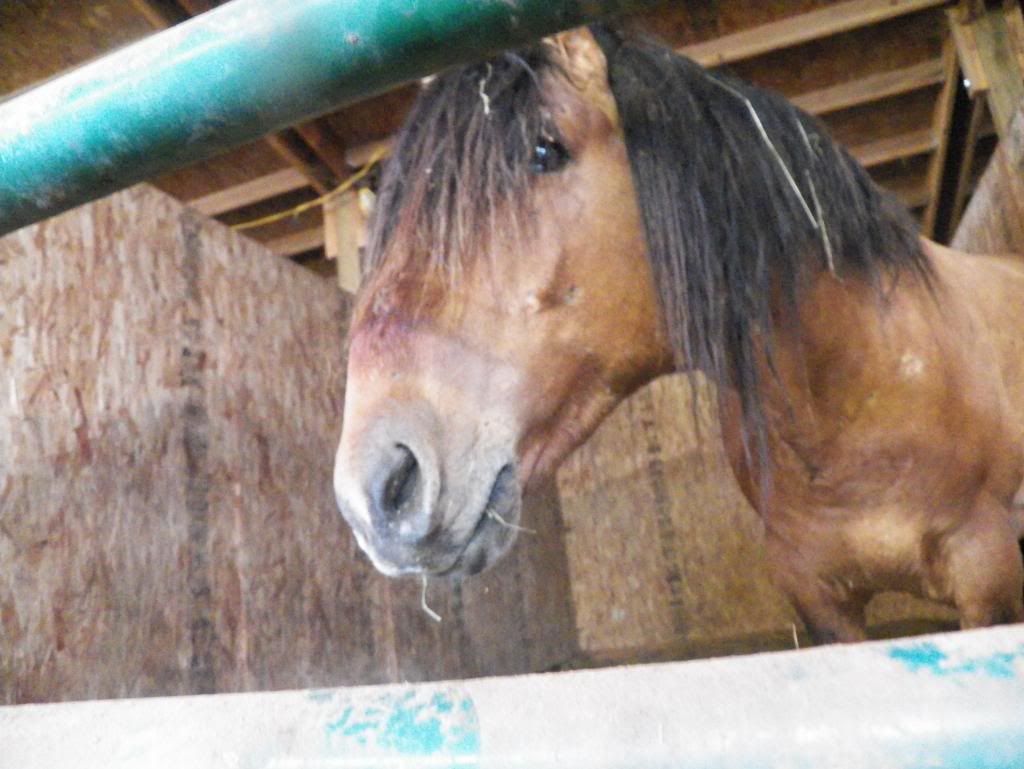 More pics are a must...but my camera died and I ran out of batteries..So until next time...
he is a keeper for sure :)
---
ride a draft and see the world differently
Oh yea! Especially with all the drama that came from getting him...Ya know, your saving a horses life, you wouldn't think people would be hating you for it...
there will be always some body out there that wants what you have
---
ride a draft and see the world differently
True. I think there are still horses out there needing to be rehomed...The story of how he landed in the KP is sooo confusing!
Hes so gorgeous!! hope yall get him!
wait.. i hope he can be a lesson pony, so you can post more pics of him for us to look at! Lol.
Haha, I hope so too!
Also, for someone who knows more about..erm...A stally's "jewels" than I do...Is it bad if he hasn't dropped yet? I mean, he isn't my horse and he's kinda skiddish, so I'm obviously not gonna go man handle his manlyness, but we can't figure it out...He has.."them" but they are very small, like they haven't been dropped.
My opinion. He's 5, he's dropped. Grab a razor or not. He's old enough that gelding may or may not change how he thinks of mares.
Posted via Mobile Device
She will geld him, but can't until she hears back from the people who want to buy him, because they want to use him for a breeding stallion.
"KP"? What does this mean?

Where was the auction that you got him from. He was bred/foaled where? Was his sire wild caught?