Senior Pictures [:
---
I got my pictures done with Twende.
She caught him just as he threw his head up haha.
She asked me to ride him bareback for her.
---
Twende Haraka
"Twende?"
"Yes. Like 'Wendy'...With a T."
awww they're lovely pics !
Omg, they're great! The first and last are my favs!
Aw i love the black and white one
those are awesome pictures! who took them? mine were....a little less formal...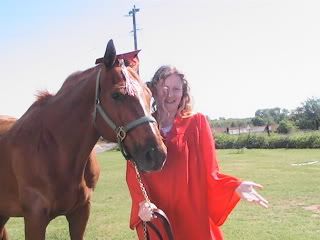 And that was before I had my braces taken off. Yours turned out so much better! But my lil bro was camera man. And if you go on youtube and look at a video called Me and My Horses, you can see where the wind blew the hat off the horse's head!
very cute pix. I like the last one the best!
---
"Be a best friend, tell the truth, and overuse I love you
Go to work, do your best, don't outsmart your common sense
Never let your prayin knees get lazy
And love like crazy"
response to pics
---
you look like a model. I wish my pics were as good as yours, your horse looks fantastick too. Thanks for sharing them
wow! you and you horse are verrry pretty!!
---
And on the eigth day God said horses shall NOT trot, and the GOOD horses listened!!!!
I wish I could have done that. They wouldn't let us do senior pictures outside of a studio that they chose. I like the last one the best.
---
Help me horse forum! You're my only hope!
Wow, those pics are great! And your boy is so handsome!!
---
Do not follow where the path may lead, go instead where there is no path and leave a trail...