I got my first horse when I was 13 and I just turned 15. He's a 6 year old Tennessee Walking Horse gelding named Spirit. He is one of the calmest horses on the ground in the world. He'll do anything you ask and if you don't, he just stands there. You could drop the leadrope and walk away and he'd just stay there until you call him or lead him. You've got some energy in the saddle though. He loves to run. He thinks it's fun to gallop around and around the arena while I'm bareback with no helmet (I lost it for a while, but I found it again!
)
Here he is:
Spirit Mural.jpg
Spirit jump jump.jpg
Spirit and Me lay down (bright) small.jpg
(little blurry, taken with my phone)
My very first horse (when I graduated from my burro) was a 16hh buckskin QH named Barron Von John (aka Buck). When he was a 3 year old, his previous owner had tried to have him trained and Buck ended up hurting a couple of guys pretty bad and nearly killed one. His owner decided that he was a "killer" and loaded him on a truck with a bunch of cattle bound for the slaughter house. They were loading the truck with cattle when my Dad showed up, saw the horse, and told his owner "Get him off that truck, I'll take him." Craig didn't want to at first because he was afraid that Buck would hurt or kill someone else but finally relented. Dad brought Buck home and started training him (that was quite a chore). He finally started showing him in AQHA shows in the team roping but he never was a trustworthy horse. Then one day when my brother was about 4, he climbed up Buck's leg while he was tied to the fence and got on him. That day, Buck found his true calling. For an adult, he was a stubborn, pushy, ******* of a horse but with a kid, he was push button and would take perfect care of us. Anyway, I started riding him when I was 4 and he always took care of me.
(this is me in front)
And this is before us kids inherited him.
Sorry for the novel. LOL.
My first horse I owned as my own is Tango, and I have him still because I just bought him awhile back.
Yes we're lazy :)
Worked for about a month to get his head down there
first horse
---
Wow.. Some of you are lucky that you still have your first horse. I am on my 4th horse now. I don't remember to much about my first horse because i did not own her for long. Her name was Lollypop and she was a paint. I was a beginner at the time...so all i did was walk trot. Oh.. i almost forgot..i got her for my 9th birthday present.
This was back in 1989 or 1990... i forget.
Mom took me to the barn for a "lesson"..there was this person riding a paint horse. I was watching her ride this horse. Then my trainer said how would you like to ride her?..so i said okay. So after a few times around the ring,my trainer and my mom surprised me with Lollypop. She said that the horse was mine. So i was happy to own a horse. She was in her 20s at the time. She was a good starter horse.
When i was ready to move on....my trainer sold lollypop to a 4H group that wanted a horse to ride and take care of. I will miss her though.
Its funny though.. the horse i own now is a paint. He has a brown head with a blaze just like Lollypop did. So i started with a paint horse and end with a paint horse. haha
Here is a picture of Lollypop.
Aww! Well, I had a pony when I was around 8, but don't remember much. Sold her soon, then I didn't get another horse till I was 13, and he was a big sorrel gelding named Toby. He was a quarter horse and supposed to be around 9 years old.
I had him for five years, in the mean time having several accidents, and the last one totally made me afraid of him, so I sold him to a trainer who hopefully turned him into a respectable horse. He had perfect ground manners, but saddle was a different story....
My printer has a really good scanner! =]
---
Lettin' the cat outta the bag is a whole lot easier than puttin' it back. -- Unkown

my first horse i got on loan when i was 22, last year, and i had been riding since i was 13, i could never afford a horse or my family and no one else was in any way "horsey" in my family so had to branch out on my own. his name was jack and he was broken about a few weeks to a month,
i fell off this horse during a quiet hack as he had decided to buck and bronk while galloping, i dont remember much but my partner said that he was walking one second then turned into a psycho and went nuts, i broke my back and sent him home, only got back on a horse a couple of months ago but he was a sweetheart, been in touch with his owner and he is going back to basics and he wasnt ready so i dont blame the horse or me it was just something that happened. going to see him again soon and cant wait
here is a piccy of the sexy man
I didn't get my first horse til I was 16 years old and able to save enough money to buy her myself and pay to keep her. We had land so keeping her was hay, grain, and extras...but still alot to a kid! Dove was my first horse, bought her as an untrained 3 year old filly and I can't even explain how lucky I was to have bought her as my first horse! She's taught me so much, and even now being 11 years old, she still teaches me something new! I'm now 23 and I traded her to my mom for a spunkier mount, but she's in the family and I'm hoping to buy her back from my mom next spring/summer. Even though she's not mine, she's in my top 3 favs! I'll always have a soft spot for Dove
I don't have any "baby" pics of her, only got a camera a couple years ago...but here are a couple pics of Dove! She's a 15hh (roughly) Appaloosa/Mustang mare, no vices other than a tad lazy and she stumbles alot on the trails, but as bombproof as they come!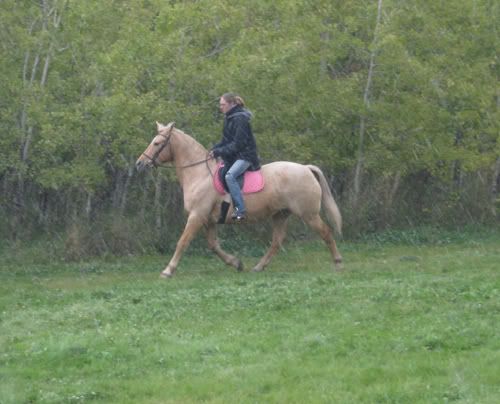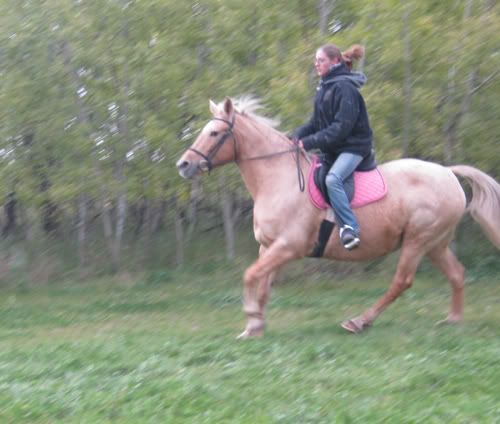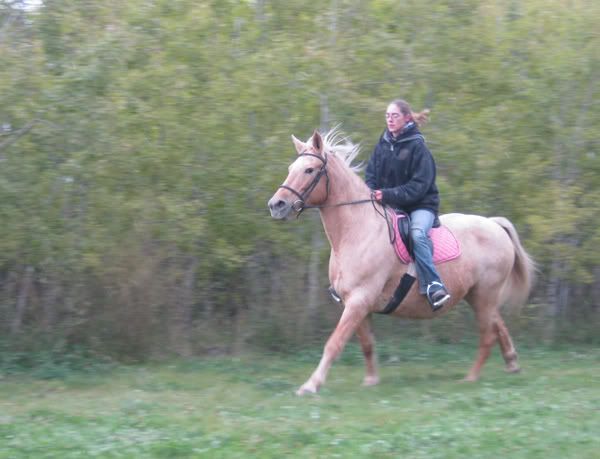 Last summer
I ONLY rode her the summer I broke my leg...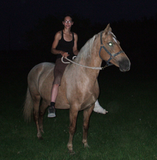 My baby girl...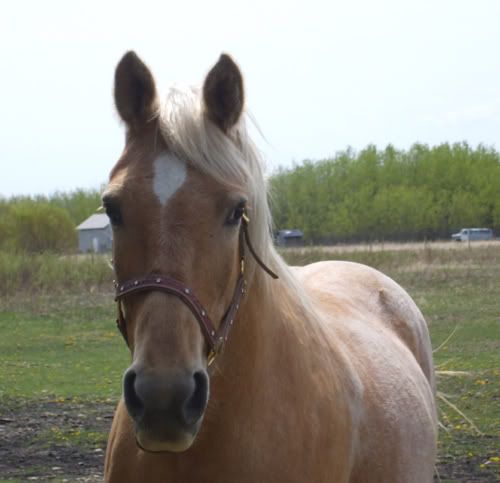 ---
Never ride faster than your guardian angel can fly
this is my first horse Payday, his full name was Payday Parlay, he was suppoesd to be a racehorse but the traine rbought him and kept him because he was to slow... then i came along when i was just 10
when we first got him he had more hair then an alpacka
but i loved him to death he had ZERO muscle, and could only really walk trot and gallop
well, my mom bought me him (haha she bought her 10 yr old child a 7 year old thoroughbred! dont owrry she totally knew what she was doing) he was the ugliest horse you could ever look at, haha but i thought he was prettier then salinero. this is at our last show, we were riding in a thunderstorm and hewas so good i cryed afterward. i sold him in sept.
---
If there are no horses in heaven... im not going.
I got my first pony, King, when I was three and I had him until I was 11 which is about how old I was in this picture.
---
Stella - sweet, timid, elegant, lovely, lively, amazing
Luna - large, unattractive, naughty, adored