The first horse I leased was a FAT quarter horse gelding named Star. I only rode him bareback in a halter. We galloped, jumped, trail rode, barrel raced, everything! Bareback and for fun of course. He was a great first horse and I see him every day since he's my neighbor's horse. I love him and If I could afford two horses would buy him and keep him forever. He was 16 when I leased him and it 18 now. We're the same age. :]
Free jumping.
Riding down the street.
Looking pretty and fat, ha ha.
<3
---
I give myself very good advice, But I very seldom follow it
My first horse, Sunbeam. Got him in 6th grade as a Christmas gift. Sadly, I only had him six months because he broke his leg in his halter and we had to put him down.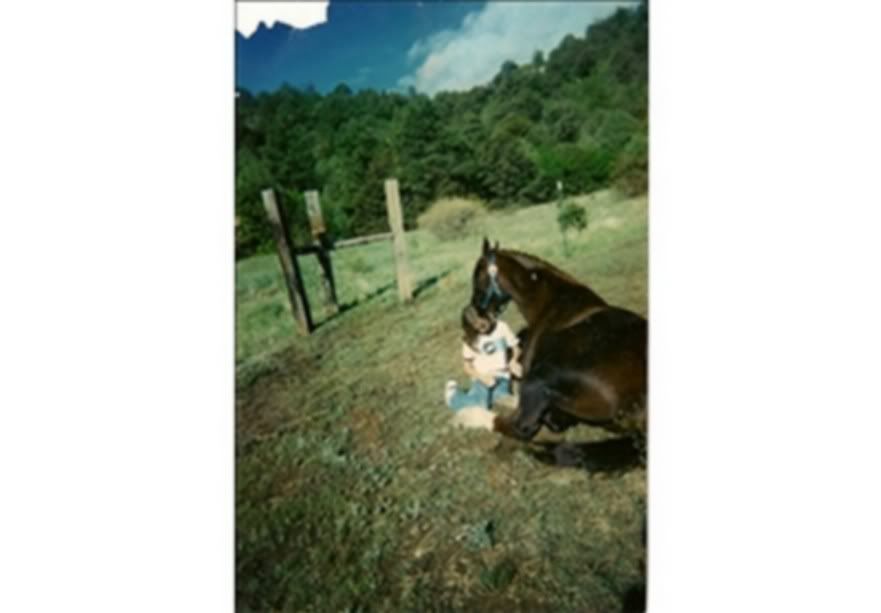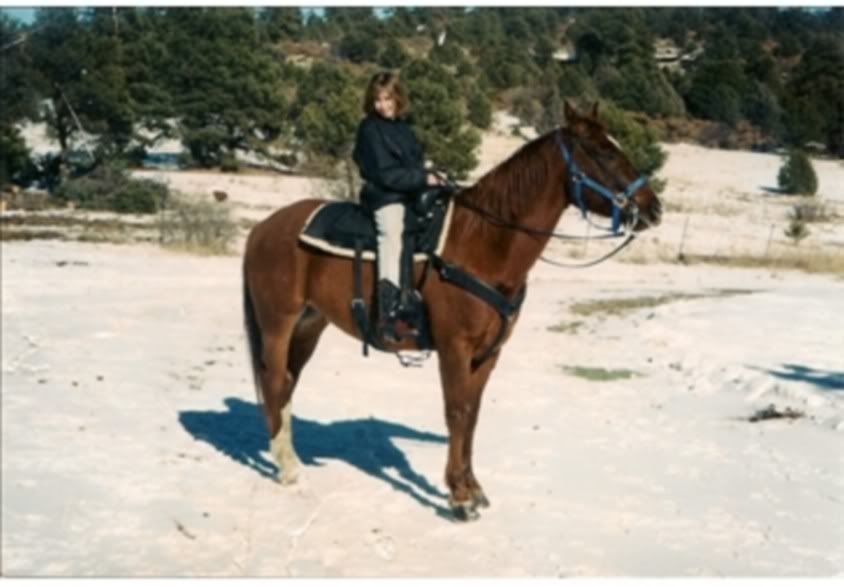 The first picture is of me my grandfather and uncle! My grandpa used to work at the community pasture, so I got to ride on the odd occasion, but not near as much as I wanted to! Left to right Toby, Rebel, and Appy (Technically my first horses)
#1.jpg
My grandfather gave my mom Lacy as a wedding present (Word from the wise, don't give a cityslicker a horse...lol) Here's her and her mommy Appy.
lacie+appie.jpg
I took Lacy on to be my first project. I worked with her daily and loved to lead her over log jumps and lay on her stomach. But my family told me horror stories about when my Aunty tried to ride her, so I never got the courage up to ride her:(
lacy.jpg
And then my pride and joy came along... Callie. We were closer that two peas in a pod.
callie2.jpg
callie1.jpg
She sure roaned out after the first few summers!
callie5.jpg
callie3.jpg
callie4.jpg
Love, love, love the last picture of Callie! :) She looks awesome! I still can't be the the color change.
I bought my first horse after 8 years of saving and riding, at the age of 14. He was a green broke 4 yo Arabian who taught me a lot about riding, training, and how to fall ;) I sold him two years after I bought him because I couldn't pay for college, work full time, and have time or money for a 6 yo Arabian. I sold him to a family who had a 12 yo girl who to this day does Pony Club with him :)
http://i671.photobucket.com/albums/v...2/P2200213.jpg
http://i671.photobucket.com/albums/v...2/P2200213.jpg
---
Last edited by Rachelfailappraisal; 10-27-2009 at

01:00 AM

.
Wow well i read every ones stories and all your first horses where young and pretty. I want 16 when i got my first horse. His name is Sydney and he was a gift my sister i got him around my birthday so i have always considered him a birthday gift from her. He was 26 when i got him and may i say the best behaved horse undersaddle i ever rode and you could pretty much do anything to him. after a year and a half i really needed more of a challenge so i gave him away and got my girl juneau who i will never get rid. I really wish i still had my Sydney but he was getting so old and could keep weight on him so i had to give him up. I miss my man
The 2nd pic is my sister and sydney and the bottom two are me and sid..
i remember my first horse- a gorgeous bay pony bout 13.2 i got her for my 5th birthday (will scan some pics and put them up soon)- but since then ihave had only 3 solid horses that have stayed with me ( i went through 32 horses to find my Pepe - not even exaggerating) so that was a long time ago- Pi is now my 38th horse and my latest- eep - but nontheless i will never forget my Cola the very first!
---
charlie. I got him when I was thirteen and he was nine. I had him for thirty years. He did every thing, I rode him in parades and competitve trail rides and shows ect. Then my nephew rode him and did well
in 4-h. Then he got passed on down to my niece, then my son he was only a little grey grade horse gut he taught us all my folks bought him for 100 dollars I was offered 1000 for him more than once he was and will always be my favorite horse Rest In Peace Charlie.