Here are just a few pictures of me bareback, i mean i love going bareback and do it all the time but nobody is really around to take the pictures!
Spirit - he has come a long way! When i bought him i wasnt sure if i could do go bareback with him but after working on throwing myself against him and pulling myself up with just the halter hes done perfect =)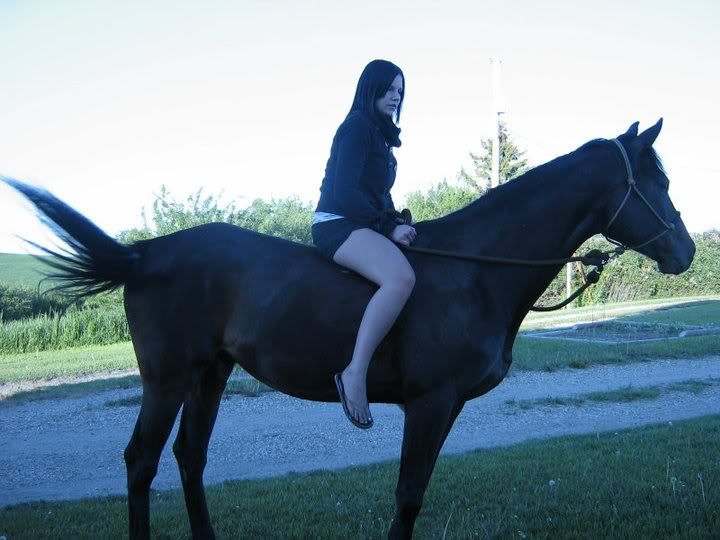 And here is Eddie. Hes a paint gelding, fat haha as you can see! :P But i can honestly do anything with this horse and he doesnt do nothing. Hes stubborn because he thinks he can push our buttons but he doesnt really care what you do. Ive ridden him with no halter or rope or saddle in the middle of a field (not the smartest thing ive done but it was still worth it all )
Me playing around on Poke. She's a sweetie!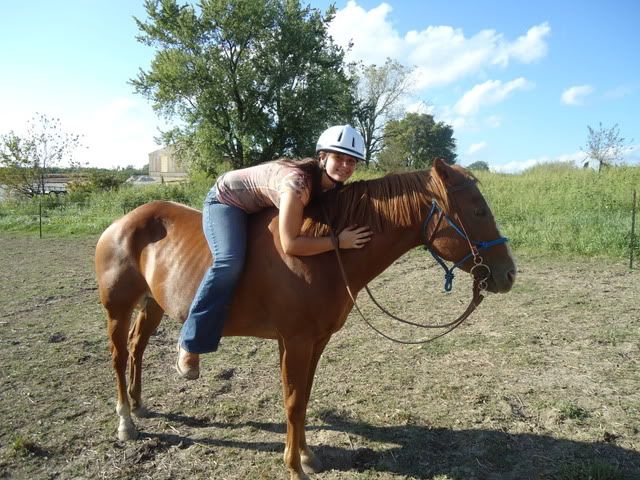 When i next ride Tess bareback i will take some photos of me galloping bareback with no hands...the BEST fun ever!!!
These are from tonights ride, as i was lazy to saddle up and bring him down to the barn from the field, lol.
---
Grooming - The fine art of brushing the dirt from one's horse and applying it to your own body.
I don't ride my current mare bareback much (she's kinda rough, and I don't think it's fair to flop around up there...Lol!) But everyonce in a while I'll hop on after a ride, just to cool her out...or take fun pics. hahaha
---
"The ideal horseman has the courage of a lion, the patience of a saint, and the hands of a woman..."
Great pics everyone!

Hunterjumper, you are VERY beatiful! I am REALLY jealous!!!
---
"I was eight years old, and I've never forgotten her face when she told me about watching you ride. She told me she saw you, and your horse was dancing in the moonlight."
-- A.C. Crispin's "Sylvester"