Share your horse !!
---
Hey everyone this is just a get to know other people's horses time its okay if you don't own them or anything just ride them or some horses that are at the barn. Tell us a story about the horse.
[U]Try to answer some of these questions[U]
its name is blank
its breed is blank
i blank show it
if you answered i do show it above then answer this question
i show in blank
my horse is blank years old
he is a great blank
then just brag about him haha or her sorry
I want to tell you i do not OWN a horse or LEASE a horse but i ride Secret more than anyone else does and now i am going to be riding her twice a week. SO EXCITED !! Anyway i took my 2nd lesson on her and have been riding with her since ( 2+ years )
her name is Ragtimes Sand 'n' Sable...better known at the barn as Sable
its breed is Tennessee Walking Horse
i will be showing her
i show in English and Western...I am not completely well versed in the shows yet as it is a first time for both of us, however Trail Pleasure and eventually lite shod division as well as down the road 3-gait (she already has a canter but I;m not working her in it until she's more mature).
Sable is just coming on 3 years old
She is a great friend, companion and all round horse. She is always mischevious and always looking for attention. If I had to use one word to describe her it would be "solid" she's solid in her build, in her temperament and in her mind. Her and I have connected extremely well in a matter of weeks and we will be able to depend on one another down the road!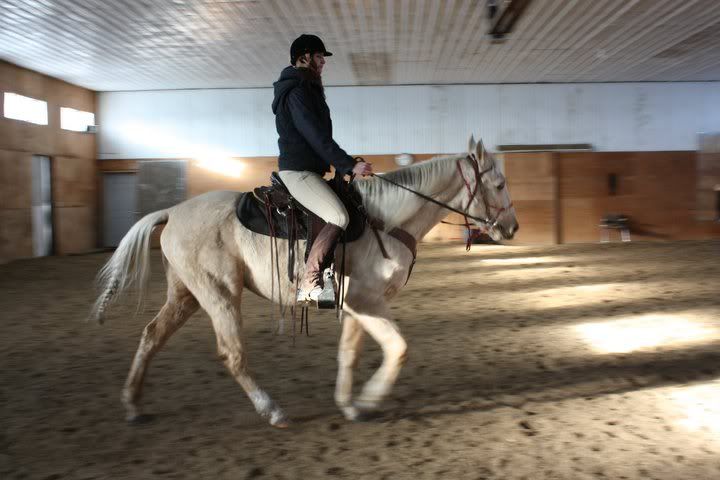 ---
Last edited by bellagris; 02-07-2011 at

05:33 PM

.
This is Cody
He is a American Paint Horse
I use him for 4-H and maybe other things later.
Cody is 8 years old.
He is an amazing horse, and loves everyone.
This is Flicka: 11 yr old QH/Walker cross...I use her for everything and anything; haven't shown her yet, as we've moved around a bit this last year! I think what she is doing "best" so far at is being an amazing trail horse...nothing bothers her and she'll go anywhere I point her.
---
"The ideal horseman has the courage of a lion, the patience of a saint, and the hands of a woman..."
meet sable
hes a sweetie
hes a tbX quarter pony
he gets sick a lot! :(
before he got sick we competed and won high school rodeo polebending
i take him to childrens hospital fun days where we give sick children pony rides(the sick children like to see that he made it through his sickness its very sweet!)
he can be a total goof but is very gentil!
i love him vewy vewy much!!
---
the hardest part of riding is the ground... yup sounds about right
Hey everyone I love your horses thx
For sharing all look promising
Posted via Mobile Device
This is Vinnie. Registered name: Fa Saaid Halim (it means Kind and Easy-Going)
9 y/o straight egyptian arabian.
Just got him this september, plan on showing him in arab WP, the we may be expanding out discipline to working cow horse, reining and whatever else he wants to do.
He is very loyal, we have a great bond. He is very eager to please me. Love this boy:
I am leasing this boy, CT in hopes to make him a dressage or eventer. We're still trying to figure out what to do with him, since he is very show sour from just walk/trot/cantering around the ring.
He is a 12 y/o arabian.
He was region 9 champion sport horse under saddle in 04.
CT:
And I lesson on an Appendix QH named DJ (Deja Vu). He is about 16hh and gorgeous. No pics :(
---
Every great dream begins with a dreamer. Always remember, you have within you the strength, the patience, and the passion to reach for the stars to change the world. ~Harriet Tubman
My horse is Magic Amigo, I bought him when he was 13 and now he is 18. We have had some great times. He was trained my Linda and Steve Duchac who work under John Lyons. He is a great show horse even though I've barrel raced him. Unfortunately he can have quite an attitude, but what can I say, he is my baby =)
Well here are mine.
First is Apache White Sox (Apache) Thoroughbred
He is 11 this year, he was a race horse when younger but was to slow. I don't compete him he is know where ready for that. Most people dont like or are scared of him because he is very bossy and easily becomes disrespectful to people. I still love him anyway though.

My next one is Peperoni Princess (Pepper, Peppy, Pep, PP) an Appaloosa she is 27 years old now when she was younger she was used for just about everything but was best with the barrels. She taught me almost everything I know especially when it comes to riding. She is adorable and everybody loves her even with her silly quirkes.

My new boy Sammy is a 12 year old Quarter Horse. He was used as a barrel racer before I got him but she thought he was slow and stubborn I beg to differ. I think if she wanted to meet slow and stubborn she should meet apache. I believe we have formed quite a bond in the last couple of months of owning him he is very friendly and loving & I am looking forward to doing things with him in the future.
---
My two horse Apache and Sammy are my world
along with our dogs Patch and Bear.
But I will always love you Jimmy R.I.P