Green Broke
Join Date: May 2009
Location: Winnipeg, Manitoba, Canada
Posts: 4,510
• Horses:
2
Jynxy's fun injury that put her out of commission for 4 months last year! It's almost fully healed now, just a small scab still clinging to the front of her leg and the joint is still enlarged, it should go down by summer.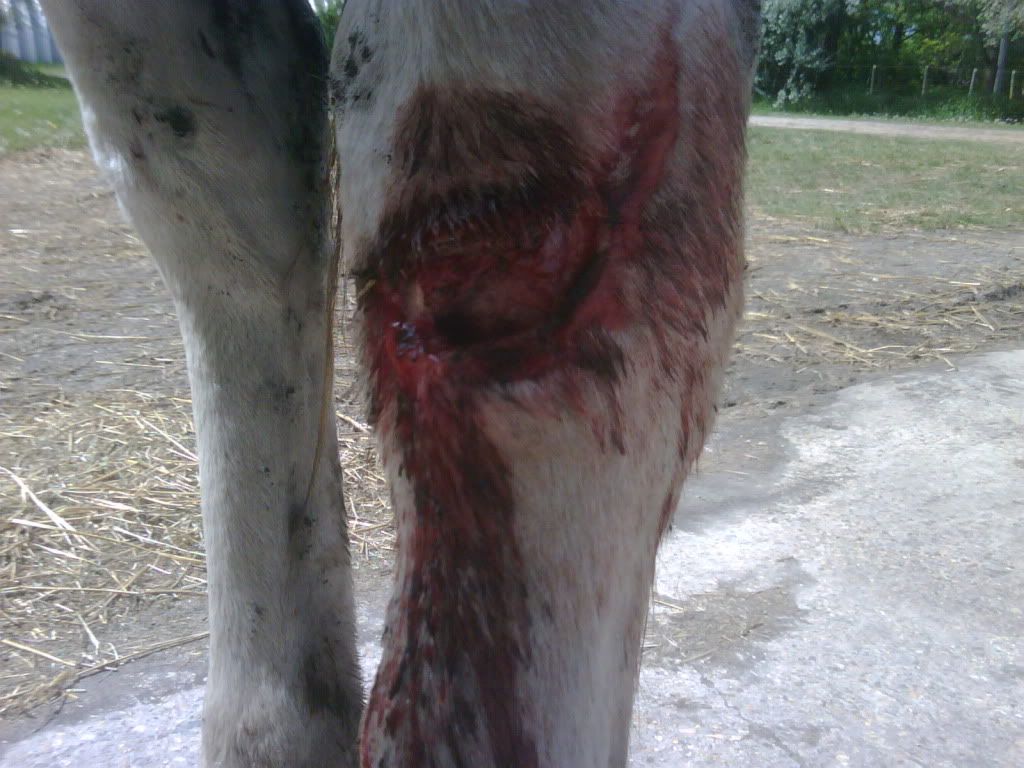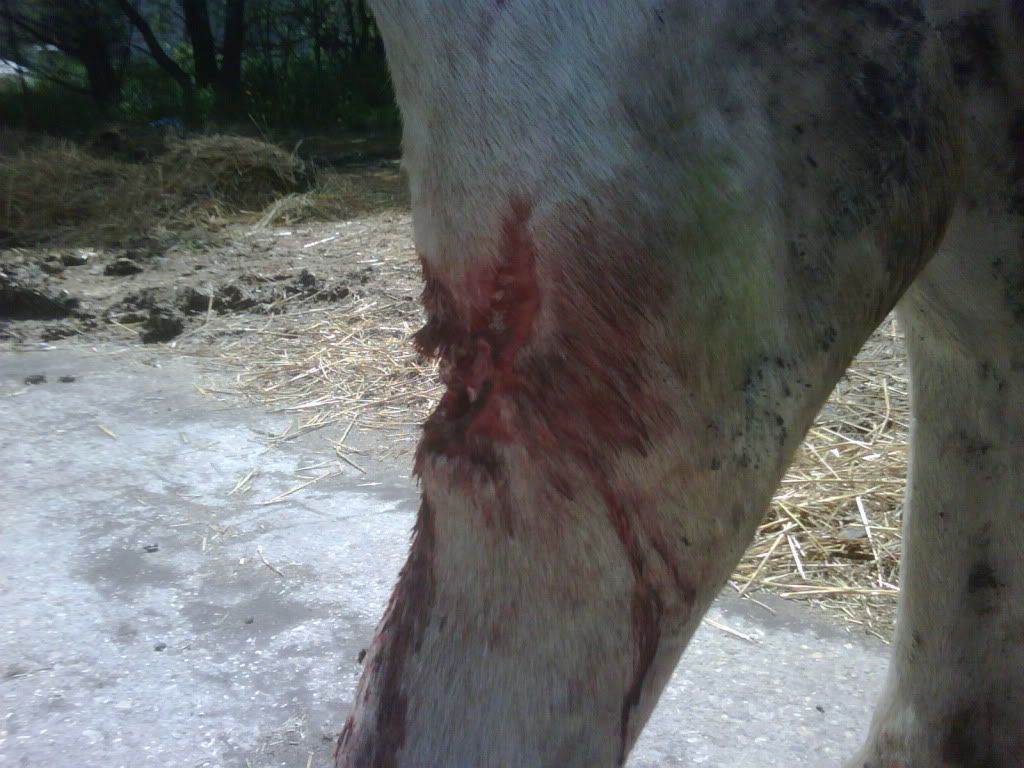 When I first found her (June 2011)
Few days in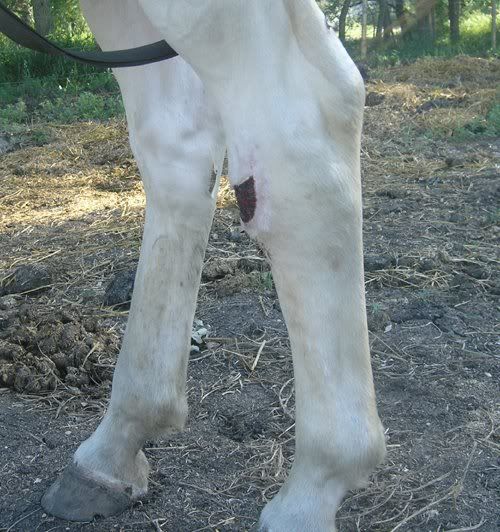 September 2011
January 2012, you can see just a slight ruffle in the hair on her far hind leg. All sound and back to work since October 2011 though!
---
Quote:
I hope God tells her to smash her computer with a sledgehammer.
Quote:
OOO!!! I have SOOO many pictures of Sassy's injuries...It will take me a bit till I can retrieve them.

So for now....here is a picture of what Dusty did to my head. WOOT!!!
I still had a black eye in the second picture. I did a pretty good job of covering it up with makeup!
Holy Crap OUCH!!! thats all I can say... glad you were ok
---
Make it idiot proof and someone will make a better idiot.
if i can figure out how to pull gingers injury pics out of the pics on her profile and put them here I will.. Im tired.. and dont feel 100% today.. but Im not sure I know how to anyways..
---
Make it idiot proof and someone will make a better idiot.
Stilts needs a crash helmet and bubblewrap....
The scars on his legs are from being ran through 2 barbed wire fences and a barbed wire gate. I found him the next morning on three legs and pretty much a three legged horse for 6 months. But after 2 surgeries and a lot of doctoring, I should of bought stock in 3M vetrap...nursed him back. On the left leg above his knee was cut almost to the bone. When it healed, he could barely bend it. I had to stretch that muscle everyday, then come winter I would ride him in the snow so he had to really pick it up and use it. He is pretty good on it now, every once in a while he stumbles. Far cry from thinking we would have to put him down. However I have never been able to hobble him, he can run better on three legs faster than some horses on four!
The dented in forehead came last spring, have no idea what happened. Took him to the vet and he was mystified as well...doesn't seem to bother him though.
---
I DON'T LEAD 'EM AND FEED 'EM, I RIDE 'EM AND SLIDE 'EM.
---
Last edited by COWCHICK77; 12-06-2013 at

12:52 AM

.
Showing
Join Date: Jun 2011
Location: Cariboo, British Columbia
Posts: 11,770
• Horses:
3
Mango that is the biggest & baddest shiner I have seen! Reminds me of the scene in Rocky where the coach cuts Rocky's eyelids with a razor to release blood so he can see again.

My horse has a wicked scar on the middle of his forehead. His mom accidently smashed him into a face trying to bite another mare in the next paddock when he was 1 day old. Tore open his shoulder too, but that could be stitched so he really doesn't have a scar there. His head couldn't be sewn, it tore off the hide. Fortunely he has & grows a long forelock so it hides it. When I band and braid it for shows, it's noticable, oh well.
---
Jess
(click to see more piccys
) is owned by my friend who owns a Welsh stud. Jess got caught in a barbed wire fence a couple yers back (dont get me started on those dang fences lol
) She was on stall rest for a while and became farily mellow. She is now unrideable as she cut through her tendons and cannot support a rider. :(. She is an AMAZING girl and i would LOVE to call her my own - but sadly she isnt.. however i hope i can lease her evetually when i ave my own place
First two pics of her legs today -no bad now they are healed
- and the last pic is bc she is my amazing girly
My riding buddy has a gelding whos face is all scarred up. He was mauled by a stud when he was just a little colt. You can see all the lines. Poor Sancho!
---
Proud owner of ~Mana: 6yo Arabian gelding~Pearl 13yo Arabian~Danzer 14yo Arabian mare~ Tiny mini filly
---
Last edited by grayshell38; 02-06-2012 at

08:33 PM

.
Another "barbed wire fence" casualty... Misty was being looked after by non-horse people while her previous owners were on holiday. They didn't realise horses shouldn't stand in once spot for three days straight without moving... By the time they realised she was caught in the fence she had maggots in the wound
By some miracle it wasn't deep, just infected and extensive, and after it healed she luckily never showed any lameness, she was totally sound!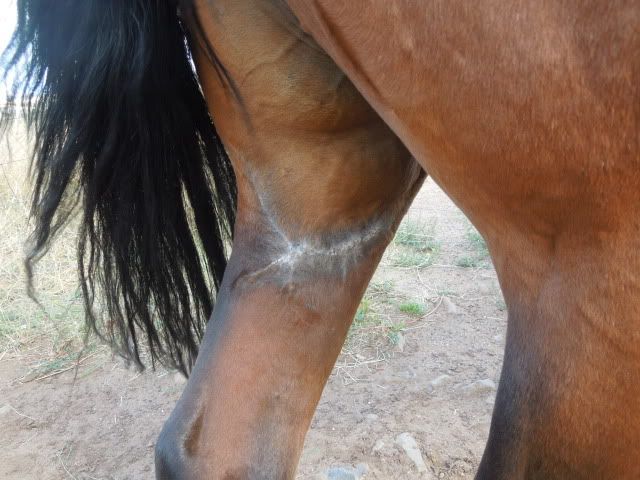 ---
Satin Reign aka "Misty"... my life, my love, my everything.
horse injury picture
---
This is my rescued percheron's hoof after her first trim in 3 years. She has a rolled in crack all the way up to the coronary band that abscessed for two months. She was almost put down since she would barely walk. She has completely recovered and in one or two more trims the crack will be completely gone.
Lisa pictures by Ashersz08 - Photobucket
Wow, yikes. That's just downright ugly, poor girl.
---
Always remember that feeling of looking at a big, open country over the ears of a good horse, seeing a new trail unwind ahead of you, and that ever-spectacular view from the top of the ridge!!! Follow my training blog:
http://robertsontraining.blogspot.com/