Shenanigans....
---
I have been trying for over a week now to get updated decent shots of Flirt. It's either been raining so he's needed his blankie (he was clipped in April so doesn't have much of a winter coat) or it's been reasonably warm, but he has refused to put on a show for me.
Don't get excited, I still haven't succeeded...
I did, however, catch these today. I was way down the back paddock snapping photos of some of the other horses when I turned to witness these shenanigans. Not an uncommon occurrence, but the first time I have had my camera with me!
The horse on the left is my 19 y/o thoroughbred gelding, Hugo, who has become Flirt's best buddy in the world.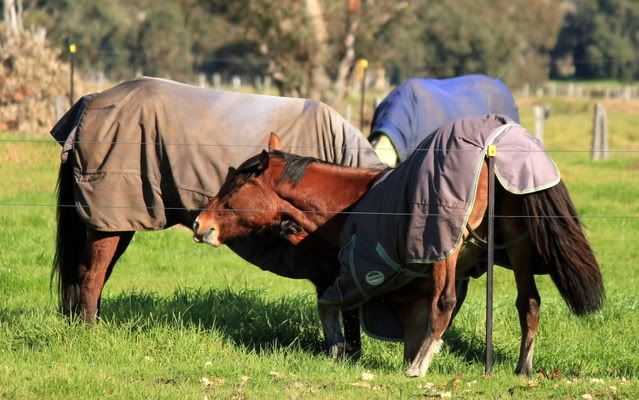 And I couldn't resist including Flirt's ridiculous facial expression in this one....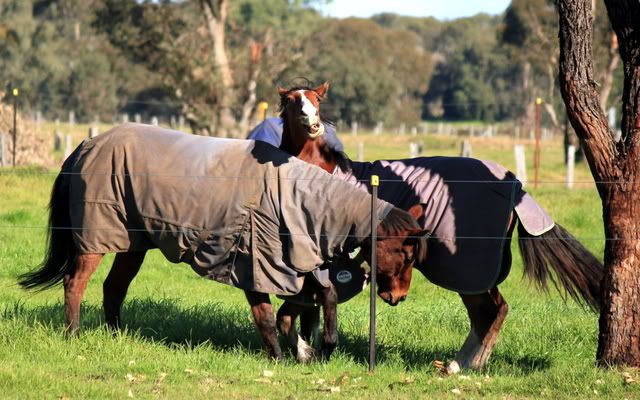 Hopefully soon I will be able to actually get some pretty shots.....
---
Flirt-Hugo-Phoenix-Romance-Fanta-Nippa-Shiloh

Trojan 09.11.02 - 26.10.10 // Kody 01.09.89-25.06.12 // Rex 05.11.95-21.12.12

Lol, what a goofball.
Posted via Mobile Device
The pair of them are just hilarious. Total odd couple!
Posted via Mobile Device
hahaha I think Flirt and Billy would get on like a house on fire! Billy has a 2 1/2 yr old friesian in the paddock with him, who is basically like a big tank that stands still and eats, sleeps and stands still gazing at the sky :P
Poor Billy runs laps around him, jumps on him, pulls on his mane, tries to push him over... and friesian just stands there, stock still, a dull expression on his face while Billy is beside himself trying to get some activity out of him!!!
Haha! They probably would! Flirt is either all go, running around, bucking and carrying on...or...not. Haha. There isn't much of an in between with him.
This morning he slept (laying down) for over an hour. I had to go and check on him because I was starting to get concerned that he'd been down for so long. He just looked at me, all bleary eyed, like "whattaya want woman? you woke me from a really good dream" and then carried right on with his nap.
I did manage to snap a couple of photos the other morning when he got changed in to the paddock he's in now, but he's rugged so they don't show him off very well!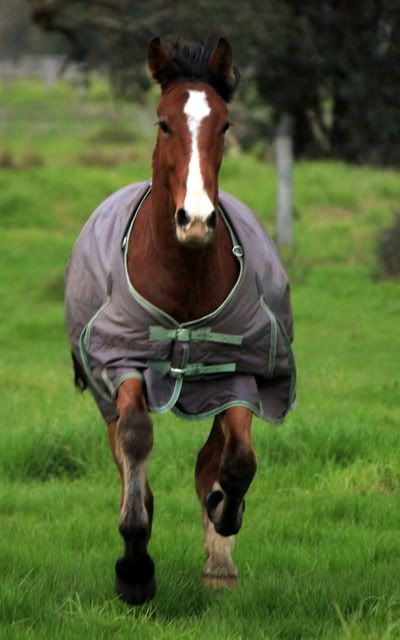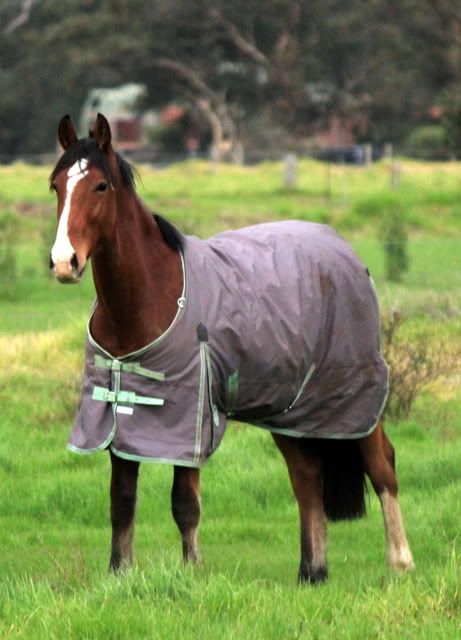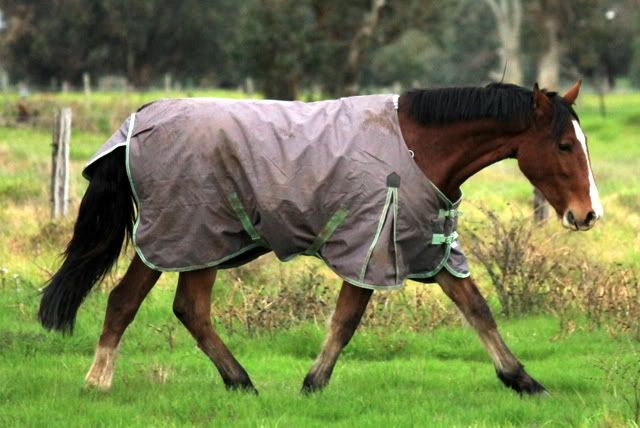 ---
Flirt-Hugo-Phoenix-Romance-Fanta-Nippa-Shiloh

Trojan 09.11.02 - 26.10.10 // Kody 01.09.89-25.06.12 // Rex 05.11.95-21.12.12

He sounds Hilarious! haha...just out of curiousity what type of camera do you have?
---
Pocket - 8 yr old, 15.1hh Thoroughbred Mare
~You know you're a horse person when you say 'whoa' to your dog~
I have a Canon 550d, unfortunately still shooting with my 55-250 kit lens which doesn't cope too well when it's horribly overcast! Itching to upgrade to the f2.8 70-200
---
Flirt-Hugo-Phoenix-Romance-Fanta-Nippa-Shiloh

Trojan 09.11.02 - 26.10.10 // Kody 01.09.89-25.06.12 // Rex 05.11.95-21.12.12

Similar Threads
Thread
Thread Starter
Forum
Replies
Last Post
Horse Riding Shenanigans

lopez

Horse Videos

2

09-12-2010

08:08 PM