Show me golds! Palominos, buckskins, light chestnuts, duns!
---
Let's see some summery stunners! These are my favorite colors of horse! (Followed by black)
I'll start: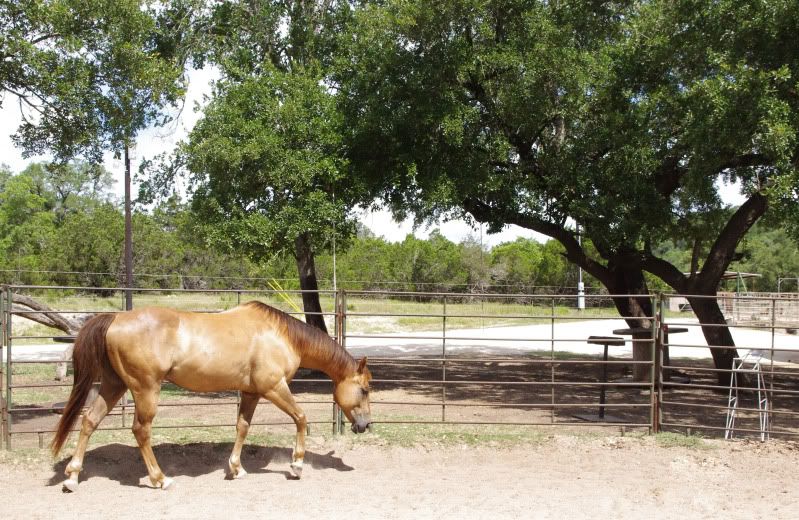 5 year old grulla mare
Yay, my favorite! =D

It's so hard for me to not go totally crazy with pictures XD
---
Nova, my AQHA filly who just got home today, dun:
Oggi, my APHA Filly, grulla:
Foxridge, your dun filly has the same name as my grulla mare! They're both gorgeous! I'm hoping for a dun filly from Nova, she's pregnant by a grullo stallion.
I haven't had any palis, duns or light sorrels, but I have had my share of buckskins.
Buck, the horse I grew up on.
Back in the day when he was still a show horse.
Now, I have Jesse.
And my Dad's horse, Pokey.
(Pokey and Jesse together)
These are Citrus' sire and paternal grand sire....
ATS Super Review and Big Time Review.
---
"Equine-facilitated therapy employs a form of biofeedback for practicing self-awareness, emotional management, and relationship skills that human role-playing exercises and discussion groups cannot begin to access." Linda Kohanov (The Tao of Equus)
---
A horse that my trainer had me ride over the winter/spring. He's not mine but the pictures were taken by my mom and I'm riding him. He's a super amazing horse though and I was so lucky to get to ride him. He's a red dun.
---
To see the wind's power, the rain's cleansing, and the sun's radiant life, one need only to look at the horse.