Show Me The Markings!
---
Does your horse have a strange marking or shape on its body? Post pictures! Just curious as a horse I used to ride had an almost perfect heart on his face :) I never took a picture of him though... :(
A horse I used to ride had a white spot on the underside of his jaw. Excuse the poor quality of the photo. It wasn't that good of a camera.
---
"And somewhere in the northwoods darkness a creature walks upright. And the best advice you may ever get is: Don't go out at night..."
Willow has the devil's tail on her forehead. I don't have a good picture of it though.... This is about as good as it gets.
---
100% Anti-Slaughter and PROUD of it!

Sundance has a reverse stocking on one of his front legs. :) So cute, I've never seen another horse with one like it.
---
I like that one!

Here is a better pic of Willow's devil tail:
---
100% Anti-Slaughter and PROUD of it!

My old Paint Clydesdale had a stripe under his chin.
Molly has a really cool hoof marking.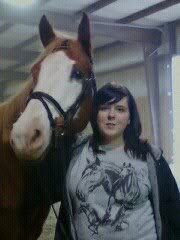 Blue's white face (: he's is a reg. Paint horse and his parents are coloured but this is the only marking besides two socks
---
Life is about doing something you love and never giving up.

&& the rest of her chrome.
These are all so cool! and I've never seen a reversed stocking either!!
My little guy has a crazy little stripe. Like a lightening bolt!