Here is my baby, Red... he is a ugly old QH crossed with Belgian, crossed with something else... he wont let you ride him, and I am lucky to get close enough to get pictures, but he is a sweet heart if he warms up to you. I love him even though he wont let me ride (or catch) him, lol. I figure he is old enough to be left alone now.
And here is my friend mare, Dually. She is pretty sweet for a mare
I guess she would be called a sorrel, not a chestnut.. I'm guessing.
And one more. This is Tessa, she is a completely amazing animal! She was rescued from a neglectful home and is now the greatest horse I have ever sat my butt on! She lets pretty much anyone ride her, I let my dad ride her and he has only been on a horse two times. I love her to death! She is incredibly funny looking, she is a Saddlebred, and has a little face and huge ears :)
Here is my sweet crippled boy Moonshine!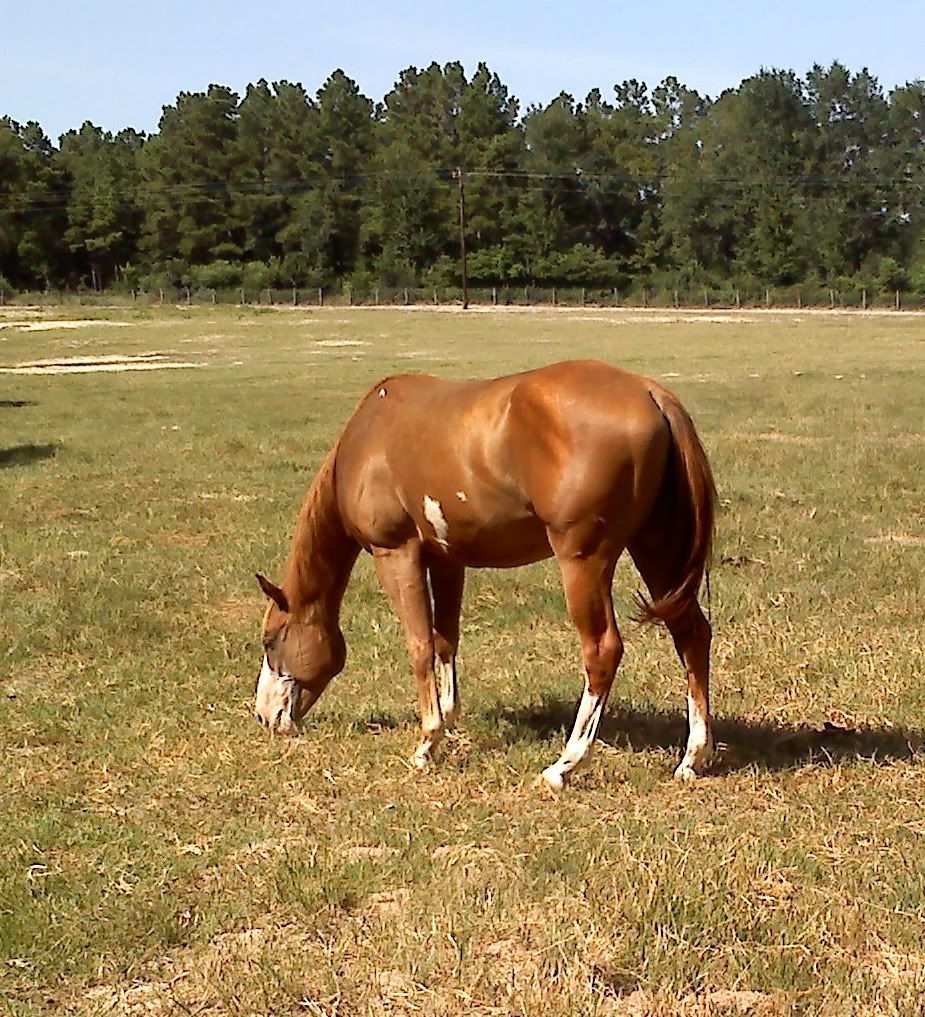 ---
One is closer to God's heart on a horse than anywhere else on earth!
I didn't really like chestnuts before I got my guy... they're growing on me though :) Especially the really red ones!
Actually, I don't even have him yet! I'm getting him in TWO days!! :) I use this pic all the time, but its all I have!
---
Every great dream begins with a dreamer. Always remember, you have within you the strength, the patience, and the passion to reach for the stars to change the world. ~Harriet Tubman
Here is my best friend on Bob. Bob belongs to my daughter. He's just an older grade quarter horse but has a heart of gold. But he don't like his picture taken - he's got his tongue sticking out! LOL
I always seem to end up with "reds". It's not that I don't like the color or that I purposely choose "chestnut/sorrels", it's their personalities that get me. Then next thing I know, I have another "red" in my backyard.

The first pic is of my ex-Egypt. Arabian Gelding - Admiral. Next picture is my 8yr. old Quarterhorse mare Dandy's Lil Jewel. Third picture is Admirals dam ShikoStorm and last set of pictures is my new trail horse 23yr. old paint - Skips Pretty Lace.
Here's my mare, Ginger (appropriate for a red horse, eh?)
---
Impressive Wild Angel- Ginger Happy Go Lucky- Duncan Little Boy Blue- MellowSweetwaters Eqyptian King- Sam

Foal
Join Date: Jul 2011
Location: Beautiful rural NSW, AUSTRALIA
Posts: 163
• Horses:
2
So many beautiful reds in all shades, shapes and sizes. This is Clancy the hornless bull.
---
No matter what road I travel, I'm going home
and if I'm riding a horse I am halfway there.
lOL Lovin Clancey
---
This is my gorgeous Chestnut Filly Angelina - I adore Chestnuts and was thrilled when she was born - She is my perfect horse with my perfect colour. She does not take the best photos at the moment as she is only 2 and has not yet grown into herself. But in my eyes she is the best... I am enjoying seeing everyone else's beautiful red heads too...
Is it okay if it's a paint?
Dos Equis
(sorry for the funny looking face haha, it was a very intense moment!)
Another paint! My moms horse.
Chief
(not as intense but still a funny face.)
---
Barrel Racers- We aren't afraid to get a lil dirty
You Wish you could ride like a Barrel Racer