Show me your horse!
---
ok, so i knwo how passionite you allare about your hroses, and i thought we should have a thread where we all share picturs and a little bt about our horses! haha i know, i think everyone here could write pages and pages abotu their horses, but, lets try to limit it a little bit ;) i will start....
here is Rena!
Rena is a ten year old Hanov/TB. she is my second horse, but she has the exact same charactor as the first horse i ever rode (and i mean EXACTLY,shes even the same color and markings! and the same habits!)
She is a very independant horse, that pretends she doesnt really care about you, but after you earn her trust and respect, she would do anything for you. when i dont visit her for a few days she practically climbs in my lap and smothers me with love. She is a great teacher once she respects you, she takes care of me like a mother, but will be 'rude' to any strangers. Rena definitly has a mind of her own, and its mroe like having a conversation with her instead of telling/asking her what to do
I plan on keeping her until she is ready to be retired, once she is we are sending her back to south dakota in the mountains where she was born. She is the center of my life :)
your turn :)
---
If there are no horses in heaven... im not going.
She's pretty : )

I bought Piper at an auction where I was getting tack. I was buying stuff for whenever I did get a horse. Ended up buying a horse because all the young un-trained horses (and they were all good horses) were going for $100 to $400. I got her for $275. She is Impressive bred HYPP N/N. She's a good girl most of the time. Loves to have her face scratched. Likes when I take her out of the pasture and let her eat hay while I brush her. Follows me around like a puppy dog when it's just me and her.

Although I really like Piper I don't think she's my "it" horse. Everyone says that she'll get a little more get up and go. But I don't think we've really clicked in a way I normally click with my favorite horses. But we still have awhile to find out if it'll work or not.... She's still my baby : ).
So my first instinct is to post about my very own wonderful girl Gypsy, but there are a few others I feel deserve a mention. And I'm going to give each one their own post.
I'm going to start w/ Magic. I originally bought him for myself, he's a wonderful boy! but it just wasn't working out. After I bought Gypsy I still couldn't bring myself to part w/ him, but I couldn't afford two horses. Thankfully he's such a great boy, and since some of my nephews recently got interested in riding so he was upgraded to family horse. He's alittle taller then I'd probably prefer for the job, but he does it well!
About him, well he's abit of a goof ball, loves people and being loved on. He also loves babies (equines) and is a good babysitter! I tried to pick pics that would show off his personality,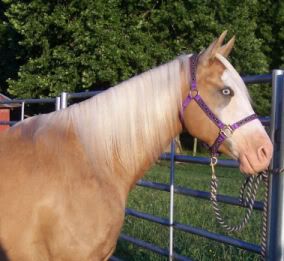 He's on the porch in this one, I didn't put him there.
And showing off his babysitting skills w/ Canya the mule when she was a few days old,
And the same mule during weaning,
He may no longer officially be mine, but he's still very special!
This one IS my horse, I found her abit by accident, but it was love at first sight! She's a wonderful girl, and so much like Magic in all the right ways! Ironically she is head over heels in love w/ him! They are not pastured together (and never have been), but she can see him and goes riding w/ him sometimes. She's got the same silly personality, and also the same loving tolerance w/ everyone, even when she should stand up for herself (she lets the goats steal her food, and let the old pony I had push her around).
She's still young and green, but proving to be an awsome trail horse, not much fazes her. But she's not a dead head either, I wouldn't put a beginner on her. So far she's perfect for me!
Started
Join Date: Aug 2009
Location: In the barn whenever possible.
Posts: 1,910
• Horses:
2
Let's see...Lillie first. She's a ham..really she is. She thinks she's hot stuff and so full of herself. She's very curious and a real cuddle bug when she doesn't think your up to something.
Showing off!
My cuddle bug!
And Lyric..she's the baby. She likes to let everyone know she's the baby and takes full advantage of the situation. She's sort of like a lap puppy and just wants to follow you around.
---
"Riding a horse is not a gentle hobby, to be picked up and laid down like a game of solitaire. It is a grand passion. It seizes a person whole and, once it has done so, he will have to accept that his life will be radically changed." -Ralph Waldo Emerson
Chestnut: Maddy, 6 yr old, TB ... I have had her for two years and am training her. It has been a really good experience and I have learned a lot! I am doing hunters with her and right now I have been doing a lot of dressage with her- taking a few lessons and then practicing it on my own
I don't plan to stick with dressage but it is good for her to do and I am loving learning it.
Buckskin: Brodie, 7yr old, APHA ... I have had him since May and he has cow in him. I would like to do team penning but right now I am still trying to learn how he works and messing around with western.
---
:: Karley ::
Tucker WB/TB- 11 yr
Speedy QH/TB- 22 yr
Here i my young TB mare Klassy last summer, Id say around June at the old barn we were at.
And lastly, I was looking to add a mini to my herd, I had a breeder friend that had been helping me. She told me about a breeder that was downsizing and showed me the one she was buying, he was just what I wanted!! She had several really nice ones, but he was the one I really wanted, I was abit disappointed, but settled for a different one, then around a week before I picked her up my friend tells me she'd changed her mind and wasn't getting Skip after all! I was shocked! I wanted him so bad, but couldn't afford both. However, when I went to pick up the one I bought the breeder offered me a deal I couldn't turn down and I got them both!
And I haven't regretted it! He loves attention and people, although he's abit of a showoff w/ the other horses, he doesn't know he's the little guy. At home I'd love it if he had alittle more get up and go (he can be pretty lazy), but he generally moves right along during parades. He's also the dirtiest horse I know, I guess it goes w/ having so much white.
Here is my wonderful boy Hero, he is a 7 year old ottb gelding. He just came off the track in early november of 2009, which is when I got him, his training went good for a while but now he is getting the winter off due to some problems with his hooves, im hoping to have him training for eventing eventually :) But he is very lovable but always has to be alpha, hehe i've been working on join up with him but he is not liking to give up his position as alpha so we need to work on it. Hero is such a quick learner and was always wanting to please, and he doesn't have much spook. Hero has such a great personality and he loves peppermints the best and carrots but HATES apples :) I <3 Hero!!
And I said lastly, but I just feel bad not including everyone, so here is everyone else. So when I desided I wanted A mini, I jumped in w/ both feet and actually ended up w/ four. I am planning to downsize in the Spring and not sure who's staying and who's going (except Skip, he's staying). So firstly is the mare I bought when I bought Skip.
Chrystal, she's super cute, but is not overly friendly, she's the only equine I have that is hard to catch, even though she does fine once caught. I plan to train her to drive once it warms back up.
And Money, I bought Skip on payments and the breeder made sure to let me know she was up for trades, I had some stuff I offered her, and she felt she'd be getting the better end of the deal and offered me Money too! I couldn't say no! I also plan to train Money to drive, and actually already started w/ her over the Fall. She's got a really good mind and not much bothers her, she's alot like Skip in that way. She's going to be a really great parade horse!
And the youngest equine member of the family is DJ (Diamondback Jack), I hadn't planned on adding this boy, I had another mini that I mentioned to a friend I was thinking of finding a new home for. She offered to trade one of her foals for her, so instead of downsizing I ended up trading. DJ will be a year old in March. He's adorable and flashy and if I keep him long enough he'll also be trained to drive. He's a pretty good boy, and already been exposed to alot. His markings are also kind of unique, you can't see it in the photo, but he's got a perfect diamond right in the middle of his back, he also has a streak of white in his tail and two streaks in the black part of his mane.
And one more then I promise I'm done! Our mule Canya. Canya and her brother Joker were suprises! Our first mules and I feel like I've learned alot! When I desided to keep only one I expected to keep Joker, he was the friendlier for the longest time, and also seemed alittle more full of character! But when I started working w/ them I could see Canya was going to be the better fit for the family. I ended up trading Joker for training on Canya (we're picking her up Monday). I'm eager to get her home, hopefully my nephews will continue to be interested in riding and the plan is for her to eventually have her as our second family horse. I also have an easy entry cart that has been gathering dust in the garage so I may later train her to drive. (the pics are baby and weanling pics)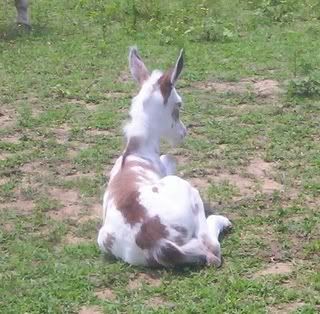 (I folded her legs up like that)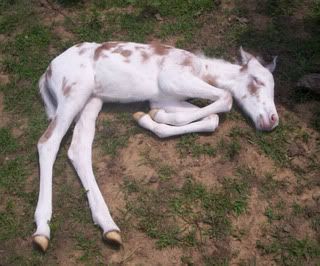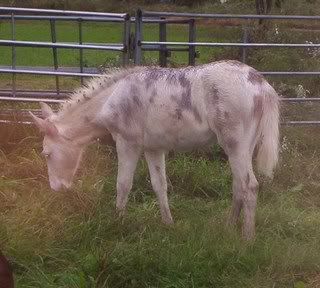 (that's Joker on the other side)