Show me your OLD horses!
---
I know quite a few older horses, here is of them
Cutie.jpg
.
This is Cutie, one of the ponies that taught me to ride. Shes an Australian Riding Pony, and is around 30 now.
How old is old? I have a 21 year old horse...does he count? haha
---
Flirt-Hugo-Phoenix-Romance-Fanta-Nippa-Shiloh

Trojan 09.11.02 - 26.10.10 // Kody 01.09.89-25.06.12 // Rex 05.11.95-21.12.12

Mine aren't as old as yours but I'll try to get some photos tomorrow
---
Only As Old As You Feel - Sometimes I Feel VERY Old
This is old Cussy, (not mine) he was put down at the age of 40 last september due to bad arthritis (his last winter was quite hard on him and it got very bad very fast). He still enjoyed short light trail rides here and there even at the age of 39! He was in such amazing shape, not even a sway back, and taught just about everyone on the farm to ride. It was one sad day when we finally had to put him down and just about everyone he taught was there with him. :)

these pictures were all taken around the age of 37-40,

(did not take the pics, can't find my old ones... they're around here somewhere...)
---
Last edited by franknbeans; 06-13-2010 at

07:47 AM

.
Kody is in front in the maroon halter, he's a 21 year old Standardbred gelding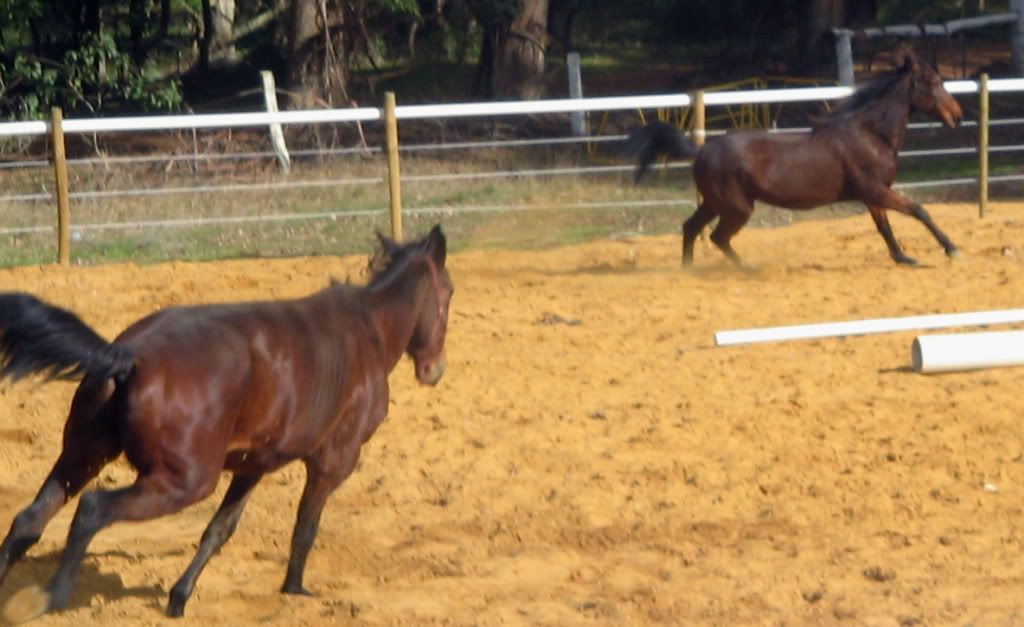 ---
Flirt-Hugo-Phoenix-Romance-Fanta-Nippa-Shiloh

Trojan 09.11.02 - 26.10.10 // Kody 01.09.89-25.06.12 // Rex 05.11.95-21.12.12

here's the old Appaloosa mare at our pasture. she's 25-30 and just had her last baby 3 months ago! here are some pictures of her = )

#1 was when she was still pregnant.
#2 was a few weeks after she had Sparta
#3 you can kind of see how much Sparta has really brought her weight down. i think i'm gonna have to wean him off at 4 months.
#4 Snowflake and Sparta at about 1 month old
#5 Snowflake and sparta at about 2 months old
#6 Snowflake and Sparta at 2 months as well
#7 Headshot of the old girl herself = )
---

Baby, Sparta, Carmen, Henry, Hooch, Mercedes, Butterscotch
This is Spanky my lesson horse, he is 24 years old and still going strong.
This is Flash. He is 27 this year (though these pix are from last summer).
---
Always remember that feeling of looking at a big, open country over the ears of a good horse, seeing a new trail unwind ahead of you, and that ever-spectacular view from the top of the ridge!!! Follow my training blog:
http://robertsontraining.blogspot.com/
Flash's secret is his little donkey friend :) Everyone needs one!