Show off those markings!
---
I was looking through old thread and found one called "Amazing Markings". I looked through it and it was so cool. So I thought I'd open another thread dedicated to the awesome markings our horses have! Feel free to show off your flashy horses!
here you go
---
here you go pictures of the filly and the sire
---
i have my bloodhound & my horses what more can a girl ask for?
Here's Cisco, his stripe forms two diamonds on the top and bottom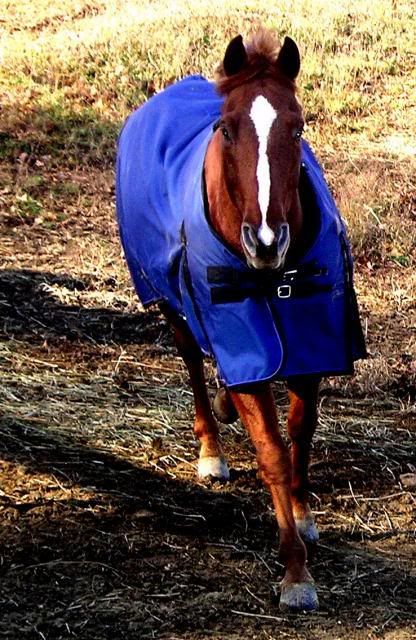 ---
Cisco
14 year old Quarter Horse gelding

"some horses come into our lives and quickly go, others stay awhile, make hoof prints in ours hearts and we are never, ever the same"
Mickey has a patch of white on his right shoulder. It's interesting...
Started
Join Date: Mar 2009
Location: Middle-of-Nowhere, Illinois
Posts: 2,225
• Horses:
1
Norman has an interesting blaze. It looks like a chunk was taken out of it.
---
"A musician must make music, an artist must paint, a poet must write, if he is ultimately to be at peace with himself.
What a man can be, he must be." Abraham Maslow, 1968

Hmmm this is Prince Phillip. A blaze and a light patch on his side.
Love my baby's markings
---
And his kind personality!
Jersey had a black spot on her cheek! sooooo cutee
---
I was a dreamer
Before you went and let me down.
You can see the roaning a bit on the front of his left hock in the first picture, it didn't become really noticable until he hit about a year and a half though. He's about 8 months in these photos.