show pictures of you and your horses
---
show me your pictues of you and your horses (please include your height and your horses height)
Green Broke
Join Date: Oct 2009
Location: Outside of Oklahoma City
Posts: 2,653
• Horses:
6
One of me and the grey is my 20 year old QH Sheas Rodeo Bonanaza, AKA Rosie:) I believe she is about 14.3 hands.
The second one is my colt Dusty, he is around 13.3 hands? He's a wee little squirt:)
---
Be wary of the horse with a sense of humour. - Pam Brown
I don't have any of me, but this is my guy when he won his halter championship as a three year old. He is 14.3.
here i am on my 16.1 horse.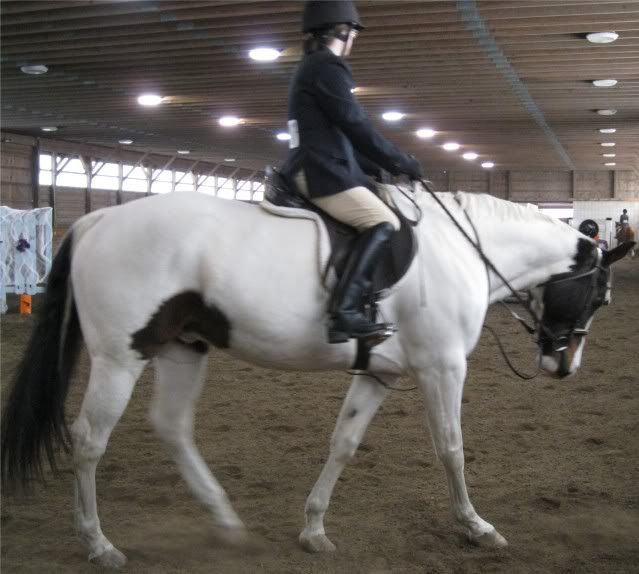 heres my mom riding my horse
My 4 year old Paint gelding, Copper Penny. He is 15h and I am about 5' 2".
LMAO....here are two of me and Rodeo. As you can see, Im a complete dork....Im about 5'5'', and Rodeo is anywhere from 14-14.2hh Id say.
---
Here's me and mine! I'm about 5'4"-5'5". Heights posted for each horse is my best guess, they haven't been measured in awhile for an accurate height.
With Apache, 3 1/2 year old Paint colt. I'm guessing he's around 15.3 hands.
Me and Sapphire 8 1/2 year old mare. She's around 15.1 hands and is my baby.
Me and Lakota, Sapphire's 3 1/2 year old filly. She's about 15.2 hands.
Me and Bonnie. 11 year old mare. She is the mother of Tequila and Cheyenne. Bonnie's about 15.3-16 hand's i'd guess.
Me and Cheyenne. 3 1/2 year old filly. She's around 14.3-15 hands.
Me and Tequila 5 1/2 month old paint filly. She's around maybe 12 hands i'd say. Apache is her daddy.
---
Being horseless is the pits!!
This is my mare, Vanna, and I on the day I brought her home. She is 16.1hh and I am somewhere around 5'4.
Me and my horse Leia. She's 14.2hh and I'm 5'3"
---
"Have fun - Stay on top."
"There's nothing like sixteen hands between your legs"
This is Sky and I. I havn't measured her yet but I would guess she's somewhere around 15hh and I'm 5'8".