This is me and Albie on a lazy day (I was to lazy to walk all the way to the gate from the back paddock.. so I cheated haha)
He's 16.3hh I'm 5'8
Day at the Beach :)
---
awwr all your horses are amazing. i'll try to gt some of me and my horses they're 14.1, 13.2 and 16hh i'm 5'7'' (and belive me the 13.2 is no chunky monkey:))
keep them coming
This is Bo and me. He is 15 hh and I am 6'2".
---
Donna
Truth is meaningless in the absence of understanding.
This is Shiloh. Shes a hair shy of 17.2 and Im about 5' 10. And my arab Miles. He is 15.1 Thats him and I on the right leading our drill team at our hometown parade
---
"Sorry don't get it done, Dude."
John T. Chance (Rio Bravo):
I'm 5'3. Levi is 16hh, Convict is 15hh
Me and Levi on our first ride together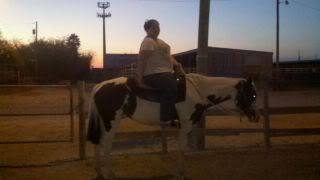 Facebook picture of me and Convict
The 'lets all go bareback in the middle of the night' ride.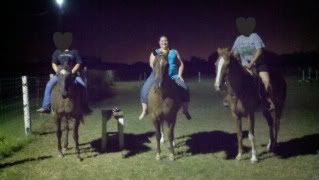 ---
~*~Never approach a bull from the front, a horse from the rear or a fool from any direction. - Cowboy saying~*~