Show us your Before and After pictures!
---
I've seen some amazing before and after shots posted throughout this forum so I thought I'd add a centralized location. Show off your hard work! Your young and old, your winter and summer, your skinny and prime conditioning, your ratty mane to glorious waves of.... you get the idea :)
Here's mine: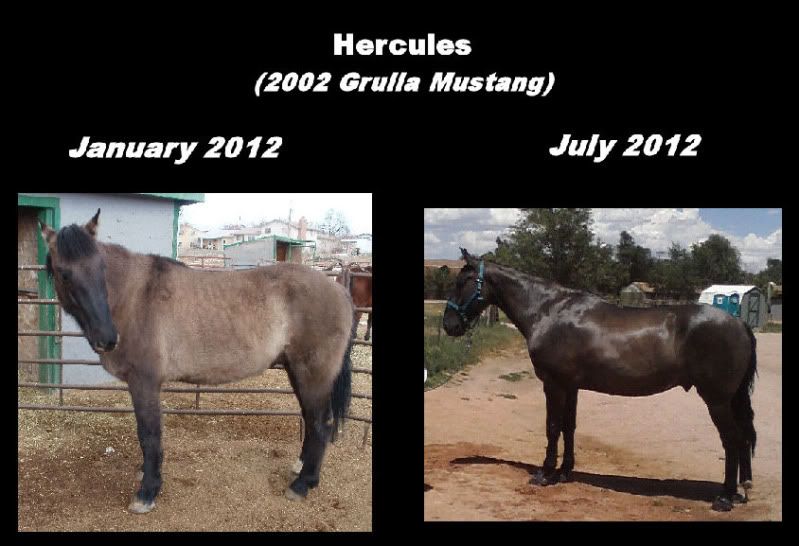 Oh wow, what a difference! He(she?) is absolutely stunning now! Kudos to you
This is Rusty. Defiantly not the same horse I remember rescuing a year ago...
Day 1
Now
Day 1
Ignore the HORRIBLE braid job :P It was one of my first ever attempts, and it failed xD
Well... thats my babyy!
---
E v e r y horse is good for something. You dont throw a whole life away just cause he's banged up a little...
Well, Major has always been pretty well-taken care of, so most of his changes have been conditioning wise and training wise.. since he was only four and a half when I started leasing him. (although I'll be owning him in September if the vet check goes well) So the first pictures are our first winter together, him being a pretty green horse and me being completely new to green horses.. the last pictures are after we've gotten into a rhythm and he improved a crazy amount.
DSC_0104
by
Right Cute Cali
, on Flickr
DSC_0107
by
Right Cute Cali
, on Flickr
(my position is definitely something to be frowned upon here... it took soo much leg to get him going, hence why he needs a pair of spurs)
DSC_0113
by
Right Cute Cali
, on Flickr
And now!
DSC_0013
by
Right Cute Cali
, on Flickr
DSC_0020
by
Right Cute Cali
, on Flickr
DSC_0025
by
Right Cute Cali
, on Flickr
DSC_0046
by
Right Cute Cali
, on Flickr
DSC_0203
by
Right Cute Cali
, on Flickr
DSC_0206
by
Right Cute Cali
, on Flickr
---
Forever loved, never forgotten; my beautiful Indie. <3 Hoofprints on my heart.
Rosie when i brought her home a year ago
Rosie a few months ago
Here's Mellow three weeks after we brought him home.
An now just a few weeks ago-- I've only had him four months (I know because my son was born the weekend we brought Mellow home
)
I haven't gotten a decent "conformation" shot recently since I'm in the middle of moving, but he looks so much better! Just filthy from being out in the pasture. I can't wait to give him a bath after the move.
---
Impressive Wild Angel- Ginger Happy Go Lucky- Duncan Little Boy Blue- MellowSweetwaters Eqyptian King- Sam

Well, I've had Sam since the day he was born... So...
Then:
And Now:
those are awesome pics!! I think when we see them day to day we forget how far we've come. I love the baby pics too... ah memories :)
Green Broke
Join Date: Jan 2010
Location: south of nowhere, north of nothing
Posts: 4,644
• Horses:
6
Wow, awesome changes everyone! I love seeing these kinds of photos.
My mare, Miss Take, in 2006 before I purchased her.
Miss Take in 2010 after I had owned her for a few years.
My first project pony, Sadie, in February 2011.
Sadie in September 2011.
---
"He doth nothing but talk of his horses."
~William Shakespeare