Show Us Your "Before and Afters"
---
Hey Everyone,

One of my favorite things to do online is look at dramatic before and after pictures of horses. Whether it be before and after pictures of rescue horses that went from being in bad shape to being healthy; fat ponies turning to lean, mean, beauties; or fuzzy pasture pets turning into dazzling show mounts.

So if you have any dramatic before and after photos of your lovelies, please share.

Jubilee
This is pix of Dobe. He was 3 when I got him and only weighed maybe 800lbs, his chest was only about 18 inches wide and he had zero muscle. I didn't get many pix of him when I first got him, only polaroids. I don't know if you will see much difference but he has gained about 300 lbs in the last 3 years and he rivals the size of most QHs i have seen. He doesn't have quite the definition but just as much bulk.
Before: Top After: Bottom
Oh yeah, I can tell the difference. He looks a lot healthier now. I have to say, he is a very handsome boy!

Thanks for sharing,

Jubilee
Pictures of a growing boy....When I got thunder he was only about 450-500lbs as a yearling and had bite marks and halter marks embedded in his face. When I drove 4 hours to see him, it was night and he was in the round pen going crazy! Here's the pic of him before in the trailor when we first got him, then a pic during the first week, then the last one is him 10 months later. It's not a huge difference, but he has definitly grow a whole hand since and is filling out a bit.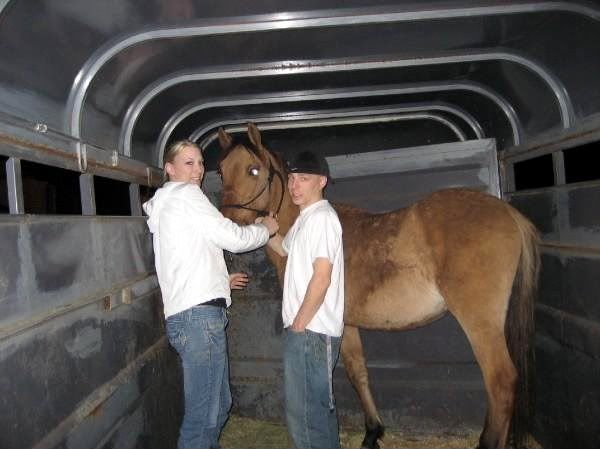 Denny when I first bought him: September 17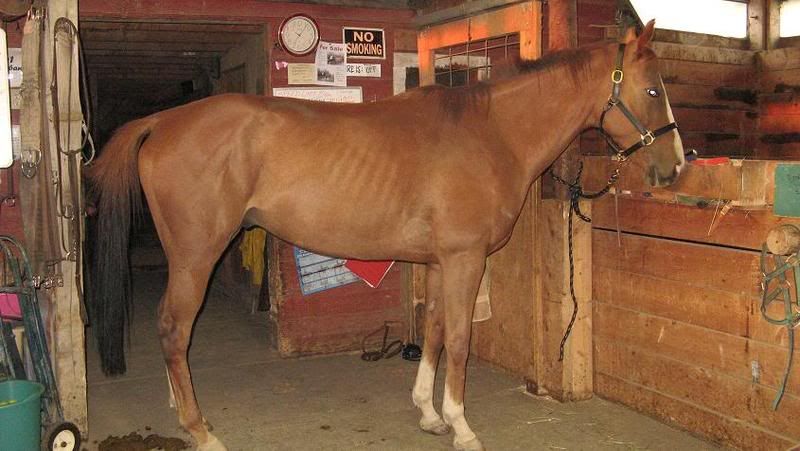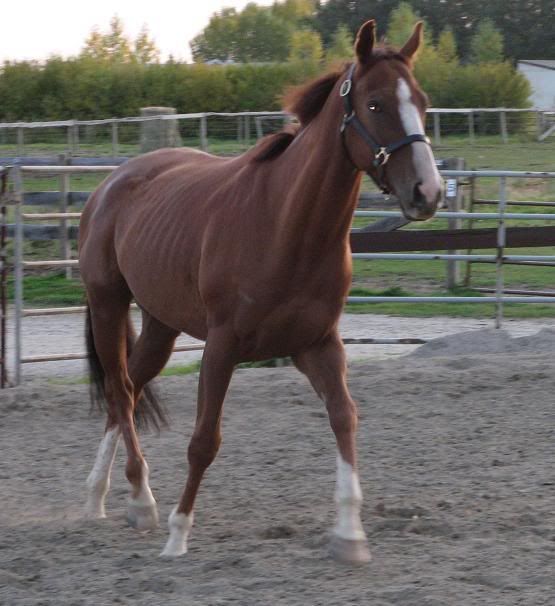 (can you count his ribs?)
November 5: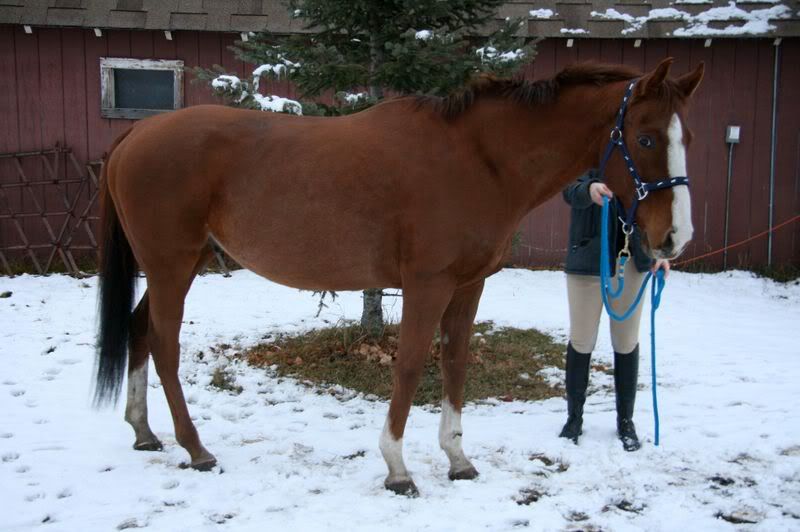 November 10: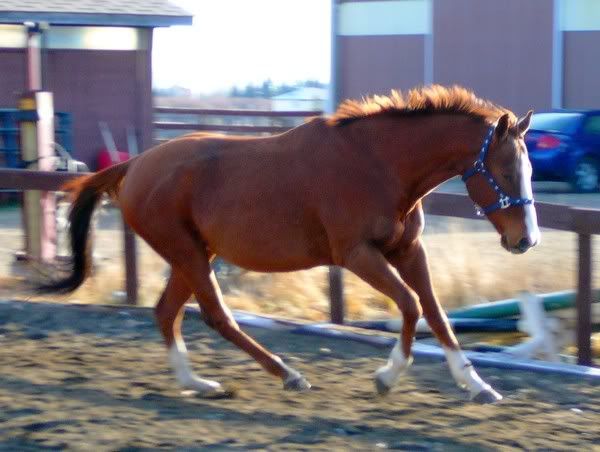 ---
The lovely images above provided by CVLC Photography cvlphotography.com
Maia (bought in March '08, sold September '08 )
March: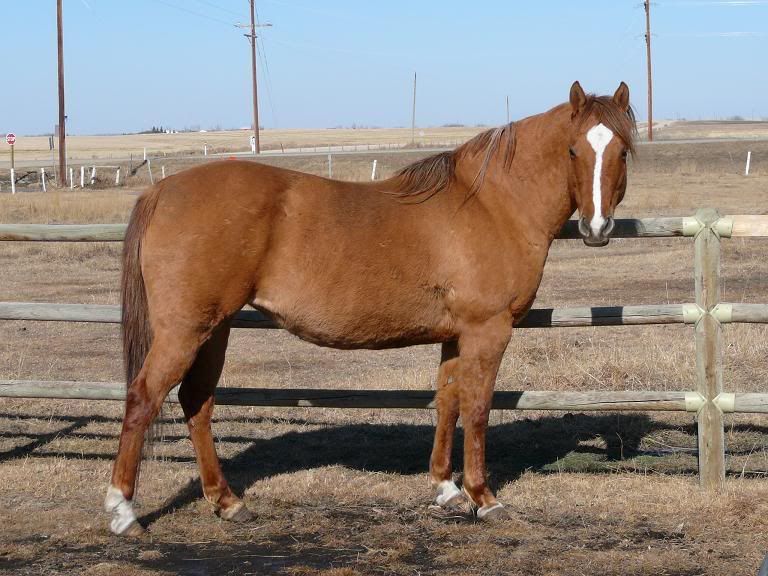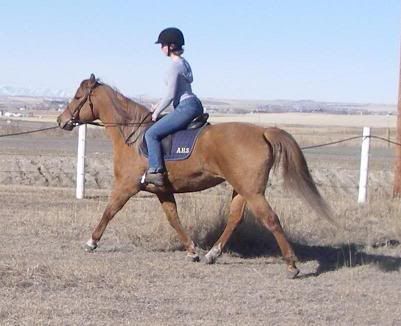 June: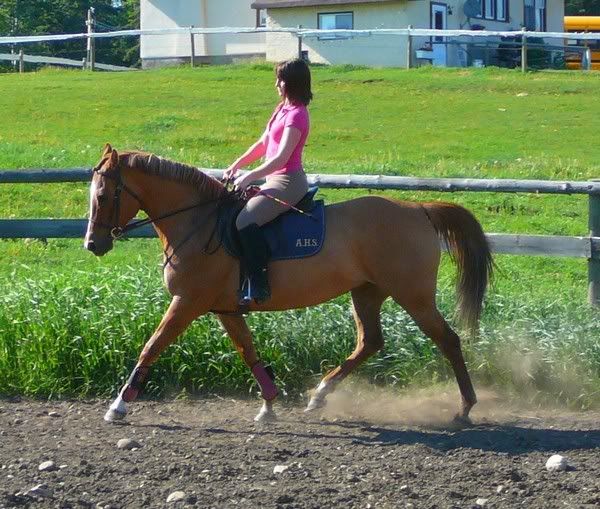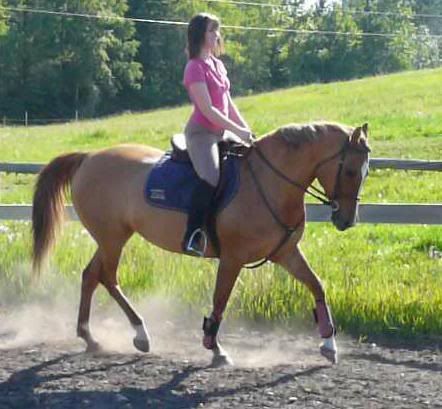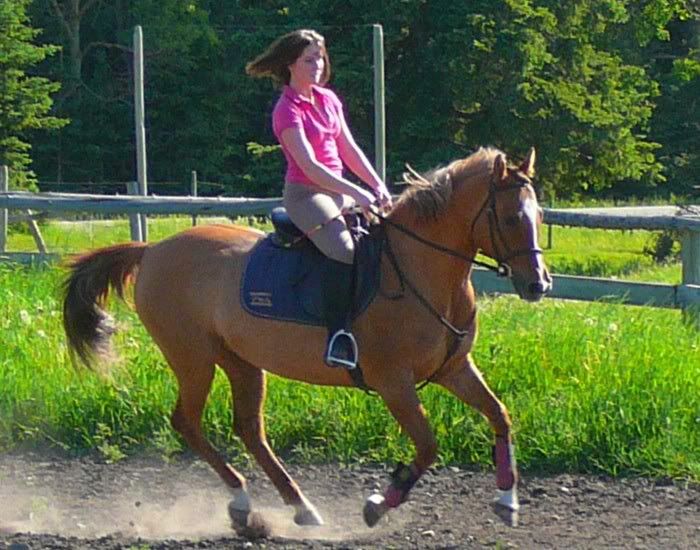 ---
The lovely images above provided by CVLC Photography cvlphotography.com
Roscoe- 2007 APHA Gelding
In the Auction Shed: August 2008
November 2008
Here is Cliff's before and after.
Here he is the day that we brought him home from Kansas as a 2 yr old. He was skinny, sunburned, uneven, and he even had ticks in his mane and tail.
Here he is as a 4 yr old. Handsome and tick free!
He will be 10 in April, I can't believe it has been that long since we brought him home.
Poor Roscoe and Denny, they looked like skeletons. They make Cliff look chunky in his before pic. They both look great now.
Wow, what a difference in everyone's horses! WP, your guy reminds me of Stella when we first got her. Laura, your horse is gorgeous!
Here's Stella when we brought her home: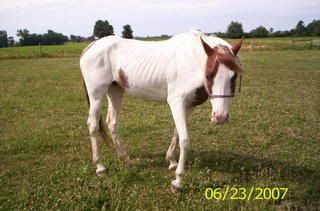 A year later: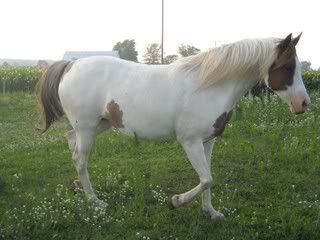 ---
Stella - sweet, timid, elegant, lovely, lively, amazing
Luna - large, unattractive, naughty, adored