These are terrific pictures, Everyone, thank you so much for sharing. Keep them coming! Isn't it amazing to see how things grow and change over time? And when those changes are for the good we can take some pride in the fact that we may have helped that change come to pass.

Jubilee
Thanks 3NEIGHS! These pictures really make me wonder if only half of us horse people know what the word "skinny" means.
Quote:
Poor Roscoe and Denny, they looked like skeletons. They make Cliff look chunky in his before pic. They both look great now.
Denny had no life in him either. He was fresh off the track when I bought him, and yet he'd stand quietly and I could canter him around without my reins. (I didn't ride him too much till he put weight on!)
Now that he's up to weight (dare I say, getting fat?) he's a typical Thoroughbred!
ETA - Laura, your horse is stunning :)
---
The lovely images above provided by CVLC Photography cvlphotography.com
I accidently stumbled upon Roscoe- I went to the auction not planning on buying anything but when I saw him I just couldn't say no.
I had my boyfriend come bring me a trailer..I drove my car. Obviously I wasn't planning on buying lol
I paid with a $100 bill for him and got change back.
I felt so bad for the poor guy. The pink halter he is wearing in that picture is a weanling size halter that a mini I just sold had been wearing.
He loaded right up in my trailer and I soon discovered he had all the ground manners put on him already. I've contacted his breeder and just as I thought, she put lots of work on him and then sold him to the people who brought him to the auction who evidently didn't know about worming horses and trimming hooves.
Once I got him home, I gave him a handful of Strategy- he took one bite and walked away...his little belly just couldn't take anymore.

It's so rewarding to see him out running around, throwing bucks, and being a BABY! Something he greatly deserves! I've put a lot of money into that horse in groceries including a $300 vet bill.

If I can place him with a new owner, I'd readily take on another baby, but I don't have the room so for now he's on the market and will get some minimal saddle breaking this spring if I still have him.

I see thankfulness in his eyes everyday (in both the brown AND blue one haha)
Okay, now it's time to share a few of my before and after pics. Mine are not nearly as dramatic as some of the ones already seen, but they are still fun.
These are of my horse Vega. He's not mine anymore but I still love sharing pics of him with people.
This pic was taken of Vega the week after I got him. He's a really dirty pony in this pic but I mostly want you to notice how skinny he is compared to the other pics. I never even thought he was thin until he realized how bulky he actually is when healthy.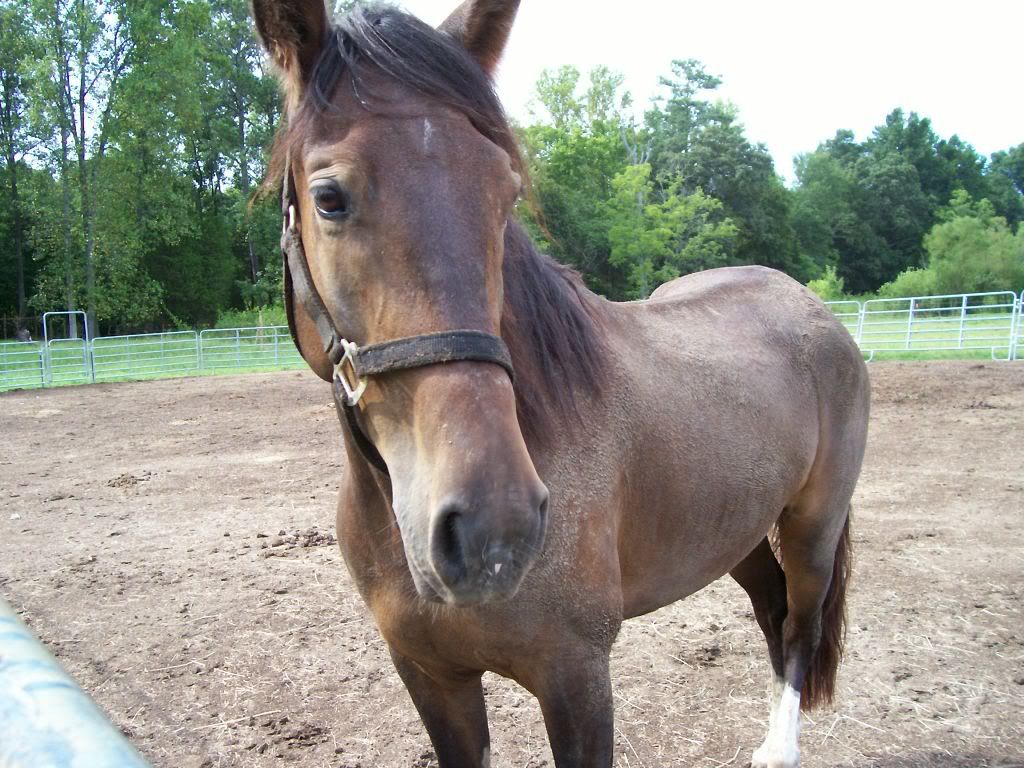 Here he is about a year later.
Haha, this next pic was taken a couple months later. This is the fattest he ever was while I had him, he did slim out again later but I just love how piggish he looks in this pic. (ignore how bad the saddle fits him, I was trying it on him for the first time and it did NOT fit right, cheap Indian made saddle...)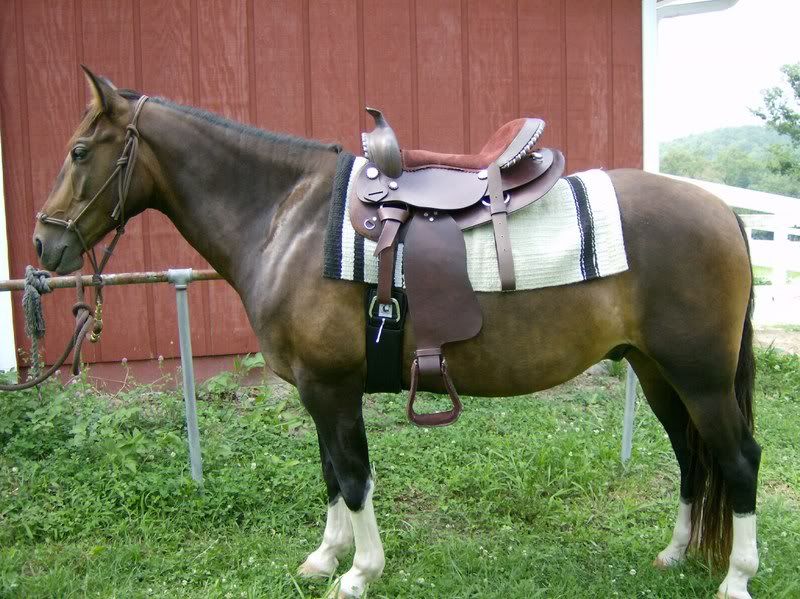 Jubilee
oh gosh what a cutie!! he looks really good :) and that last one is adorable lol
Yeah, he is a real cutie. I love him to death and miss him like crazy but he's in good hands now. We had a good three years together. Now I just miss having a horse to play with :(
My most dramatic is Calista. It wasn't I that got her and improved her though, it was a friend whom I got her from. But still... when Jen rescued her: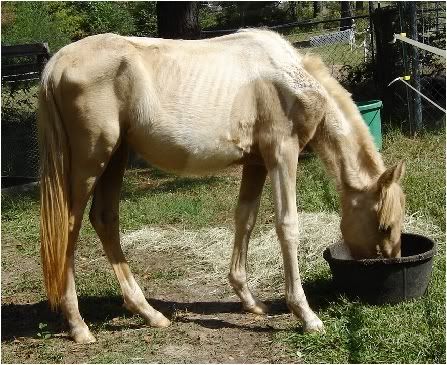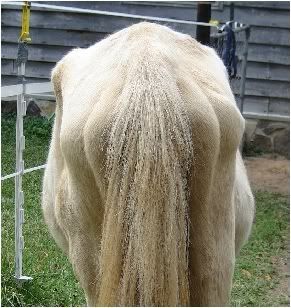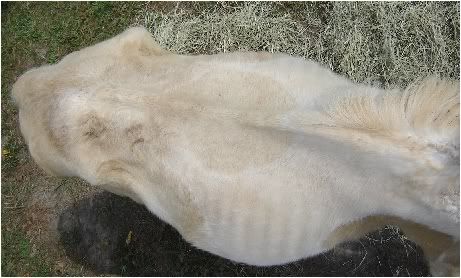 And recent photos of her: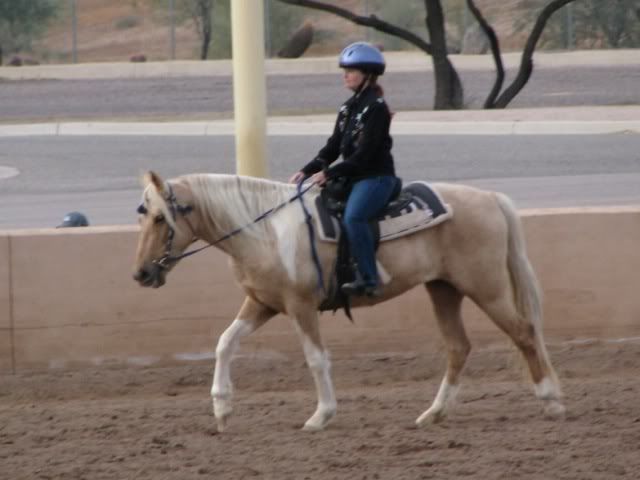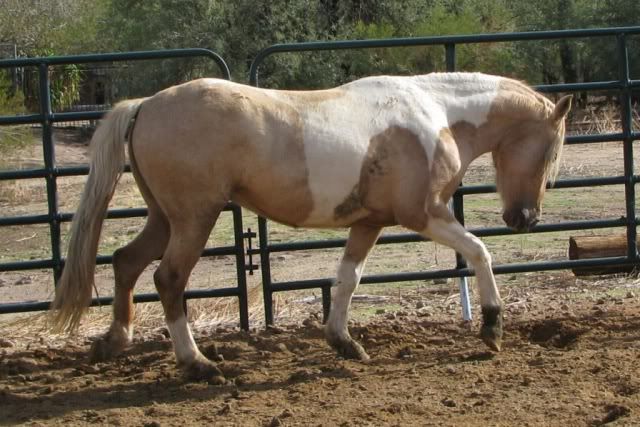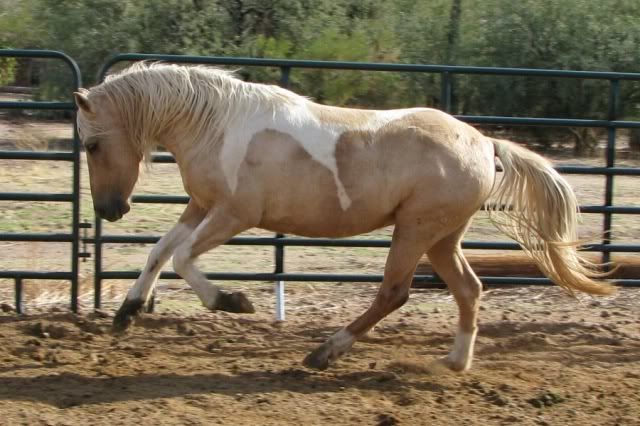 Then my arabian gelding, Braveheart. The lady who owned him had leased him out, and the people didn't feed him right :( Soon as she saw him she took him back, but she couldn't keep him so I was happy to buy him as I had loved him since the first time I met him in the beginning of the year.
This is before she leased him out (he was Region 7 Reserve Champion Halter horse)
This is when he came here November 8th
And this is Dec 2nd (he still needs some more weight but much better!)
Here are a few pictures of my Thoroughbred when I first got him - he was right off the track in definitely in racing condition.
And here he is now ...
omg chey, poor guy :( it's sad to see him when he was champion and stuff, and then to be resorted to that. he is looking much better now though!