Quote:
Originally Posted by
MHFoundation Quarters
View Post
I can get pics of mine later...but that may make me look like a hoarder. I have one butt and I think I'm at 13 saddles.
AHA, a hoarder, I best come stage and intervention at your place, for your own good of course..
Hang on though, one bum, 3 rideable horses
1 western saddle, Reinsman, LOVE IT
English
Stubben, 17"
Wintec 2000
Wintec XXW
Thornhill Vienna dressage
Centaur Dressage
Bates Caprilli Dressage
Thorowgood Maxam.
OK, not that many then.....and guess what not one of them fits Emmy right
This was taken in feb.2012
Love them all guys, extremely jealous! Oh and tack hoarders please upload as many photos of your tack as possible
---
Horseriding- The art of keeping a horse between you and the ground.
this is my martha josey barrel saddle :) srry, didnt really have any good pics
Wow I love everyones saddles livestori, i love your endurance saddle. please send it to me
---
Horseriding- The art of keeping a horse between you and the ground.
my trainers master dressage :) i love it! its so comfy
Wintec 2000 is my current saddle.
The BCS Kur Dressage Saddle is the one I'm saving up for.
---
This works.
My english saddles are sooooo boring....
A saddle I like to look at AND ride in. A Hope saddle circa 1840's
Without mochilla and saddle pockets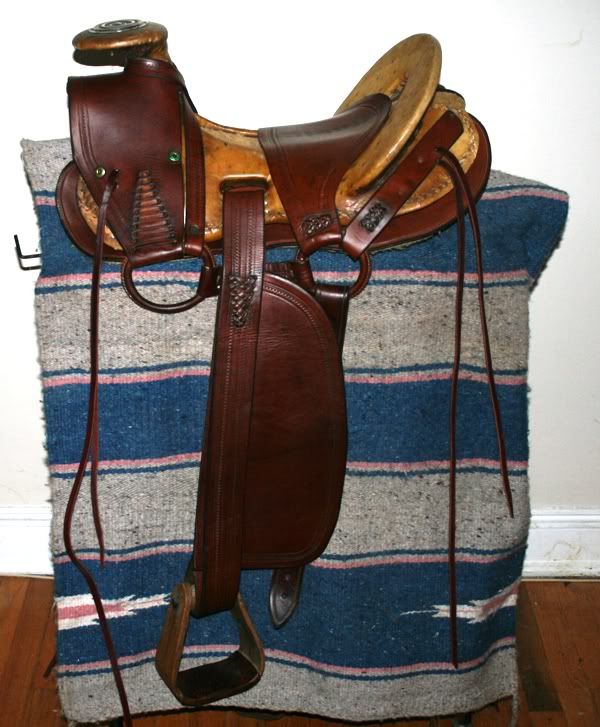 With mochilla and saddle pockets
I teach classes in the saddles of the fur trade era. Here I am with a bunch of tack, both for mountainmen and native american
Here is my jerry bethune custom barrel saddle(my signature picture is the back of my saddle).My ebay baby blue bridle/breast collar and baby blue/black barrel reins that matched perfectly and then on the tb is same saddle and my lime green set up.
---
just a small town girl with a big town dream :]