so Isaacs off at the trainers
---
This spring I did alot of the ground work. Hes always been such a gentle well manored boy. After a day to settle in the work started.Hes been there since the 17th. Shes been on him 3 times today I was there for the fourth. Shes very confident he'll be ready for the walk trot at the apha show sept 17-20th minimum.
I brought my camera and 6 dead batteries so only got limited footage and pics
Lunging footage
pics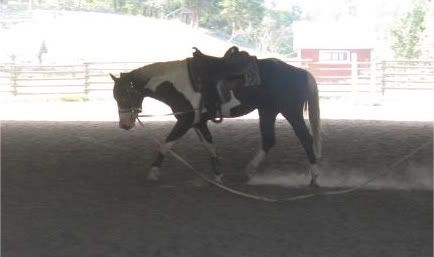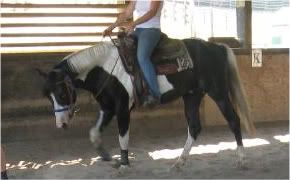 Handsome boy! Good luck on the upcoming show.
You have one handsome boy! Be sure you tell us how your show went, I wish you luck.
He's so handsome! How old is he?
I think it's so cute how he kept getting the wrong lead and then he did that cute little buck and switched lol. Love young horses <3
---
~Kait & Mark~
He's only 2.5....I know hes young (huge debate about starting horses under 3) But being a stallion i wanted a bit of training on him. The trainer is a proffessional and light weight (or i still wouldn't have done it.) His entire session today was less than 20 min of work(lunging,riding.) rest of time was spent getting him to square up and flex etc.
hes beautiful! I love his markings.
---
Humans are like Slinkies. Practically useless, but still fun to push down the stairs.
Started
Join Date: Aug 2009
Location: In the barn whenever possible.
Posts: 1,910
• Horses:
2
Similar Threads
Thread
Thread Starter
Forum
Replies
Last Post
Certified Trainers

southerncowgirl93

Horse Training

1

06-25-2009

11:03 PM

Any dog trainers out there??

GeminiJumper

General Off Topic Discussion

4

07-01-2008

02:28 PM

Trainers

Rainey_Days3

Horse Training

34

05-28-2008

11:51 PM

Trainers in OK?

October

Horse Training

6

01-25-2008

11:46 PM

Trainers

Karen Horse

Horse Talk

0

09-11-2007

08:09 PM