So sad
---
My youngest daughter was standing on a barrel on Saturday and fell off and hurt her arm. We rushed her to the ER and they told us that her elbow was broken, but probably not serious and to just go see her pediatrician on Monday. Well, we went to the pediatrician and he looked at the x-rays and sent us immediately to the orthopedic doctor and they rushed her right in. We found out that she has a serious break in her elbow. The doctor was amazed that it was still in place after so long out of a cast. Luckily, the nurse at the ER had splinted it really good. So, now, she can't do anything! The doctor said that books and movies would be her best friend for quite a while
. Which means...No Horse
. We thought that she might be able to be lead around on the horse, but they said that she can't even ride on a 4 wheeler because of all of the bouncing. If there is any movement of the bones, she will need surgery.
So, when she went out to feed her horse, I took some pictures of her and her horse with my zoom lens.
Here she is talking to her horse. I swear he understands her! The trainer says that she is a natural and has a special way with horses.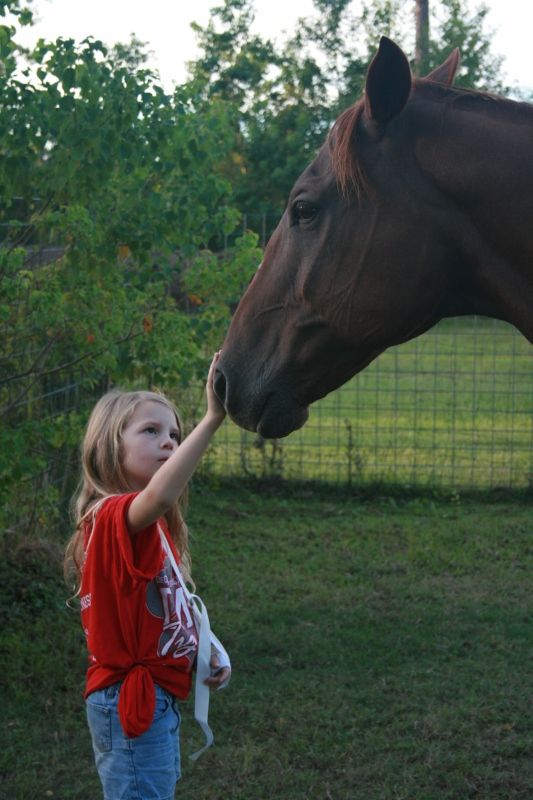 And, here she is showing her horse her cast and he checked it out.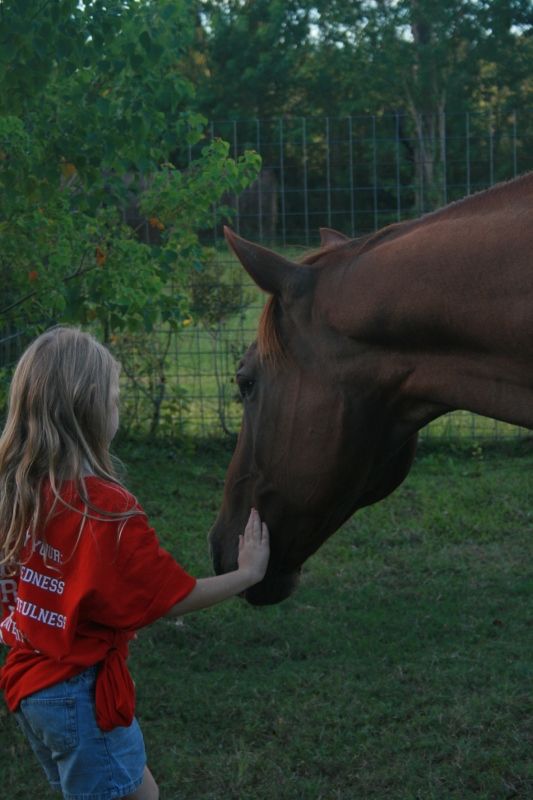 And, then she went to get his feed and he patiently waits for her to pour it in the bucket. He is so gentle around her. The other horse and pony are pigs and will run you over when you try to feed them. We are working on that and it is getting better, but they are still pushy.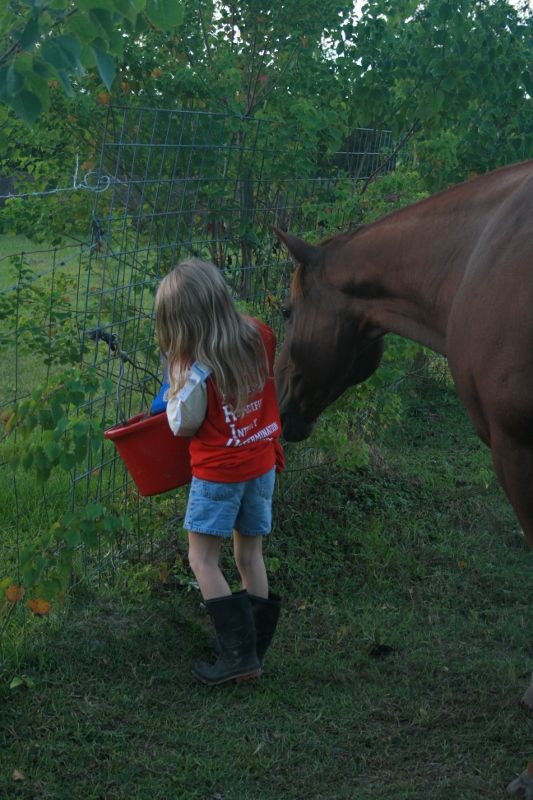 She is so upset about not being able to ride, but at least she can still walk and groom her horse.
I'm surprised they didn't x-ray at ER, although I'm not at all familiar with the US health services system. Don't worry too much, kids heal up real quick - so long as it was set correctly (sounds like it was) she'll bounce back in no time I'm sure. And at least it's her left arm (assuming she's right handed). She seems like she has a great bond with her horse. There are plenty of things that she can teach him on the ground without using her left arm (or any arms, for some of them) - just ask the trainer if there's anything she can practice on the ground in the meantime. Get better soon, Little Ccbmmom!
I'm so sorry this happened. I hope your daughter heals quickly and unevently.
---
Being horseless is the pits!!
When my son was ten and fell while playing on a trampoline with his friend, the homeowners called me to report what had happened but I was off skiing and could do nothing. They said that he seemed reasonably ok and was now playing a boardgame with his little buddy. I brought him home and he complained about the pain in his wrist and told me the story of his fall, ad nauseum. I thought he was just being a bit of a whiner . next morning he said that it REALLY hurt, so I took him in and an xray revealed he had broken both bones in his forearm.

I should have believed him!
Quote:
I'm surprised they didn't x-ray at ER, although I'm not at all familiar with the US health services system.
Thanks, EvilHorseOfDoom
! They did xrays at the ER, but she was hysterical and the xrays were not the best and they didn't want to keep putting her through the pain. What they could see didn't look serious. If she hadn't been fighting the xray tech, they could have seen the broken bone and sent us right to another hospital. Luckily, when we went to see the ortho doctor, she wasn't in as much pain and their xray machines are much better than our small town hospitals machine.
Thanks, HorseLovinLady
! She's tough and will be back on that horse as soon as the doctor o.k.'s it.
Tinyliny, we did the same thing last year with my son. One day after football practice he was favoring his hand. I asked him what was wrong and he said that he was fine. So, for several days, he went to football and soccer and even played goalie. He finally said that his hand really hurt. Turns out his knuckle and another bone in his hand was broken and it happened at football practice. But, he was lucky and they put a cast on his hand that allowed him to still play soccer as long as we put a huge pad over it while he was playing. Kids are just so tough! I would have been laying on the couch whining!
Those pictures are precious. I hope she heals up quickly!