So Spighi doesn't feel left out
---
I should probably put up a few photo's of him too from his competition over the weekend.
Not such great tests unfortunately, both of us have only had a couple of rides in since I bunged up my hip and I just didn't ride terribly well.
However, I felt that the straightness has improved - no quarters swinging constantly to the left - and he is less inclined to drop the poll.
Still placed fairly well, 3rd and =7th of 20 in both tests, but not really how I want him to be working out in public!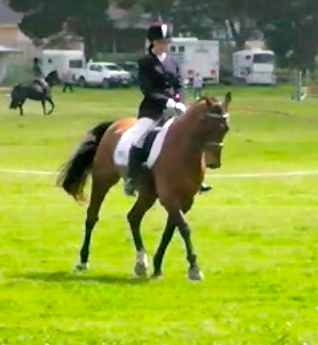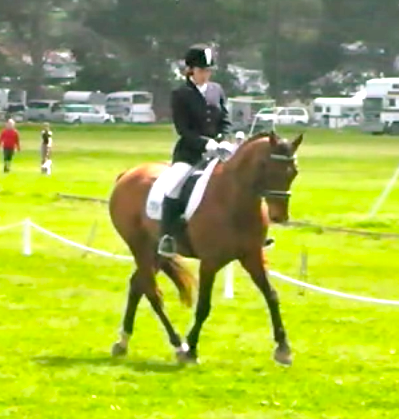 And and yes, the local pony club were running a showjumping day + gale force winds.... it was not much fun :P
I'd be thrilled with those results, But I am easily pleased. You both look very professional.
He does tend to score quite well even when he feels atrocious like he did on the weekend. Naturally he is a rhythm machine, has a great back that appears to swing even through tension, and he holds his frame even if he's bracing against me like no tomorrow. I had to hold him up for the full first test, he was so against the hand, I felt like I couldn't move him into corners, leg yields he wasn't enough off my leg etc.
But because he just goes around, keeps his rhythm and looks 'pretty', he still scores ok if I manage to keep myself together, sit up in the saddle and look like I'm having a great time - while my arms are about to be hauled out of their sockets!

I'm someone who doesn't tend to go by my percentages and placings in comps, I go by how he felt and if it felt awful and scored well, I'm not happy!
He's such a lovely boy. I know how you feel about the scores vs feelings thing.
i swear he looks like a different horse. he was a looker to start but he's SOOOO much more now. i know this wasn't exactly what you were hoping for for this show but i must say, certainly something to be proud of. i can't wait to see more as time goes on.
Thanks folks!

Crimson, he has certainly come a long way in how he uses his body, in training at home now he is showing a lot of talent for collection, now that he has figured out that he CAN lighten his forhand and not rely on me to hold him up. And I'm able to shorten the frame a lot more, and bring his poll higher. So certainly a lot of improvement going on since I started with him.
I am hoping to have him competing Elementary before the end of the year, and give him a Medium start by mid 2013.
Lookin good!!
---
Being horseless is the pits!!