Some days just don't go according to plan
---
A bit of history : I've been so proud of my Saddlebred mare over the past few weeks of work - I'm coming back from a broken arm and having two kids... she's had a lot of time off in the past few years, and last year she was pushed a bit too hard.
Our main focus this year has been to get her working long and low, soften, supple and lift the back - and for the past couple weeks we've been really getting it... so in all my pride over our achievements I set up a day with a friend to take photos... and wouldn't you know it... but as it turns out today wasn't a "good" day.
For whatever reason the cows in the paddock next to the ring had Chance so freaked out we didn't get very low... actually, I'd say we didn't really hit much relaxation at all - but we did get some neat shots.....
She is a naturally gaited Saddlebred - she has never been "formally" trained to gait... today was a great set up for her to gait, so I just insisted that she at least try to stretch down while doing it. It's a real work in progress... we're trying to work on getting her comfortable and balanced in the gait so that she is less pacey
This is what happens when you get distracted, talking to the photographer, forget about your horse - who sees scary cows and suddenly decides "NO WAY" (this shot is on the way down, she was very nearly verticle... then deeked right) - Yes, I did stay on LOL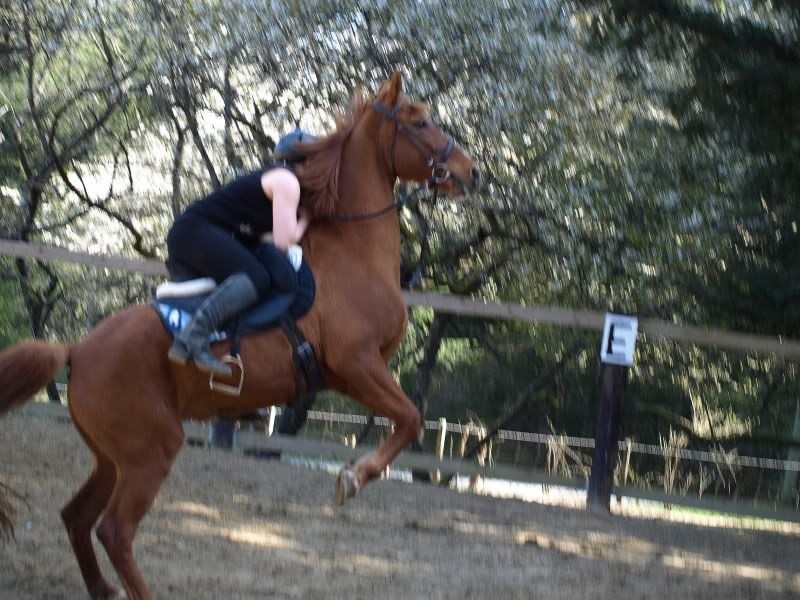 Circling around to face the cows again
... and just in case the photographer missed it the first time (yeah... I'm a slow learner - not enough forward!)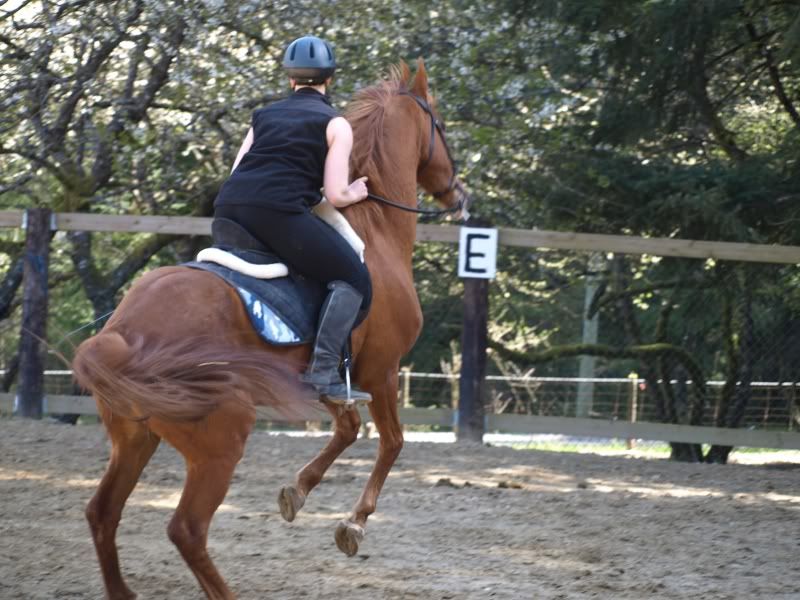 It wasn't all bad... but it was far from the "bragging rights" I was hoping for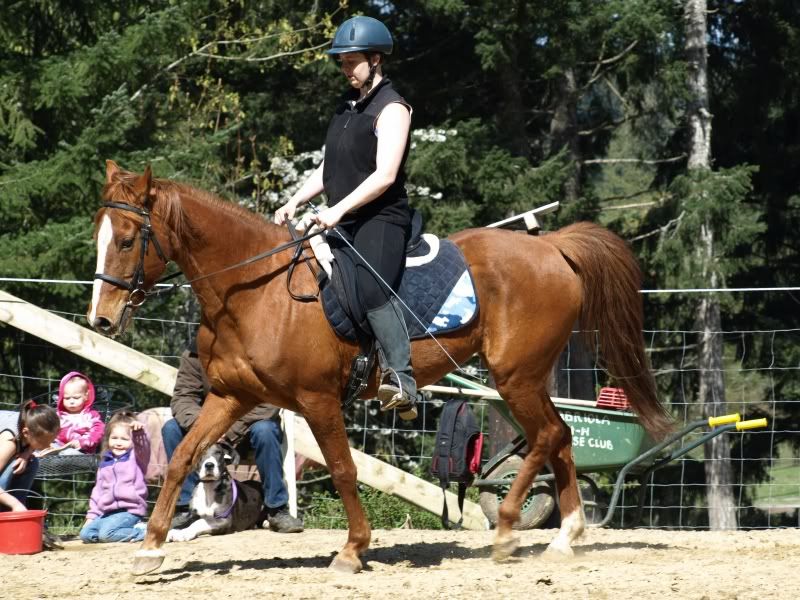 Her lovely face... she's normally as sweet and quiet as she looks here LMAO
Nice. Yup get distracted and lets have fun mom. I like the last picture. Glad that you stayed on and weren't hurt.
---
Striving to always excel in everything I do. Whether I fail or not I always try to do better than last time.
Always seems that when you dont have a camera, you have great days, or great opportunities for pics...happened to me the other day, Im always trying to get good action shots of Rodeo, and never seem to get them, but the one day I dont have my camera, he decides to go for a nice gallop around the pasture LOL

Great pics tho! Shes a very pretty girl!!!
Thanks.

Yes, that's exactly it. Yesterday would have been PERFECT... great weather, and she was really working hard at things... today, I guess just too much going on for her.

Hardly the best way to show off my training abilities... but hey, what a kodak moment!!! I have so few of these moments on "film" - nobody ever seems to have a camera when they happen LMAO
Lmao!! Def some good shots captured there!!! I really love that head shot of her tho!! Its gorgeous!!
She is beautiful! I have a soft spot for Saddlebred mares - I learned to ride English on one. She has beeter contact on her bad day than my Arbaian mare does on her good days ;) We are working on it tho. Have fun, she is wonderful :)
livestoride - Thanks. The contact has been coming with a lot of suppling exercises. She has been used to going along with her nose up in the air, and her head very high, back hollow and trailing out behind. Keeping it different seems to keep her on her toes and more focused on me.

We also do a lot of riding right angles, transitions within and between gaits - it seems to be developing better balance.... as her balance is getting better she's more willing to reach down for her balance rather than somewhere in the clouds.

I find her fun, she's (usually) very solid minded and she'll try anything once (other than cows... she has assured me she is NOT a cow horse) and if she likes it then she really puts her heart into it.
What a nice seat you have!!! you ride her very well!