Son's first trail ride - pic heavy!!!
---
Despite the sadness this morning (one of my boarder's lost her mare this morning) I took my son out on his first trail ride with his pony Buttercup. Another boarder came along with her gelding.
Hope you like!!
"Ahem... we're tanning!"
Chrome wanted to make sure I knew exactly how he felt about being woken up from his nap...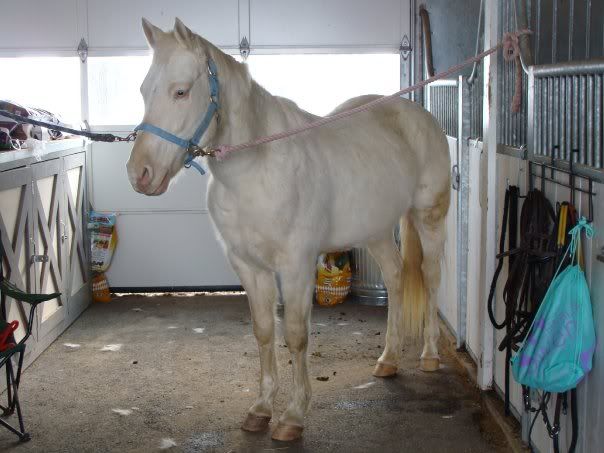 Getting ready to hit the trail...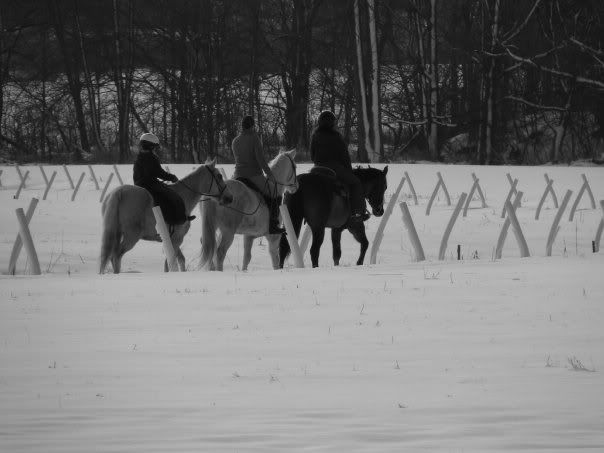 And home again.. thanks for looking!!
Nice pics. I glad you guys had a good ride in the snow!!!
Looks like fun. nice pics.
That second last picture is amazing :]

What an awesome mum!
---
Thanks! It was my first time riding Chrome so I was expecting some silliness. But Chrome was great, he did really well ponying Buttercup.

Please excuse my makeshift crossties - I do have three sets of proper crossties but they were all being used.
Started
Join Date: Aug 2009
Location: In the barn whenever possible.
Posts: 1,910
• Horses:
2
Aww...looks like it was a lovely ride! Loved the pictures.
---
"Riding a horse is not a gentle hobby, to be picked up and laid down like a game of solitaire. It is a grand passion. It seizes a person whole and, once it has done so, he will have to accept that his life will be radically changed." -Ralph Waldo Emerson
Thank you! The whole ride around (we went on the short trail on our property that takes only about 15 or 20 minutes) my son was saying how much more fun it was than the arena.

It's nice to share something with him. It's very cool seeing it all through his eyes.
Great to see a new generation of riders - especially good to see your son in a helmet and being ponied.
---
I'm not arguing with you, I'm just explaining why I'm right.

Nothing sucks more than that moment during an argument when you realize you're wrong.

It's not always what you say but what they hear.

Looks like fun and that 4th picture is priceless. Chrome is really clean too, but what happened to the mare?
Yeh call it the mom in me, Iridehorses
The mare died from gas colic, complicated by twisted intestines.
I just got sent this picture which I thought was pretty cool