Starbucks and sillyness
---
Yesterday PCtrailrider and i rode to her local Starbucks, so much fun.
more pics from the ride/day coming soon just need find a usb cord :)
First photo is us at Starbucks, you can see us in the left corner ( we were trying to get Starbucks in the corner)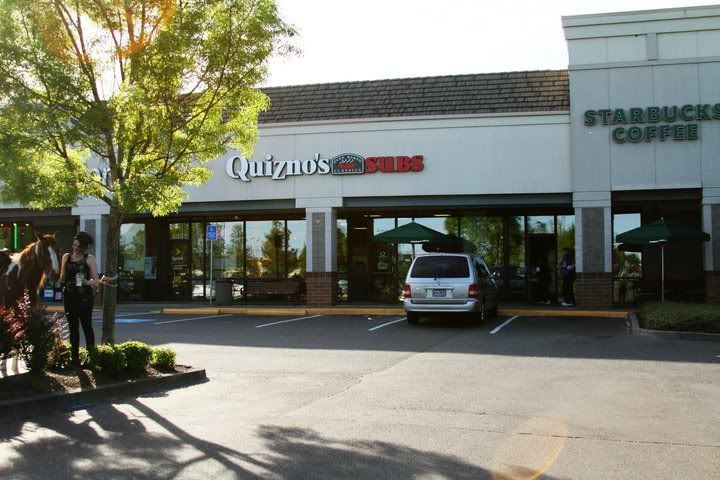 This is just Dewey being silly and yawning
im sooo in love with this horse.
more pics coming soon.
love it!! Wow, what a way to spend the day, riding and drinking starbucks!! Sounds like the perfect weekend to me.
Awwwh! Love your horse!

VB
---
I was a dreamer
Before you went and let me down.
Haha, awesome!
---
"My treasures do not clink together or glitter; They gleam in the sun and neigh in the night."
-Arabian Proverb
@ VanillaBean - hes not mine.. i wish he was mine! most amazing horse i have ever met. he actually belongs to my friend Tina- ( PCtrailrider )
ROFL - Oregonians and their java... A few years ago I was hiking in Siuslaw (old-growth forest on the coast) and came around a bend in the hiking trail, and by golly, there was a walk-up coffee stand, right there in the forest!
Now you've got ride-up Starbucks...what next?
*cry*... my dream, snif, is to ride through my town on a horse and do my errands. :( You're very lucky. ;)
---
A ride a day keeps the worries away!
Hey Jessie, a friend of mine was looking on the forum and found these pictures. I didn't realize you had posted them.

It was a TON of fun. I am lucky where I live, we are on the edge of the suburbs so we can still get away with riding in town but boy do we get a lot of looks.

Also a shout out for Jessie and the forum itself. We met on here looking for riding partners and she couldn't be more fun. :) I highly recommend putting yourself out there and meeting new people.
i thought i had told you... hmm o.O well look ! lol
i was going to post more from that day but never got around to it :)
new adventure soon!
Post away (as long as I am not in them
). I am usually to lazy to do it.