Stoked for my friend and for myself!!
---
Sooooo you guys don't know this but I promised a couple of weeks ago to make a show browband for a friend of mine by braiding ribbon around a flat leather browband she already had. She picked the colours and gave me a rough guide of the design she wanted, and I did the work. I finished it yesterday and was quite pleased with how it turned out (MASSIVE perfectionist here so that's saying something).
Well she used it for a show today and her results were awesome. She and her little riding pony took out their class and then went on to win best presented - with MY browband! First time one of mine has been used in a show and to have it go BP... well I am stoked!
Pic, of course, of the lovely riding pony mare in the famous browband! The photo doesn't show the colours of the browband right but it's navy, baby blue, white and silver, with bling.
Did I say I'm stoked?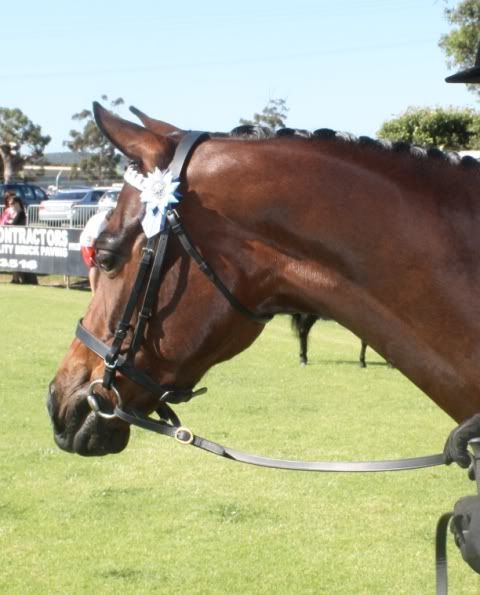 Wow!! Thats awesome! Congrats! It really does look great from what I can see from the pic! Great work!!
That is really neat. I think it looks awesome. It brings attention to her but doesn't distract from her pretty face.
---
If it's worth keeping, it's worth taking care of.
What a gorgeous head that mare has, you did a great job drawing just the right amount of attention to it!
Posted via Mobile Device
Very nice!!!
---
Being horseless is the pits!!
Thanks guys :) It means a lot, really it does.

Edit;; also gives me some hope for my best presented class next weekend, although I'll be competing against my friend so I'm stoked if either of us wins or places.