Taylors day in the pasture ...
---
i turned her out with her friends Meme and Blacky ... she was so muddy and loved the puddles! Too bad i didn't get pictures of her playing in the puddles- she was splashing ALL KINDS!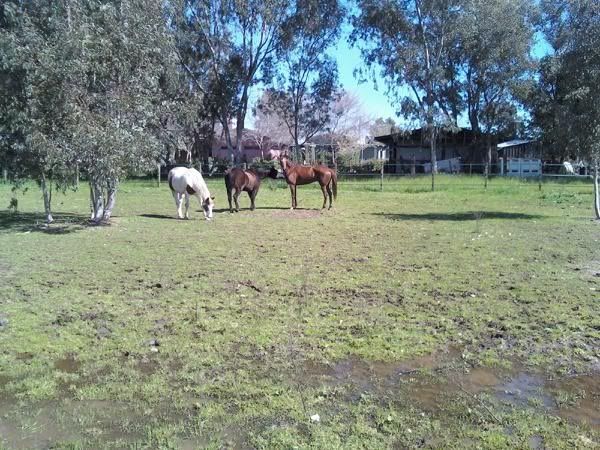 Striking a pose!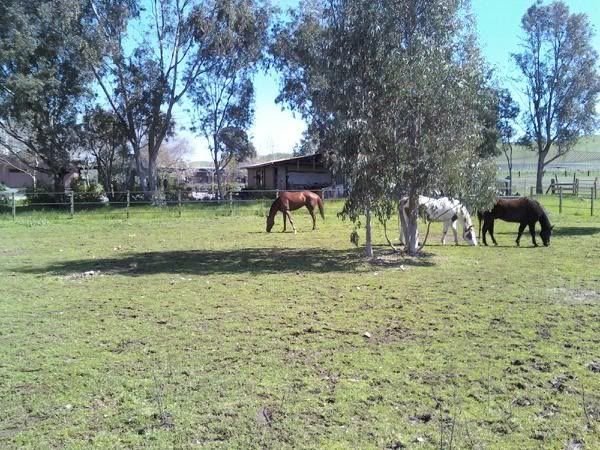 Chilling
Blacky keeping Taylor away from Meme lol
He butt looks so big! and she was soooo muddy but having a great time :)
---
:: Karley ::
Tucker WB/TB- 11 yr
Speedy QH/TB- 22 yr
Lucky to have so much grass! I don't think I have seen any in about 5-6 months now
looks like shes having a blast! have a good time bathing her! lol
Thanks guys! She hasn't ever been in pasture since she is off the track so i didn't leave her out long b/c i didn't want her to feel sick from the grass .. but i will up the time everyday and soon she will be a pro!

Vega-yeah i hosed her legs, belly, hips and chest off b/c she was covered in mud- thats what happens when she pounds the water/mud with her front legs tho .. so cute! :)

Cache- move to CA! lol
---
:: Karley ::
Tucker WB/TB- 11 yr
Speedy QH/TB- 22 yr
I MISS GRASS!! LOL

She is a good looking horse! Can't wait to see some pictures of her under saddle.
Yeah she is so cute! I am going to give her some time to be 3 (since she isn't 3 yet) and probably next week i will start lounging her with tack :)
---
:: Karley ::
Tucker WB/TB- 11 yr
Speedy QH/TB- 22 yr
Have fun witht the training! I hope it goes well! Did she run on the track?
looks like she could use some weight, but she is gorgeous!!
---
Waterbrooke Farms home to, Saddlebreds, Morgans, Friesains, Hanerovians, and, Standardbreds.
She did run on the track .. she was too slow- she went for $10,000 as a yearling tho so she has good blood lines, i haven't gotten her papers yet.

I think she can use a little weight but she is all lean and muscle right now :) everyone at the barn calls her the super model lol
---
:: Karley ::
Tucker WB/TB- 11 yr
Speedy QH/TB- 22 yr
---
Last edited by kchfuller; 03-08-2009 at

06:10 PM

.
Oh right on, what are your plans for her?
Similar Threads
Thread
Thread Starter
Forum
Replies
Last Post
Pasture Pet Available

paintrider

Horses for Sale

0

10-31-2008

04:32 PM

Last day in pasture

kitten_Val

Horse Pictures

14

10-24-2008

06:55 AM

Pasture horses

.Delete.

Barn Maintenance

18

03-21-2008

04:26 PM

Pasture Fed

tiffanyp1980

Horse Health

2

03-11-2008

11:40 PM

pasture

malf

Horse Talk

3

01-21-2007

10:49 AM