Thinking of Throwing an Offer On This Guy.
---
So this horse is possibly the strangest horse with the oddest story I've ever encountered.
I first met him 4 years ago at the farm I currently work at, and now board my horse at. He was about 6 or 7 at the time and a complete nut. He had dumped the BO by accident (the story is that he had been trotting, and the BO had pulled back slightly on the reins to ask him to slow down. Instead Chalupa slammed to a stop and ducked his head, causing the BO to go over. The BO broke his glasses in the fall and slapped the horse on the mouth, which caused the horse to pull free and run home). He degressed from there to the point that he couldn't even be led from the field to the barn without taking off and being a royal pain in the arse. He had a reputation that had all the little volunteers afraid of him. He didn't tie, he didn't lead, he was spooky, you couldn't bridle him.... he had a list a mile long of all the things he wouldn't or couldn't do. And for almost a year he sat in the field and did nothing because everyone was too afraid of him.
My best friend, at the time, fell in love with this horse - while I subsequently fell in love with an equally pain in the arse Percheron who came from the same farm that Chalupa did. She spent hours with him, and despite our lack of knowledge when it came to problem horses, he eventually got to the point where she could ride him. But he always remained spooky and a little bit dangerous.
But she bought him anyways, hoping to turn him into her everything horse. The owner was happy to be rid of the "dud" and sold her him for $1200. She kept him for 6 months before coming to the conclusion that he would likely one day hurt or possibly kill her, as he could never be 100% trusted. Thus she sold him, this time to a girl for $1500. She kept nothing secret. The girl knew what she was getting into when she bought the horse.
And after two days of trying to load him in the trailer, and a nasty $200 vet fee, Chalupa was gone from our lives... we thought he was gone for good.
We got updates once in a while. Mostly they were bad. He had run off down the highway from the new owner once.
Fast forward 2 years.
The BO was going down to the auction near Toronto... a nearly 4 hour drive from where we live. He was going to get some trail horses for the summer.
He goes in and sees this beautiful Appaloosa gelding. He watches a young woman ride him around in a simple O-ring snaffle bit. He canters and trots and walks and stops. The BO goes in and picks up all 4 feet and he's easy to handle. So he places a bid on the horse, and buys him for a cool $750 - the most expensive of the 5 horses he brings back from auction.
But as he's going to load the horse into the trailer, the head of the horse goes up, he rears, and turns around an bolts.
"Chalupa! You son of a-!" and that's when he started having his doubts.
His partner, who he went down with, grabs the horse by the halter, and after three tries, he loads in with the other horses.
Now I'm at home, calling the BO because I'm super excited to see theses horses coming back from the auction. and while I'm chatting he goes "I think I bought Chalupa"
Ya... right! I thought.... but sure enough the next morning I walk in the barn and there he is. How the BO didn't recognize him is beyond me! I stare for a moment in awe at this horse who was supposed to be gone for good.
A lot of things had changed since he'd left. And soon his story of how he got there surfaced. He had been breaking down fences at his new home, which caused his then-owner to trade him for another horse. He when to a dealer, who couldn't do a thing with him and sold him at the meat auction ... which is where his story blurs. For 6 months he dissappeared. And then he ended up at auction... and he was different from before, with the name Borris to boot.... BORRIS!
So he's at the farm again and I can't help but like him, if not for his attitude and stunning good looks for his story and his perserverence. And I know a lot more now than I did when he left.
The BO said he'd give Chalupa - there was no way we were keeping Borris as his name! - one chance. Just one.
So I decided I'd give him my all. I would work with him, see what he knew, and what we still had to work on. And I was impressed. I took him for a walk the first day and he was easy to handle, and responsive. A little nervous but not crazy.
The second day I rode him around the yard. Again.. nervous, but nothing major. Although he did break a clip the first time I went to bridle him.
I put some hours into him, and I came to the conclusion that the reason I think he is so bad sometimes - and he still is a little spooky - is that he has no faith in his rider. He can't bring himself to trust what I say. My TB will trust everything I say, even if it might not be the brightest idea. But Chalupa questions it and argues.
So one day I decided to try free jumping him on the lunge line. The idea was to get him to believe me when I said something was okay and that he could do it.... and before I knew it he was free jumping over 3 feet with really good form - considering he's got no idea what he's doing and neither do I when it comes to jumping.
I admit I became a little smitten... And then I started working harder, building on that little gateway of trust I had found. He started coming to meet me in the field! He began to enjoy the trail rides, despite that he's still spooky.
The BO says he's planning to sell him again anyways, and apparently I get the profits for doing the work if and when he sells... but I don't know anymore... I'm starting to think I want this horse lol.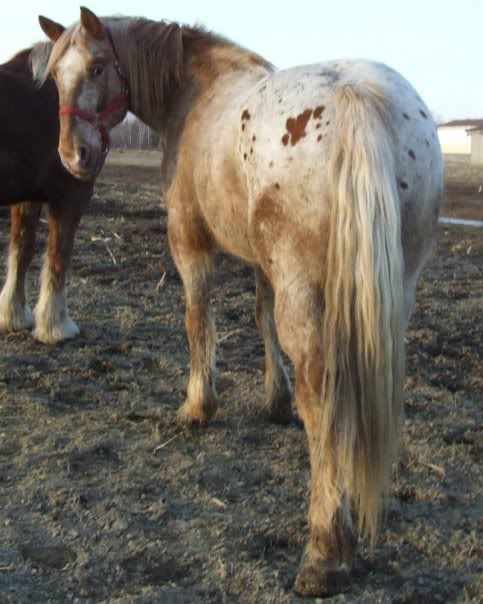 ---
A canter is a cure for every evil. ~Benjamin Disraeli
I cant believe you found someone that would pay 1500 for an unrideable crazy horse that will kill someone one day. Your BO probably fell victim to the tube of calming paste at the auction. Not sure about your area but thats a "free to good home" type horse here in VA, I wouldnt pay for him. Good for ya for working with him though.
Some of the best horses I have trained and shown were the rankest when I first met them. If you take the time and effort, many of the "bad boys" can become the best for you.

There is just something in me that responds to the wicked horses, as long as they are mentally sound. Though it is rare to find a horse I deem "crazy", I have met a few. It is not hard to pick them out after being around them for a little while. Those......well....leave them alone.
Wow that is an interesting horse. Good on you for working with him.
---
My two horse Apache and Sammy are my world
along with our dogs Patch and Bear.
But I will always love you Jimmy R.I.P
What a great story! Hope everything works out with him. It sounds like he deserves a chance.

I'll second Allison's comment. I have one of those myself. He's the first horse I ever thought might actually kill me. He still has some trust issues with others but he has blind faith in me. We've been through the ringer together. He's the horse in my avatar. It's been 2 years, lots of blood, sweat & tears (the blood & tears were mine) injury & stall rest but he's now under saddle & is a pretty solid citizen :)
---
Life is like a camera. Focus on what's important, Capture the good times, Develop from the negatives and if things don't work out, Take another shot.
So I'm more infatuated than ever now. He's getting better and better with every ride, on Saturday we had a true test and he aced it.

There was a - we found out later - inexperienced rider on one of our younger trail horses. (before anybody jumps, she had told us she was very experienced before getting assigned her horse). The young horse she's on is a great horse, but he's very sensitive to cues - not dulled down like most of our trail horses. So anyways, she has him about three hundred yards from the barn and gets him turned around so he's facing the barn - not meaning to do this she panicked and I think she must have bumped him with her heels or something. All of sudden he just comes flying down the stretch with this quick, but even lope - not like he's bolting, more like he's thinking that's what he's suppose to be doing. I'm on Chalupa in the yard, coming out to meet them and I hear the girl on the runaway absolutely freaking - like screaming and crying and despite that we were trying to tell her to pull up, she had the reins WAY too loose and he just kept going.

So I didn't even think about it when I got Chalupa to jump in front of the oncoming horse. The runaway slowed to a trot, and Chalupa - like it was nothing, trots up to meet him, putting me right in position to grab the reins and pull the horse to a stop. And then Chalupa stands - perfectly quiet, perfectly still, while we sort out the whole mess, and get the rider on a horse better suited to her -actual - riding skill.

I ended up having to ride the runaway on that ride - couldn't let the horse think that what he did would get him out of work, even though I don't think he was trying to be bad.

But it amazed me, because there was a time not that long ago when Chalupa would have seen that horse coming and bolted. .... and then to top off a great weekend of riding on Chalupa, I decided to try a bitless on the goof - and lo-and-behold! - he rode just as the same in the bitless as he does with his bit, and stops just a little bit better.

So I talked to the owner about buying him and he says he's open to offers, but wants to talk it over with his wife first.
---
A canter is a cure for every evil. ~Benjamin Disraeli
Sounds like he really trusts you. Have you talked to the owner about what he will expect for him? I would offer before you fix him too much, if you know what I mean....

The market is really down, even for horses with no issues. I would not pay more than 800-900 for him. I would offer less. At least you can try for that.
Me, I'm a full supporter of anyone (who has the awareness and ability) who wants to go for one of the "crazies". The two best horses I've ever had were deemed unfixable by people with far more experience than me when I got them. My gelding was sold back out as a kids' horse and is now having a mostly smooth career as their personal lesson pony. My mare now is still battling a horrible reputation she earned for being completely nuts and basically flat out evil, almost everything she did seemed to suggest that she was out to hurt people for fun with no visible sign of fear or remorse, but now people are amazed to hear this is the same horse that they heard so many bad stories about. She's the most solid mount I've ever come across, sweet as pie though she can be pushy at times, she's still learning. The sky's the limit with her.
Is she really crazy? Well, I know she's at least a little less crazy than I am for wanting her. But this horse literally
loves
me. She still really seems to strongly dislike just about everyone else, but I'm trying to work with her on that. She'll do just about anything for me, she gives more than any horse I've ever met...She feels something from me other people couldn't give her, nothing she's done gets to me and I continue to show her trust and respect no matter what.
You will never meet a horse who will be better to have on your side than the one absolutely everybody else gave up on. Even horses just want someone to give them a little credit. So it always makes my day to hear stories of people and horses in a similar position, and it sounds like you guys have a great story going, and I wish you the best of luck in potentially buying him
I saw on the halloween costume thread that you dressed him up as a dragon. Very cute! Has there been any progress in buying him? Do you still think you want to? It sounds to me like if he is going to stand a chance with anyone, it is with you. As long as you are safe and acknowledge your and his limits, you should do it!
Giving a good home to a hard to own animal is a wonderful feeling.