Here's my old lease horse, Zeus. :)
---
I give myself very good advice, But I very seldom follow it
HATES BATH TIME!!! Gillian... you totally win on this one! hahaha!
Gotta love this tongue...
BTW, this has NOT been photoshop'd as some people might think.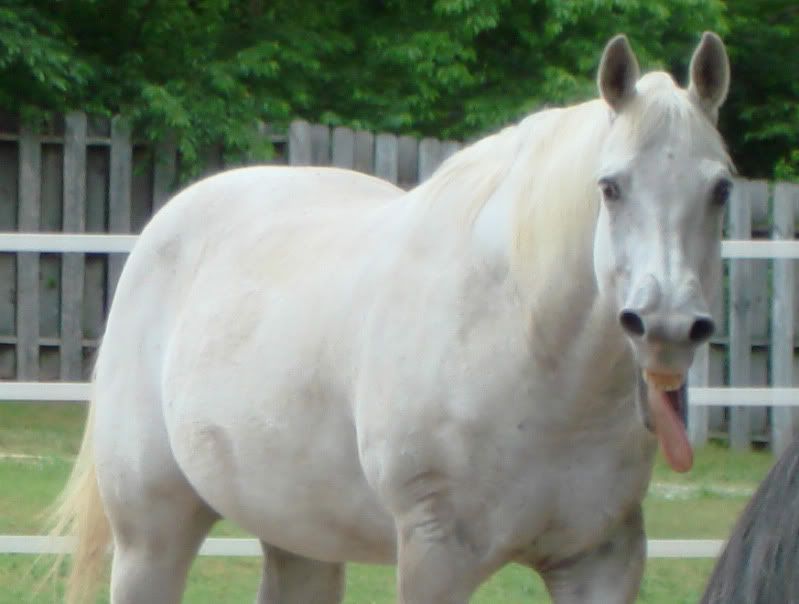 ---
Cocoa - 32 yr old QH, Cherokee - 8 yr old TWH & Toby - 16 yr old QH
R.I.P. Cocoa 4/13/78 - 2/9/11
wow they way that last photo was taken it makes his body look HUGE. crazy tongue too!
---

Baby, Sparta, Carmen, Henry, Hooch, Mercedes, Butterscotch
haha. I love these tongue threads. Here's my mare. This was while we were trying to take my senior pictures. lol
---
One man's wrong lead is another man's counter canter.
"Adjust Your Pleasure"
2006 Medicine Hat Paint Gelding
you know if my horse did that during senior pictures lol i think it'd be my favorite! especially if i looked like i had some of my personality into the photo as well as my horse's lol i love tongue photos. just wish my horses had their tongues out more often
---

Baby, Sparta, Carmen, Henry, Hooch, Mercedes, Butterscotch
This is the only tongue pic of O So! He is just learning what a bit is!
The pics are great!

Here is my Paint gelding last weekend during our Holiday photo shoot.


I think he had just about enough...
BAH Humbug!
---
Horses and children, I often think, have a lot of the good sense there is in the world.
Josephine Demott Robinson
Feed, muck, groom, ride. Repeat daily!