Too cute, the next generation of horse riders
---
I don't know who was cuter, my 6 month old Grandson visiting from the UK or Big Ben with his gentle way of meeting a small person. His mum and I were on high alert just in case of problems, but the big guy is just so gentle.
Gibbs doesn't want to play with small people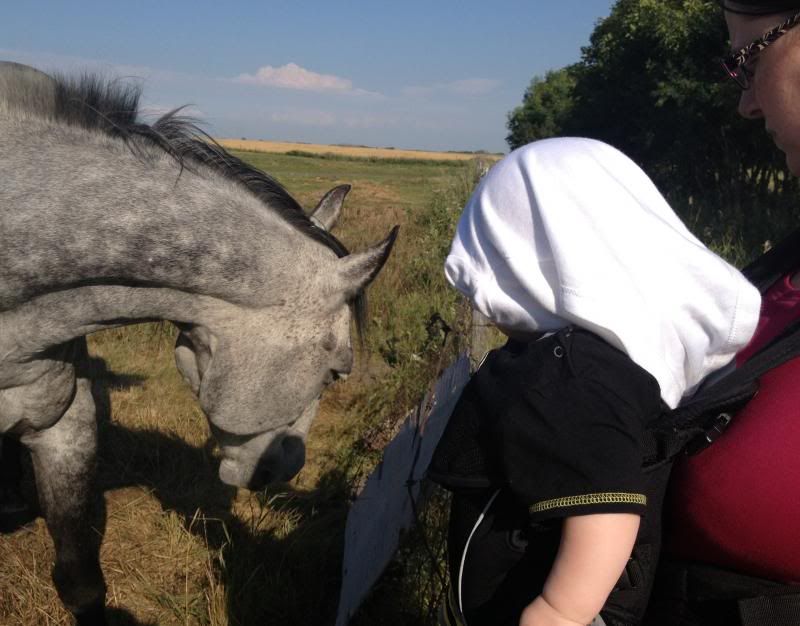 Emmy REALLY doesn't do small people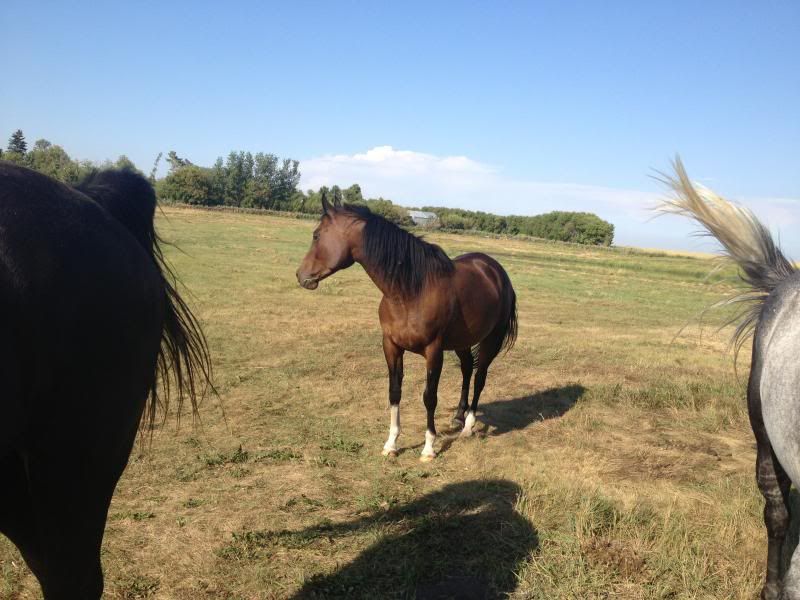 But big gentle Ben, well......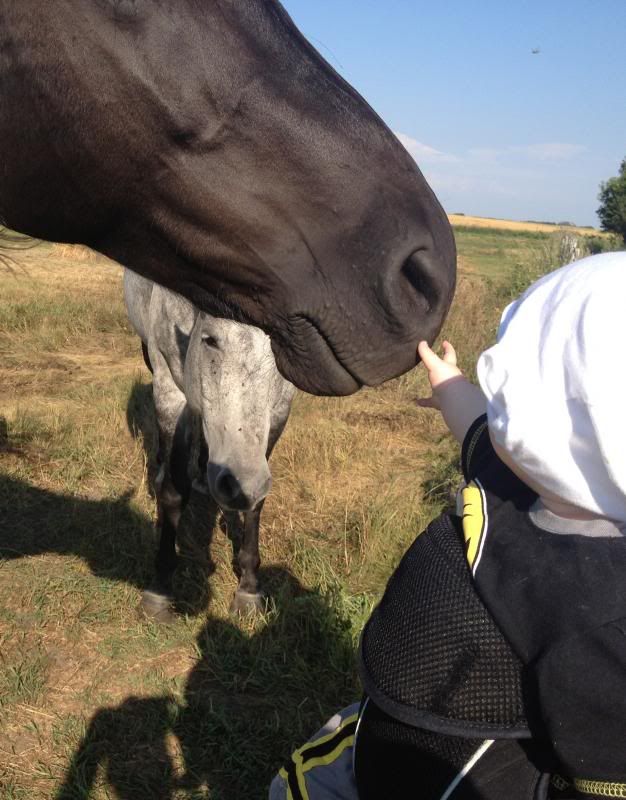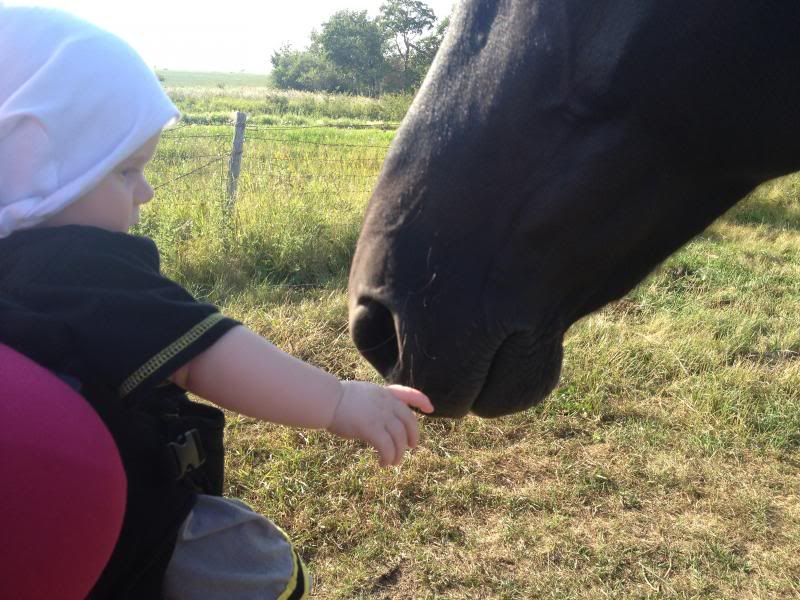 and my favourite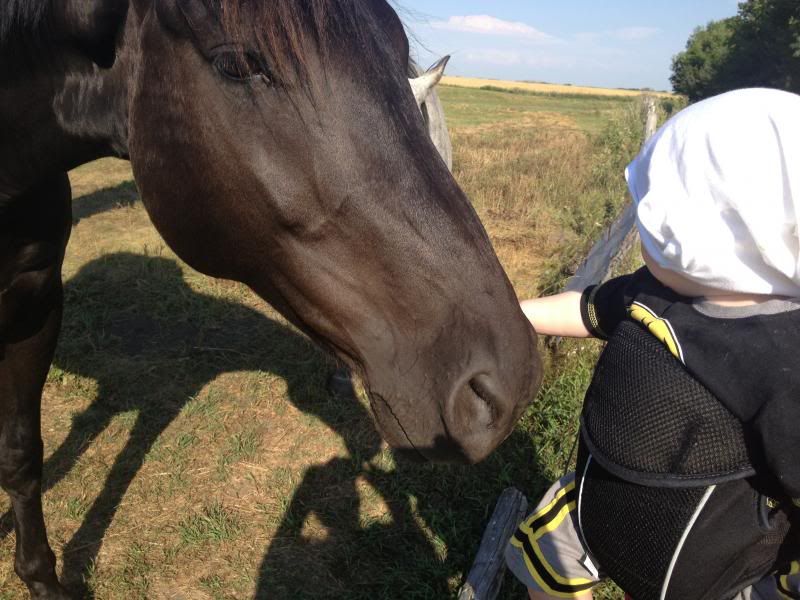 and the look we got when we walked away from the horses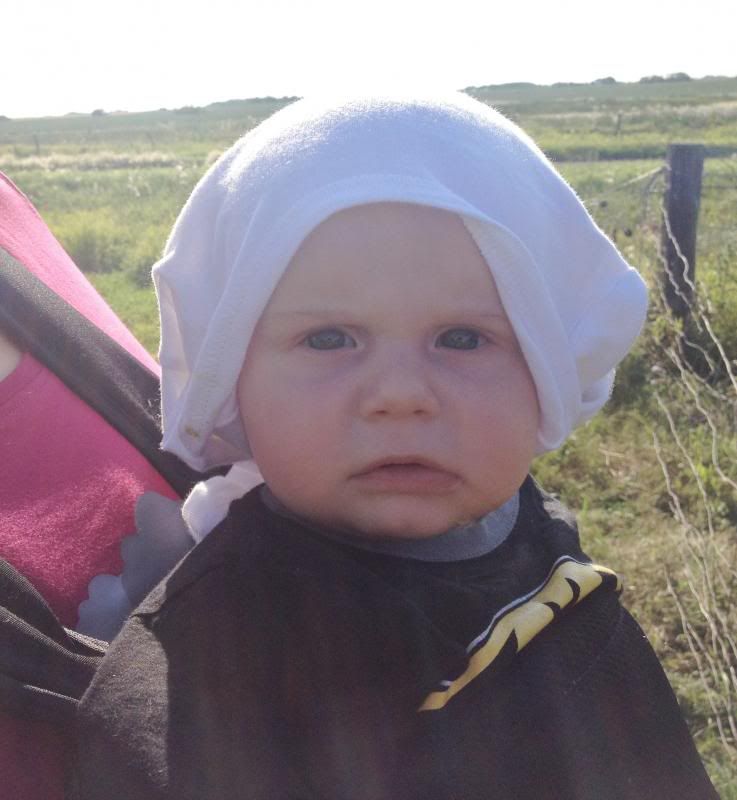 and when he isn't hiding under a cloth
Golden horse, He is just too cute! Is he a red head? Sometimes it's hard to tell on my phone:) Be warned, we put my granddaughter on a horse at 11 months old and she has been nonstop horses ever since ; the spring horse, great investment, she'll be 5 this year and still rides it hard. Four stick horses, probably over 100 Schleich? And Breyer and stuffed horses in the house and a horse and pony outside the house. If they're born with the horse bug they get it bad.
Do you get to see him often? They grow up so fast. Ben seems so at ease with him, some horses just seem to know and actually like children.
Posted via Mobile Device
Squeee!! Cuteness on all fronts!
---
Always remember that feeling of looking at a big, open country over the ears of a good horse, seeing a new trail unwind ahead of you, and that ever-spectacular view from the top of the ridge!!! Follow my training blog:
http://robertsontraining.blogspot.com/
He is a reddy blonde, going lighter as his hair comes in. We will see him as often as possible, but it wont be near enough, that Atlantic ocean and half a continent is a long long way.
They won't be back this way until Christmas next year, he'll be nearly two, and hopefully up for riding Poncho
oh my gosh! i just want to snuggle him! and Ben <3
---
Beauty is not diminished by those who refuse to see, hear,feel or in any way sense it. If you refuse to see beauty its you who is weakened.
It's always the big'uns that love the little'uns. I swear Aires loves kids more than he loves me (not that I blame him).
Your grandson is adorable.
Posted via Mobile Device
I couldn't believe just how gentle the big guy was, never lipped at him, just put his nose near, and put up with being batted by a little fist!
Awwwww Big softy Ben <3 I love that first photo of him reaching out to his muzzle and Ben's soft eye

What a cutie grandson too! My goodness!!!
---
"Strength is the ability to use a muscle without tension"